Primetime DFS Slate Breakdown: Week 1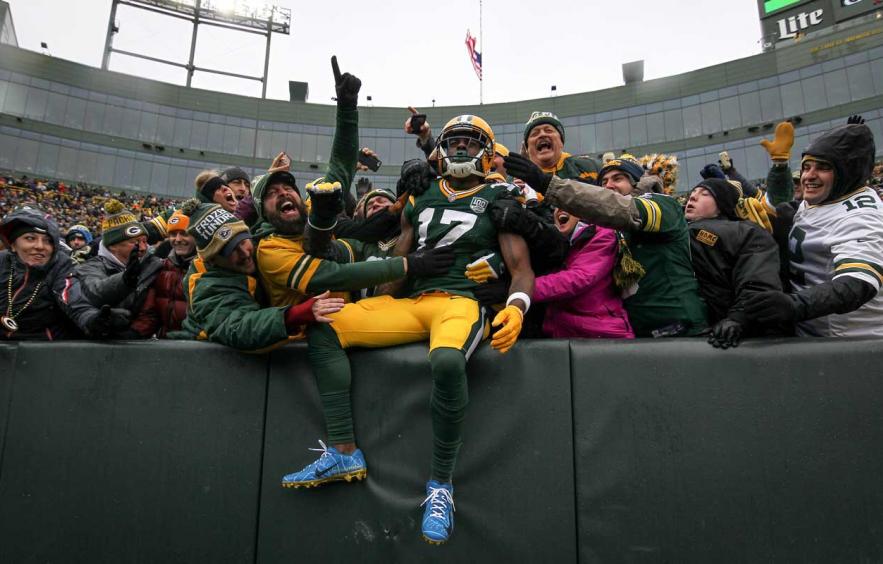 This is a free sample of premium weekly content contained in the 4for4 DFS subscription. Not a subscriber? Sign up now!
We are blessed with a glorious three-game prime time slate to kick the season off. I won't do some long, witty intro that gets all sappy about the season kicking off because it's not my style. So, let's dive right in. Two of our three games have an over-under above 47 points and that is where most of our player exposure should come from.
Passing Games
Bears
Mitch Trubisky ($6,500 FD/$5,600 DK) and company have an implied team total of just 20 points which is the second-lowest on this slate and should drive their ownership down—even on a three-game slate. However, Green Bay ranks 31st and 28th in schedule-adjusted fantasy points allowed (aFPA) to the quarterback and wide receiver positions, respectively. We also get a new head coach in Chicago with Matt Nagy, who is now calling the plays. His scheme should fit Trubisky well, allowing him to get the ball out quickly and limit the opportunity for mistakes. The popular stack here is to pair up Allen Robinson ($6,500 FD/$6,300 DK) or Trey Burton ($6,000/$4,300 DK) with Trubisky. However, the Packers rank seventh in aFPA vs the tight end and reports out of camp indicate that Allen Robinson has not looked sharp. This leaves us with what should be a very low-owned Anthony Miller ($5,500 FD/$4,600 DK) running his routes out of the slot, which on average generates five targets per game.
Packers
Good ole Aaron "discount double check" Rodgers ($9,000 FD/$7,500 DK) is anything but a discount on this slate as he is priced as the most expensive QB on both DraftKings and FanDuel. The Bears rank fifth in aFPA to opposing quarterbacks and rank ninth vs the wide receiver position. The Packers do have an extremely healthy implied team total of 27 points indicating fireworks from this offense, but paying up for Rodgers and his number one receiver Davante Adams ($8,400 FD/$7,800 DK), is not extremely viable on this slate. That statement should resonate even more when you factor in newly-added Jimmy Graham's ($6,400 FD/$4,800 DK) target share in this offense. Graham led the NFL in red zone targets last year—and targets inside the 10-yard line —with a total of 26. Graham's upside is definitely with his touchdowns—8 of his 10 touchdowns came from within the 6-yard line, so you will need to embrace some volatility when rostering him Sunday Night.
Jets
There is not a lot to love from this team especially with them being road dogs and carrying the lowest implied team total of 18.5 points. It is worth noting that the Lions do rank 26th in aFPA to the quarterback position and 27th to wide receivers. The clear-cut stack here would be to use Sam Darnold ($6,300 FD/$5,400 DK) and his number one, Robby Anderson ($6,400 FD/$5,700 DK). Anderson should draw a good amount of coverage from Darius Slay who ranks seventh in playerprofiler.com's passer rating allowed metric. This makes Quincy Enunwa ($5,000 FD/$4,400 DK), the Jets slot receiver, extremely viable in both cash and GPP formats this week as he will avoid Slay and will have a significant height and weight advantage over both of the Lion's slot defenders.
Lions
Matthew Stafford ($8,200 FD/$6,500 DK) is in a great spot this week vs the Jets who rank 31st in aFPA to quarterbacks and 20th vs wide receivers. He is a relatively cheap QB on both sites behind Goff and Rodgers, which will absolutely drive his ownership up. The Jets pass rush is extremely lackluster and even though Trumaine Johnson just signed a $72 million contract, he allowed the fifth most yards to opposing team,s quarterbacks when targeted last year. Stafford's weapons are Golden Tate ($7,700 FD/$6,700 DK), Marvin Jones ($7,000 FD/$6,500 DK) and Kenny Golladay ($5,800 FD/$4,800 DK). The clear-cut PPR option here is Tate who has a target share of 21.2% and draws Buster Skrine who, according to playerprofiler.com, has an extremely mediocre coverage rating of +10.73. Marvin Jones is our high-upside, high-volatility play and makes a little more sense on half-PPR sites like FanDuel. It is important to remember that Ebron is no longer in the picture which has opened up roughly 90 targets to be distributed in this offense. Enter Kenny Golladay who caught six passes for 30+ yards as a rookie and will draw Morris Claiborne who is five inches smaller and 20 pounds lighter than Golladay.
Rams
It is hard to ignore a team as explosive as the Rams on a three-game slate. It's even harder to ignore them when they are facing a defense that ranks 24th in aFPA to wide receivers and 30th in aFPA to quarterbacks. They have an implied team total of 26.5 and are three-point road favorites vs a Khalil Mack-less defense which should really lead to a run-heavy game script. This has me tempering expectations for Jared Goff ($7,600 FD/$6,700 DK) and his core of pass catchers that consist of Robert Woods ($6,600 FD/$6,200 DK), Cooper Kupp ($6,300 FD/$5,200 DK), Gerald Everett ($4,200 FD/$2,500 DK) and newly-added Brandin Cooks ($7,300 FD/$5,600 DK). Last year the Rams ranked 24th in pass attempts (yet another reason to temper expectations around the passing game) and while Cooks has outstanding speed, Kupp is the favorite to lead the team in targets this game, especially in the red zone. He had 23 red zone targets, which was good for fifth-most in the league and two of his touchdowns came from within in the 10-yard line.
Raiders
Derek Carr ($6,800 FD/$6,000 DK) has the second-worst matchup in regards to aFPA on this three-game slate. The Rams rank eighth in aFPA to opposing quarterbacks and 17th to wide receivers. Relative to the slate, the Raiders do have a "healthy" implied team total of 23.5 points but are still three-point home dogs. Amari Cooper ($6,900 FD/$7,100 DK) draws a tough matchup vs Marcus Peters who has a +17.6 (#24) coverage rating and is not exactly cheap. Jordy Nelson ($6,000 FD/$5,100 DK) comes with some touchdown equity, but not nearly as much as he had in Green Bay as he will compete for red zone targets with Cooper. Jared Cook ($5,000 FD/$3,700 DK) also has tough matchup here as the Rams ranked within the top 10 for fewest catches allowed to opposing team tight ends in 2017.
Running Backs
It should come at no surprise that Todd Gurley ($9,200 FD/$9,300 DK) is our top-projected running back vs a Khalil Mack-less defense. The Raiders allowed almost 100 total catches to opposing teams running backs in 2017, so even if the pace of this game does pick up, Gurley will still get his receiving work. Jamaal Williams ($6,800 FD/$6,000 DK) is our second-highest value play on both DraftKings and FanDuel for this slate at the running back position. With Aaron Jones serving a two game suspension and the Packers being touchdown favorite at home, Williams projects for a heavy workload. In the seven games he started last year he saw 21 rush attempts inside the 20 with eight of them coming inside the 5-yard line. Gurley and Williams are without a doubt the running backs you want the most exposure to in this three-game slate.
Billal Powell ($5,500 FD/$4,700 DK) does have an extremely friendly matchup vs the Lions who rank dead last in aFPA vs opposing teams running backs and if the preseason is any kind of an indicator, he looks to be the lead back over Isaiah Crowell ($6,200 FD/$4,900 DK). Powell also adds a high floor as he is game script independent since he is so involved in passing downs. Jordan Howard ($7,800 FD/$6,300 DK) has a defined role in this offense seeing most of his work come at the goal line and on first and second downs. The Packers do rank 24th in aFPA to running backs, but game script should tend to lean towards Tarik Cohen ($5,600 FD/$4,200 DK) catching passes out of the backfield as Howard has bricks for hands (he lead all running backs in dropped balls last year). Much like the Bears, Marshawn Lynch ($6,500 FD/$5,100 DK) has a great matchup vs the Rams who rank 29th in aFPA. Don't let his old age deter you—Lynch ranked second in evaded tackles and first in juke rate last year. He projects for a heavy workload load as well, but pace of play and game script could quickly render him useless in this matchup.
Once we dip below the aforementioned running backs, we are looking at muddy backfields, run-in backs who dont see goal line work, and backs who project to only score 8-9 fantasy points. As I mentioned above, Gurley and Williams are without a doubt the running backs you want the most exposure to in this three game slate.
Defense/Special Teams
The Lions ($4,400 FD/$3,400 DK) project very well at home vs a Sam Darnold-led Jets offense. While the Lions pass rush is lack luster, the Jets did rank 29th in adjusted sack rate, giving up 52 sacks in 2017. The Packers ($4,100 FD/$3,200 DK) are on the pricey end but much like the Jets, Chicago allowed a lot of pressures and sacks in 2017, giving up 40 sacks. The Bears ($3,600 FD/$2,300 DK) represent a decent value with the Packers ranking 28th in adjusted sack rate. Look for news on Leonard Floyd on Sunday morning though as he may not play and that would weaken the Bears pass rush.
Run good and hit me up on twitter (@RyanHodge) if you have any questions about the slate!
Photo by Dylan Buell/Getty Images.