Fantasy Sleeper Alert: Dolphins WR Kenny Stills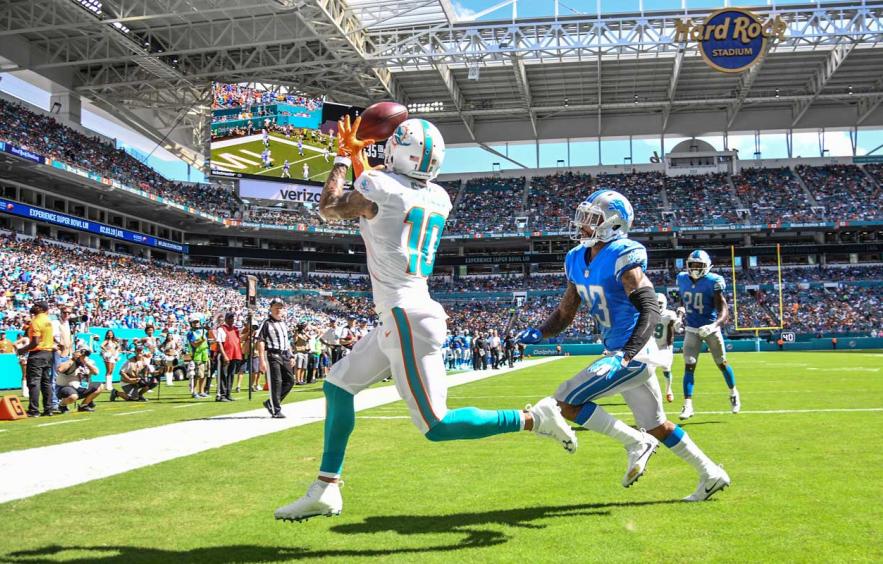 The Miami Dolphins might really stink this year.
This writer cannot help but notice the similarities between what happened to Chip Kelly in Philadelphia and what is happening right now with Adam Gase in Miami. An offensive-minded coach who has not found stability at the quarterback position while also jettisoning his two most talented players this past offseason (Jarvis Landry and Ndamukong Suh). And we all know how that turned out for Chip Kelly.
Editor's Note: Find all our 2018 Player Profiles here.
Sharp fantasy players will often use Vegas odds to get an idea of game script for NFL teams each week. The same philosophy can be applied to win totals to gauge if a team may struggle. The over/under for wins this season in Miami is six. Only the Cleveland
Browns
and Arizona
Cardinals
are lower.
That could mean a lot of negative game script in Miami and high-volume passing, which has my eyes on a particular
Dolphins
wide receiver with Landry gone—a wideout who is being drafted in the 10th round or later of early fantasy drafts. Plus, that receiver has already had success under Adam Gase when given the opportunity:
Kenny Stills
.
Money Talks in the NFL
Kenny Stills is the third-highest paid player on the Dolphins' roster for 2018 (shocking, I know), with a cap number around $10 million. Far too often in the NFL, money talks, and coaches and front offices feel an obligation to get the players making it on the field most often.
Combine that with the necessity the Dolphins now have for Stills with Landry being traded to Cleveland, and it's ripe for fantasy success.
Now, let's get into the numbers as to why Stills has a fantastic opportunity to vastly outperform his average draft position (ADP).
Opportunity for Increased Targets
Take a look at how many targets there are to replace from the Dolphins' 2017 offense:
Only the Ravens have more targets missing from last year's roster, and those targets have to go to somebody in Miami. Jarvis Landry had 160 targets by himself that are up for grabs in this offense.
Using the 4for4 Player Targets App, we can see how the Dolphins distributed their targets last year:


As you can see Kenny Stills received the second-most targets behind Landry, but the oft-injured Parker averaged more per game. This doesn't tell us though who did more with their targets.
Fantasy Points Per Target
Let's look at fantasy points per target from the 2017 season for Stills and DeVante Parker:
FP/T: Stills vs. Parker

| Player | Targets | STD Points | PPR Points | STD FP/T | PPR FP/T |
| --- | --- | --- | --- | --- | --- |
| Kenny Stills | 105 | 116.7 | 174.7 | 1.111428571 | 1.663809524 |
| DeVante Parker | 96 | 73 | 130 | 0.7604166667 | 1.354166667 |
*Note - You can find any players' fantasy points from a previous season using the 4for4 Fantasy Points Browser.
Stills outperformed Parker when given the opportunity last season, and with Ryan Tannehill coming back, there's even more reason for optimism. In 2016, Stills was even more efficient, averaging 2.11 PPR FP/T. That would have ranked sixth in the NFL last season.
If we take Stills' 343.3 PPR points over the past two seasons and divide by his 185 targets over that span, we get a two-year PPR FP/T of 1.86. That would have ranked 24th in the league in 2017.
Clearly, Stills has shown an ability to be efficient with his touches. With Landry out of town and Parker's injury history (whether missing games or not playing well while hurt), Stills could finally add improved target volume to that efficiency.
Range of Outcomes
Stills is only 26, and it seems unlikely, barring injury, that he will see fewer than the 105 targets he saw last season, given the factors discussed above surrounding the Dolphins' wideout room entering 2018.



This may surprise some, but Stills was already the PPR WR28 last year. If he were to just return to career FP/T efficiency levels (1.91 PPR FP/T), he would have finished above Robby Anderson as WR18 a year ago.
Even if Stills were to revert back to his low 2017 efficiency (1.66 PPR FP/T), just adding 10 additional targets with Landry gone would mean 190.9 PPR points, which would have been WR22 last year.
But here's the exciting part … what if Stills' efficiency goes back to his 2016-2017 average of 1.86 PPR FP/T with the Dolphins (which is still below his career FP/T average) and he adds 20 targets from his 105 last year? That would be 232.5 PPR points. That would have been top-10 at the position last year and WR13 in 2016.
Bottom Line
Whether you believe Stills will see a significant increase in targets and regression towards the mean in his efficiency in 2018, frankly, is irrelevant at this point.
Why?
There are no threats to his role as an outside receiver in the Dolphins offense (Albert Wilson and Danny Amendola will reportedly split slot receiver work).
Stills is not even one of the first 40 receivers off the board across all draft sites, and is routinely available in double-digit rounds.
At that price, Stills could only just match last year's production to return on investment in best-ball leagues, but he also has multiple factors in his favor to be a complete steal of a WR in redraft leagues.
Photo by Mark Brown/Getty Images.
---
Related Articles