Both Colts Tight Ends are Worth Drafting in 2018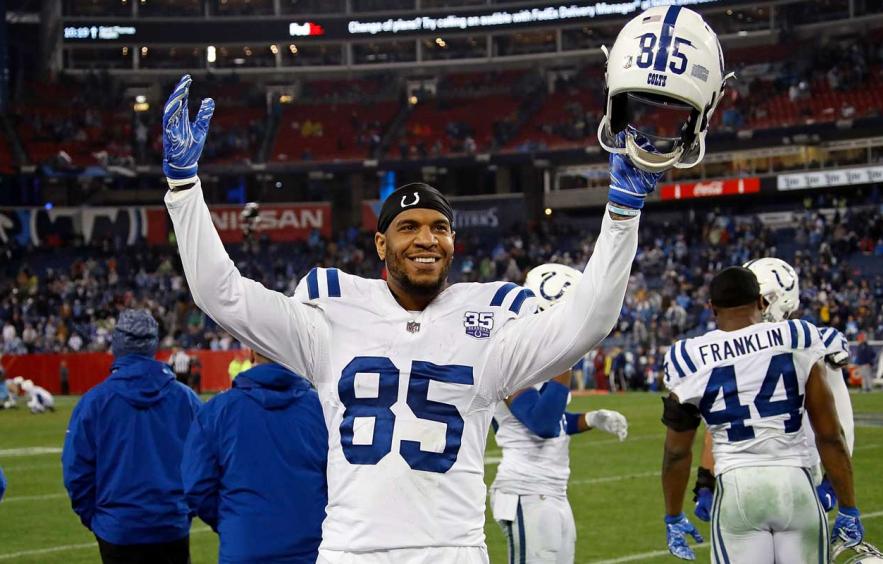 The fantasy relevance of the Colts offense this season is arguably dependent on the health of QB Andrew Luck. On any team, the position group with the best chance to overcome a less-than-optimal QB is usually tight end, who tend to be the beneficiary in an inexperienced signal-caller's offense.
Editor's Note: Find all our 2018 Player Profiles here.
Both Jack Doyle, entering his sixth season as a Colt, and Eric Ebron, who came to Indy as a free agent from the Lions this offseason, boast somewhat tarnished fantasy football reputations as we head into draft season. Doyle's 2017 wasn't as stellar as some had hoped for, and Ebron has been considered a disappointment since being drafted by the Lions in 2014. Can these guys shake their bad rap and produce in 2018, despite their potentially shaky QB scenario? I say both are worthy of roster consideration and below I lay out my reasons why.
Last Season Was Better Than Either Get Credit For
Indy's tight end tandem landed in the top 15 at their position in both PPR points and targets in 2017, despite the weak perception of their output. Doyle, who was highly touted heading into last season after a breakout the year before, actually posted No. 7 tight end PPR numbers on the season with Jacoby Brissett under center. He also averaged 7.2 targets per contest, which checked in as the fifth-highest among tight ends last season.
Ebron, a guy who always gets the "bust "moniker, actually finished the 2017 season with starting tight end fantasy numbers. His 132.4 total PPR points were good enough to finish as the No. 13 overall scoring tight end on the year, averaging 8.3 points per game.
Both Guys Have Mismatch Potential
Ebron's Strengths
The 6-foot-4 Ebron has speed, athleticism, and the ability to run solid routes—something the Colts' passing game can certainly utilize this season. He can get off the line of scrimmage rapidly, has the agility to make key moves, and can burn past linebackers to his spot. In man coverage, Ebron is a perennial mismatch versus a linebacker, and Frank Reich will be sure to exploit that all season long.
Sure, the fifth-year tight end has had some drop issues in the past, but he only let three balls fall in 2017, compared to seven drops in 2016. For fantasy purposes, we should be excited about his big-play potential and the diverse skill set he brings to the revamped Colts offense.
Doyle's Strengths
The guy is a rock. He's as consistent as they come, which has been a blessing in Indy with their fluctuating offense in recent years. He led the Colts last season with 80 receptions—14th-most in the league (second-most by a TE). Doyle also topped his offense in yards after catch with 355 on the season, and he was second in overall receiving yards (690).
He may not have the big-play allure of Ebron, but Doyle offers steady hands and a 6-foot-6 frame that can present problems for opposing defenses in the red zone. In PPR formats, his high-target volume history and chain-moving ability make him a worthy choice among the third-tier tight ends this season.
Let's assume Luck returns to full health and plays this season. If we look at his 2016 numbers, which is the last time he was on the football field, Luck completed an impressive 73 percent of his passes to the tight end position, nailing 103-of-142 passes thrown their way. Luck's career numbers are similarly tight end favorable, with him boasting a 69 percent success rate to the position in five seasons, completing 242-of-351 passes.
With the lack of explosive receiver options at wideout, expect to see plenty of two-tight end sets this year. Also, with an imperative bolstering of their offensive line, both Doyle and Ebron could be in for a fruitful fantasy season.
Luck to TEs — 2016

| ATT | COMP | COMP% | Air Yards | aDOT | YARDS | TDs | YPA | PACR |
| --- | --- | --- | --- | --- | --- | --- | --- | --- |
| 142 | 103 | 73% | 1,107 | 7.8 | 1186 | 12 | 8.4 | 1.07 |
Luck to TEs — Career

| ATT | COMP | COMP% | Air Yards | aDOT | YARDS | TDs | YPA | PACR |
| --- | --- | --- | --- | --- | --- | --- | --- | --- |
| 351 | 242 | 69% | 2,411 | 6.9 | 2,565 | 29 | 7.3 | 1.06 |
Bottom Line
So far this offseason, Doyle's ADP is hovering around the mid-seventh round, as the 10th TE off the board in best-ball contests. His teammate Ebron is being selected as the TE16, somewhere in the 11th round. Both are worth a look in all formats, but I'd lean Doyle for PPR, somewhere between the seventh and ninth rounds. When it comes to Ebron, it may behoove your roster to secure some depth at RB or WR in the middle of the draft, and grab the new Colt in those early double-digit rounds in either PPR or standard scoring leagues.
Photo by Frederick Breedon/Getty Images.
---
Related Articles