Desmond Ridder Takes Over as Falcons QB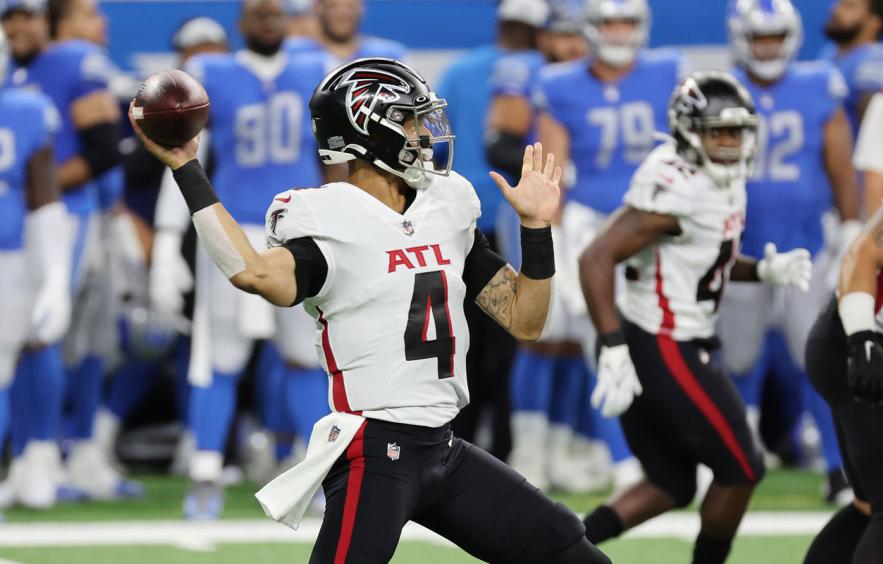 Gregory Shamus/Getty Images
Desmond Ridder, a third-round pick from the University of Cincinnati, will make his NFL debut on December 18th, when the Atlanta Falcons travel to New Orleans to take on the division-rival Saints. The move to the rookie marks an end to Marcus Mariota's time as Atlanta's starting quarterback, a year in which he received his most playing time since the 2018 season with the Tennessee Titans.
The Falcons had signed Marcus Mariota to a two-year, $18.8 million deal in March. In the team's first 13 games, he had thrown for 2,219 yards, 15 touchdowns, and nine interceptions and has a passer rating of 88.2, which ranks 20th in the league. His 170.7 passing yards and 14.1 completions per game were second-fewest behind only Justin Fields. The run-heavy approach wasn't entirely Mariota's fault, but with the last smidgen of hope for a 2022 playoff run quickly dwindling, it was high time that we see the team make the switch to see what it has in Ridder and whether or not they should aim for another QB high in next year's NFL draft.
Desmond Ridder

Strengths and Weaknesses

Ridder immediately boosted his stock in the NFL Draft during the combine, leading all quarterbacks with a 4.52 40-yard dash, 36-inch vertical, and 10-7 broad jump, apparently wooing front offices through the interview process as well. He went 43-6 in his time with the Bearcats, taking them to the College Football Playoff in 2021 while showcasing his dual-threat ability throughout his four years as a starter, rushing for over 1,500 yards in his career.

Ridder was more than just a quick pair of feet, often being aggressive, giving his receivers a chance to make a play deep down the field. On the path to the Playoff last season, Ridder was 13th in the nation in completions of 20+ yards, often finishing games with an average target depth of 12 or above. The downfall to this sort of playing style is apparent when the player in question isn't hyper-accurate with the ball, and quarterback Desmond Ridder can have his issues with consistency in that manner.
What Does This Mean For Fantasy?
While the Falcons have nowhere to go but up in pass rate (currently 32nd), it would be hard to place a bet that head coach Arthur Smith is suddenly going to complete a turnaround to a pass-first team just because they have installed their new starter. Though Ridder wasn't known for taking the check down during his college career —or the preseason when he led the league with his 11.4 aDOT— it's worth noting that Mariota has targeted the running back at the third-lowest rate in the league (13.1%), so there could be a little more meat on the bone for Cordarrelle Patterson and/or Tyler Allgeier in that category.
It is unlikely that we see a huge boost in usage for Drake London, Olamide Zaccheaus, or Damiere Byrd, but as for their new, athletic quarterback, Ridder's rushing acumen could translate to fantasy success right off the bat. He will look to repeat the success he had in the preseason when he racked up a 10-for-13, 143-yard performance in Week 2 and a 59-yard day on the ground in Week 1.