T.J. Hockenson Is Set to Be a Fantasy Football Star Tight End in 2023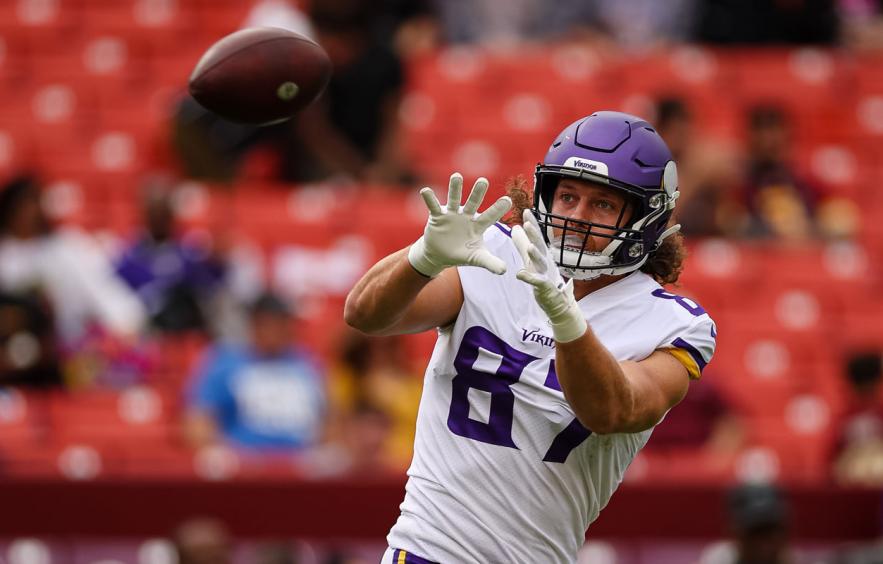 Scott Taetsch/Getty Images
A midseason trade to the Minnesota Vikings transformed T.J. Hockenson from a player we could occasionally trust to deliver a boom week in fantasy football to one of the key players at the tight end position in 2022. Energized by leaving the Detroit Lions, Hockenson finished the season with career highs in targets (129), receptions (86), and yards (914). But was this just a blip on an otherwise "meh" career, or can fantasy managers count on Hockenson to re-produce these numbers over a whole season?
---
Click here for more 2023 Player Profiles!
---
A Change For The Better
Hockenson arrived in Minnesota ahead of Week 9 in 2022. From then until the end of the regular season, Hockenson caught 59 of his 86 targets for 519 yards. During this span, the only tight end with more targets and receptions was Travis Kelce, who reeled in 63 of his 92 looks. Even Kelce couldn't challenge Hockenson from a routes run point of view, with Hockenson running 33.5 per game to lead the position.
If we look at Hockenson's per-game numbers in a Vikings uniform, we see that he averaged 8.6 targets per game, 5.9 of which he caught for 50.2 receiving yards. Throwing in the three touchdowns he grabbed during this span, Hockenson posted 10.0 half-PPR points per game, finishing as the TE4. Across a 17-game season, these numbers would see an end-of-year line of 146 targets, and 102 receptions for 882 yards, with the small matter of 170 half-PPR points. If those numbers wouldn't raise a smile, you must be pretty hard to impress.
Volume Over Efficiency Part Two
As impressive as all that sounds, we do once again have to acknowledge that Hockenson is not an efficient receiver. Do you know how I know this? Because I wrote about this same issue just under a year ago! Hockenson did not create much after the catch after joining the Vikings. He was ninth among all tight ends between Weeks 9-18 with 194 yards after the catch. He ranked 24th out of 26 tight ends with 30 or more receptions during this time with a paltry 3.3 YAC per reception. Hockenson averaged 1.5 yards per route run as a Viking, good for 15th of 26 qualifiers during that span.
While Hockenson caught his quarterback's eye often during games, it wouldn't be accurate to call theirs a perfect marriage of production and efficiency. Kirk Cousins averaged 5.81 adjusted yards per attempt when targeting Hockenson in 2022. This is the lowest mark of any player that Cousins has targeted at least 75 times in his career. But, and I must stress this, in fantasy football volume over efficiency. Always.
T.J. Hockenson

's 2023 Fantasy Outlook

According to the most recent Underdog ADP, Hockenson is currently going off the board inside the top 50 players, trailing only Kelce and Mark Andrews among all tight ends. As much as I would appreciate a bit more YAC, a few more touchdowns, and a general increase in overall efficiency, I have no qualms about taking him at this spot. There are a lot of things to like about his situation.

The Vikings have lost 143 targets from their 2022 roster, with Adam Thielen taking most of these away with him. The Vikings made a move to replace Thielen by drafting Jordan Addison in the first round of the NFL Draft. But do you think Addison is going to come in, as a rookie, and gobble up all of those targets, maybe even eating into Hockenson's share? There have only been 28 rookie wide receivers since 2010 to see 100 or more targets. Justin Jefferson is one of the 28, but even he "only" had 128. Hockenson has a developed role in the Vikings' passing game and should continue to thrive in it. Jefferson shouldn't do too badly either. He averaged 10.1 targets, 7.4 receptions, 107.4 yards, and 17.5 half-PPR points per game before Hockenson arrived in Minnesota. After Hockenson's arrival, Jefferson's averages were 11.3, 7.6, 105.7, and 18.2. Jefferson and Hockenson will be fine.

They will both benefit, as will Addison, if the Vikings remain as pass-happy as they were a year ago. In Kevin O'Connell's first season at the helm, the Vikings' neutral situation pass rate was 63%. This was tied for the second-highest in the NFL. The Vikings' backfield is still an area of uncertainty, and they may once again look to rely on the arm of Cousins. If this happens, and Hockenson can continue to be the Robin to Jefferson's Batman, then Hockenson should be a force to reckon with in fantasy football this year.

The Bottom Line
Hockenson remains a volume-based proposition in fantasy football, lacking a strong background of efficient play in his past.
Hockenson does have a track record of seeing volume, even with a superstar wide receiver in the same offense.
Hockenson's opportunities should actually increase, even after the addition of target competition with high draft capital, thanks to the vacated targets and the pass-happy nature of the Vikings' head coach.
Even as a top-50 pick on Underdog, Hockenson is fairly valued as the TE3, where 4for4 has him ranked.