Jerry Jeudy is on the Verge of a Breakout Fantasy Football Season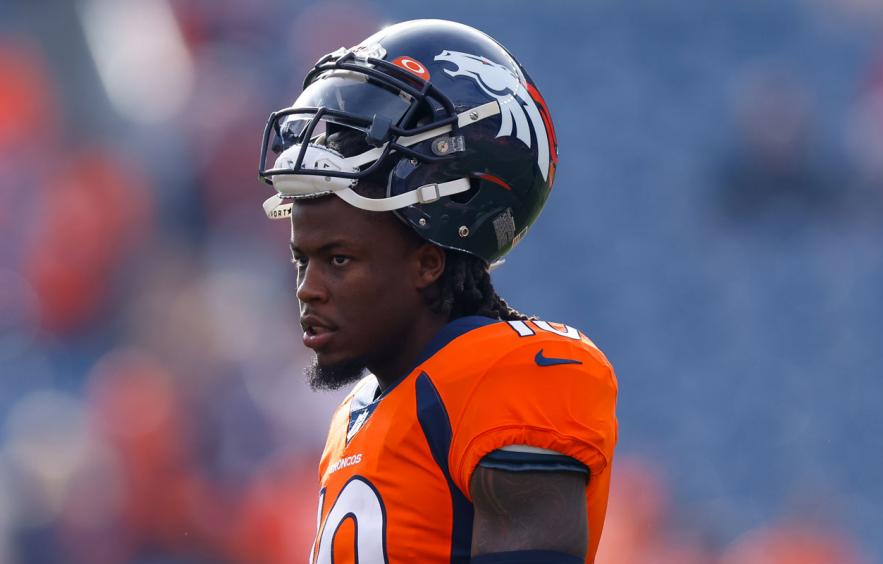 Justin Edmonds/Getty Images
Fantasy managers are often quick to dismiss Jerry Jeudy after three seemingly disappointing seasons. Coming into the NFL with other receivers such as Justin Jefferson, CeeDee Lamb, and Tee Higgins has overshadowed what has otherwise been a pretty good start to his NFL career. Unfortunately, injuries have held him back to some degree, but when he's been healthy, he's been more productive than he's given credit for.
His 2022 season was some of his best work despite having to make do with an abysmal offense and subpar quarterback play. A few missed games last year are doing their best to hide what was actually a true breakout season and keep his ADP—currently WR21 on Underdog—in check, making him one of the better targets this fantasy football draft season.
---
Click here for more 2023 Player Profiles!
---
Adding Context to
Jerry Jeudy

's First Two Seasons

Jeudy was selected with the 15th overall selection in the 2020 NFL Draft by the Denver Broncos. Coming off the board before Jefferson, Lamb, and Higgins certainly hasn't helped his reputation among fantasy managers. Jeudy's rookie season was anything but easy. He was drafted to be the team's No. 2 receiver behind Courtland Sutton, who had 124 targets, 72 receptions, 1,112 receiving yards, and 6 touchdowns the year before. Unfortunately, Sutton tore his ACL in Week 1 of the NFL season forcing Jeudy into the No.1 role. Not only that, but he was expected to fulfill that role following an unorthodox training camp due to COVID-19. All of that might actually have been manageable had it not been for their quarterback that season, Drew Lock.

The former Alabama star was forced to endure arguably the worst quarterback play in the league that season. Among quarterbacks with at least 150 pass attempts, Lock finished dead last in completion percentage at just 57.3%. There were 37 quarterbacks who qualified under this sample size and Lock ended the season tied for 28th in yards per attempt and had the fourth-worst quarterback rating at 75.4.

Despite those challenges, Jeudy showed plenty of promise. He finished his rookie season with 113 targets, 52 receptions, 856 yards, and 3 touchdowns. His 21.2% target share was the 17th-best among receivers. Despite being a rookie, he displayed the ability to earn targets at a high rate, which is a good predictor of future success. Unfortunately for Jeudy, he was unable to overcome his dreadful quarterback play. He caught just 46.0% of his targets, but a lot of that is on Lock.

Of 87 receivers with at least 50 targets, Jeudy was dead last in the number of his targets that were deemed catchable by Sports Info Solutions. Not surprisingly, the player just slightly ahead of Jeudy was teammate, K.J. Hamler.. There were plenty of indicators that pointed to the fact that Jeudy could have had a monster rookie season with just average quarterback play. He finished sixth with 1,611 air yards. Due to the significant accuracy issues from Lock, Jeudy ended up finishing second with 965 unrealized air yards, according to PlayerProfiler.

Jeudy was also one of the better receivers at making defenders miss, averaging 5.5 yards after the catch per reception according to 4for4's NFL Player Stat Explorer. This was tied for 14th among our previously used sample of 87 receivers. Per Sports Info Solutions, Jeudy had a broken or missed tackle on 25% of his receptions, which was tied for the fourth-highest. Looking at his rookie year with context shows a far better season than the one he's given credit for.

Unfortunately, all of that promise seemed to evaporate in a second season marred by injuries. Jeudy played in just 10 games in 2021, missing seven full contests, but several others due to in-game injuries. Of the 10 games he played in, he played fewer than 70% of the snaps in five of them while being under 57% of the snaps played in three. When the season finally finished, he had played just 38.1% of the team's total offensive snaps. He finished with 56 targets, 38 receptions, 467 receiving yards, and 0 touchdowns. His sophomore campaign ended up being a lost season for all intents and purposes.
The 2022 Breakout Season That Wasn't
At a quick glance, fantasy managers are likely to think he was the same old Jeudy in 2022. He missed two games and once again failed to eclipse 1,000 yards, ultimately finishing with 100 targets, 67 receptions, 972 yards, and 6 touchdowns. However, one thing that gets overlooked when looking at his final stat line is that in two games he played just 17% and 1% of the snaps, effectively leaving him with four missed games. When we look at the other 13 games he played in, Jeudy was nothing short of spectacular. Using the Stat Explorer, you can see his per-game averages below in the games where he played 20% of the snaps.
Jerry Jeudy

Per-Game Averages, 2023 (At least 20% of snaps)

| Target Share | Tgs/G | Rec/G | RecYds/G | AYPG | YAC/Rec | Yards Per Route Run |
| --- | --- | --- | --- | --- | --- | --- |
| 23.1% | 7.4 | 5.1 | 73.9 | 82.3 | 5.8 | 2.23 |
These per-game averages equate to a 17-game pace of 126 targets, 87 receptions, and 1,256 yards. During these 13 games, he averaged 13.0 half-PPR PPG. This would have been good for a WR13 finish in PPG. His per-game averages would have ranked 26th in targets, 21st in receptions, and 13th in yards per game. His 23.1% target share would have ranked 22nd, his YAC/Rec would've ranked eighth, and his yard per route run would have been 15th.
He was able to accomplish all of this despite poor play from Russell Wilson. Of 40 quarterbacks with at least 150 dropbacks, Wilson averaged ranked 33rd in EPA per pass play. Of this sample, Wilson had the 13th-lowest on-target percentage. While Wilson was not nearly as poor as Lock, Jeudy was once again asked to perform with suboptimal quarterback play, but now in his third season, Jeudy was able to rise to the occasion and he flourished.
The entire Denver offense struggled mightily. They finished dead last in points scored and while they had the 16th most pass attempts, their passing efficiency waned in comparison. They finished just 19th in passing yards and 23rd in touchdowns. Fortunately for those looking to invest in Jeudy this season, there are plenty of factors keeping his price in check, but there are plenty of reasons to believe Jeudy could be on the verge of a true breakout season in 2023.
2023 Fantasy Football Expectations
There were plenty of reasons the Denver offense struggled in 2022. Russell Wilson was playing on a new team and a new coach for the first time in his career. The team also struggled with injuries. Starting running back, Javonte Williams played just 12.5% of the team's snaps. Their primary pass-catchers, Courtland Sutton, Jeudy, Tim Patrick, and Greg Dulcich played just 77.6%, 62.7%, 0.0%, and 43.7% of the team's snaps. Their starting left tackle, Garrett Boles, played just 28.6% of the snaps. Between the significant injuries and the disastrous coaching debut from Nathaniel Hackett, who was fired before the season ended, the Broncos' offense was facing a steep uphill climb.
Looking forward to the 2023 season with the addition of new head coach Sean Payton, along with the offseason additions of right tackle Mike McGlinchey and offensive guard, Ben Powers, the Denver offense looks strong on paper, especially with the returning players from last season. Coach Payton is the biggest addition. He has a long history of being an offensive guru.
Sean Payton -- Offensive Scoring



2006: 5th

2007: 13th

2008: 1st

2009: 1st

2010: 11th

2011: 2nd

2012: --

2013: 10th

2014: 9th

2015: 8th

2016: 2nd

2017: 4th

2018: 3rd

2019: 4th

2020: 5th

2021: 19th

— Dwain McFarland (@dwainmcfarland) May 31, 2023
As long as Payton is able to get more out of Wilson this season, the Denver offense should take a big step forward. Their offensive line looks to be one of the strongest units in the NFL. Jeudy will be the team's No. 1 receiver and is in an excellent spot to have the best season of his career. Payton has a long history of getting the most out of his receivers.
Denver Broncos Head Coach Sean Payton



Team Year By Year Fantasy Value Vs. NFL League Average (0.5 PPR - RB, WR, TE)



2000-2002: New York #Giants OC

2006-2021: New Orleans #Saints HC

Present: Denver #Broncos HC pic.twitter.com/BW5b5hnsMI

— Eli G (@3li_handles) May 31, 2023
Jeudy is currently ranked as 4for4's WR21 with considerable upside and should be a target for fantasy managers this season. With the increased talent on the offensive side of the ball and the improvement in the coaching staff, Jeudy has top-12 upside.

Bottom Line
Jerry Jeudy's rookie season was far better than he's given credit for.
He had a breakout season of sorts last year, but it's being hidden by two missed games and two other contests where he played fewer than 20% of the snaps.
Despite poor quarterback play, Jeudy was one of the more efficient receivers in the league last season.
With Sean Payton taking over as head coach and with improved play from Wilson, Jeudy has top-12 upside this season making him a great target for fantasy managers this season.