Week 12 Thanksgiving Single-Game NFL DFS: Top FanDuel & DraftKings Plays
Timothy T Ludwig/Getty Images
The turkey may still be cooking, but the Buffalo Bills and Detroit Lions will be looking to stuff the stat sheet and your DFS bankroll before the bird is cooked.
It is vital to remember that single-game slates are not simply a "max salary, play as many big names as possible, and submit" format, especially in larger tournament fields. We need to identify players that can be pieces in their offense's success, whether in the lead or trailing, as well as the players that could be focal points in a neutral game script. The ability to then take those players and identify which will succeed in the single-game format will put us in a better position to succeed as daily fantasy players.
It is not just about finishing in first place in Showdown, it is about finishing in solo first. This format is one of the easiest to chop top prize because of the smaller player pool. Therefore, being different (and correct) in roster construction is the difference between doubling your entry cost and taking down a GPP. Let's take a look at this week's important notes and players I am focusing on when building for Showdown formats on DraftKings and Fanduel.
Vegas Total and Spread
Buffalo is a 9.5-point road favorite with an over/under of 54 points. The Bills have an implied team total of 31.5 points, while the Lions have a 22.5-point implied team total.
Potential Gameflow Scenarios
How healthy is Josh Allen ($16,500 FD/ $11,800 DK)? The answer is relatively healthy. For the first time this season, Allen finished below 19 fantasy points despite the Bills scoring 31 points in a dome…in Detroit. Week 12 is Bills in Detroit's Dome II: Electric Boogaloo. The difference for Buffalo this time is that they face a pass funnel defense as opposed to a run funnel. The Detroit Lions rank 29th or worst to quarterbacks, wide receivers, and tight ends in schedule-adjusted fantasy points allowed (aFPA) to pass offense-first positions. Detroit is 12th in aFPA to opposing running backs.
That means Stefon Diggs ($16,000 FD/$11,200 DK) and Gabriel Davis ($13,000 FD/$8,400 DK) will be targeted plenty as the top two wideouts for Buffalo. Isaiah McKenzie ($7,500 FD/$4,600 DK) and Khalil Shakir ($7,500 FD/$200 DK) have struggled to separate from each other as the WR3, which has pushed Dawson Knox ($9,000 FD/$7,000 DK) into the condensed pass target tree of Josh Allen.
One week after Devin Singletary ($12,000 FD/$7,600 DK) continued to thrive as the lead back for Buffalo, he could find himself in a tough spot. The Lions defense ($9,000 FD/$2,800 DK) has allowed two 100-yard rushing performances from opposing running backs, with the last one coming in Week 4. Singletary may have to make hay in the passing game, but Detroit has also limited one RB to more than two catches in a game.
As bleak as the final score outlook may be for the Lions, their offense has a chance to pass the ball against the Bills defense ($9,500 FD/$5,200 DK). Detroit has allowed the fifth-lowest sack percentage, including a 3.33% home mark. That makes Amon-Ra St. Brown ($13,500 FD/$10,400 DK) and Kalif Raymond ($9,500 FD/$5,400 DK) appealing options. St. Brown is a locked-in alpha receiver, while Raymond's targets could be tied to the limited practices put in by D.J. Chark ($8,000 FD/$3,600 DK) and Josh Reynolds ($10,000 FD/$4,400 DK).
Jamaal Williams ($14,500 FD/$7,400 DK) has been the lead back in Detroit, despite the clear talent gap between him and D'Andre Swift ($11,500 FD/$6,400 DK). That said, the Lions coaching staff is enamored with Williams, and he has produced (most rushing TDs in the NFL). Williams's usage has bled into the passing game, a place where Swift backers expected his work to show up as he worked his way back from multiple injuries. That hasn't happened.
Here are players to target based on various game flow scenarios:
Close, low-scoring game
Close, high-scoring game
Blowout for home team
Blowout for away team
Cheap/Unique Stacking Option
Traditional stacks such as QB/WR1 or WR2, QB/TE, and RB/DEF are stacks seen used in winning lineups. The obvious choice is not always the winning choice. Below is a cheap stack with at least one unique quality that could break the slate.
Kalif Raymond

($9,500 FD/$5,400 DK),

Jamaal Williams

($14,500 FD/$7,400 DK), and

Dawson Knox

($9,000 FD/$7,000 DK)

This is a salary-saving stack on DK and still allows for Williams to crack your lineup despite being egregiously underpriced considering his usage. Raymond has had at least three receptions each game since Week 4 and has added four rushing attempts over that span. If Reynolds and/or Chark come back, Raymond has earned the opportunity to continue to run as the WR2 in the Lions offense. Knox is the third wheel in the Bills passing attack but has 11/127/0 the past two games, games in which Buffalo put up 30 and 31 points.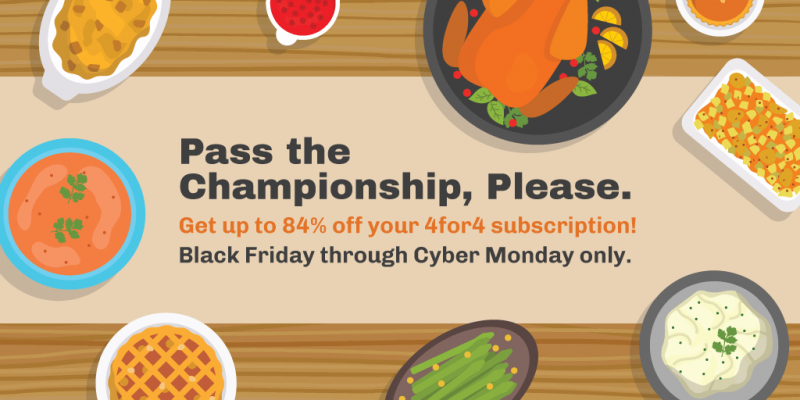 Low-Priced Volatile Players
D.J. Chark

($8,000 FD/$3,600 DK) and

Josh Reynolds

($10,000 FD/$4,400 DK)

Injuries, especially with long layoffs, are concerning on a short week. Chark had been on I.R. from Weeks 4-10 and only saw one target on 11 snaps in his return. The chemistry between Jared Goff and Chark was minimal despite Goff targeting Chark an average of six times per game to start 2022. Reynolds has a better chance of success if he plays, but back injuries and sitting out one walkthrough on a short week is troublesome. Reynolds did the same Week 11 and was ruled inactive on a normal week.
Brock Wright

($6,000 FD/$1,800 DK)

Since the T.J. Hockenson trade prior to Week 9, Wright has played the most snaps among Lions tight ends but has only seen four targets. One of those targets went for a TD, and that's what you're gunning for in a game that is expected to put up points.
Khalil Shakir

($7,500 FD/$200 DK)

Shakir showed promise when the Bills were dealing with numerous injuries to pass-catching options, but the past weeks have been little boom or bust. Josh Allen has narrowed his target tree since injuring the UCL in his throwing arm, making Shakir a player you roster to open up salary and hope he gets more than two targets, a bar he has not crossed since Week 5.
James Mitchell

($5,000 FD/$200 DK)

Mitchell is the TD dart throw pivot off Wright and was the first TE to pop up post-Hockenson. After his Week 9 TD, Mitchell has done little and has yet to see 25% of snaps played in a game.
Tom Kennedy

($6,500 FD/$600 DK)

Kennedy is an option if Chark and Reynolds sit. The undrafted rookie in 2021 can line up anywhere and was in the top five percentile for agility when he came out of school, according to Player Profiler. The Bills have zero CBs inside the top 65 of Pro Football Focus's grading.
Captain/MVP Picks
Josh Allen

($16,500 FD/$17,700 DK)

Despite his first true stinker in Week 11, Allen has his best matchup of 2022 in Week 12. Week 11 was also only the second time this season that Allen did not have 32 or more rushing yards. Buffalo's offense goes as he goes.
Stefon Diggs

($16,000 FD/$16,800 DK)

Diggs has at least 93 receiving yards or a TD in the three games that Allen has played with his UCL injury. Only three teams allow more schedule-adjusted fantasy points to opposing WRs, and the Lions will be without CB Jeff Okudah.
Jamaal Williams

($14,500 FD/$11,100 DK)

Williams will be hard-pressed to replicate his Week 11 stat line, but his usage in the red zone; he is second in the NFL with 34 RZ carries (and has one reception in the RZ) and leads the NFL in rushing TDs. Williams has converted nearly one-third of his RZ carries into scores. TD regression could be coming, or the Lions could be smart enough to be getting the most out of him.
Amon-Ra St. Brown

($13,500 FD/$15,600 DK)

St. Brown will be on the field. His snap percentage low since the team's bye is 80%, only because he was injured. This game could (should) get out of hand one way or another, and ARSB will be a part of it until the Lions are forced to concede.
Devin Singletary

($12,000 FD/$11,400 DK)

The game script leads to a larger fade of Singletary, but it is clear he is the trusted RB1 in Buffalo. James Cook will cut into his work, but Singletary is the red zone option and a useful option in the passing game (7/35/0 on 8 targets since Allen was injured).