Will Wan'Dale Robinson Contribute in Fantasy Football in 2022?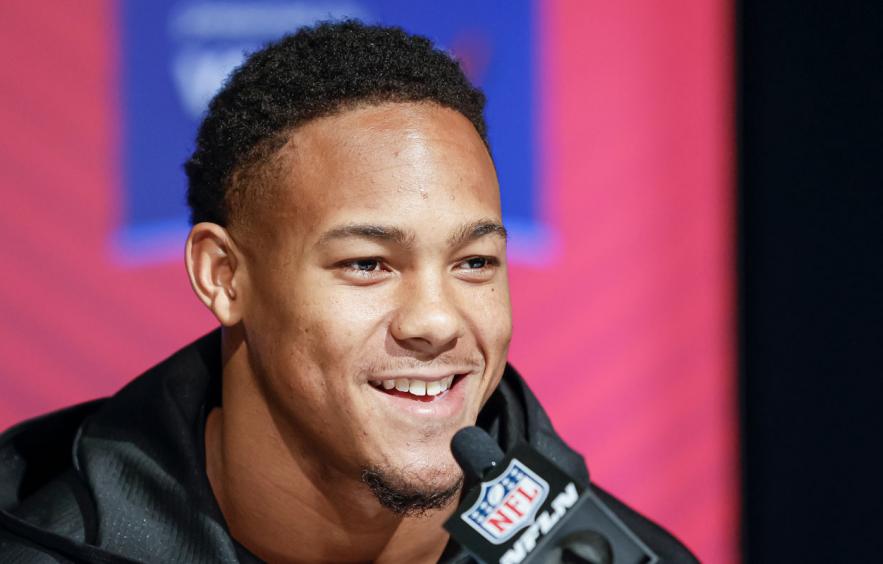 Michael Hickey/Getty Images
The leading receiver for the New York Giants in 2021 was Kenny Golladay who finished with 521 yards and 0 touchdowns. He was the only receiver to have more than 500 yards. The second-leading receiver was Kadarius Toney and he finished with 420 yards and 0 touchdowns. The only other player to go over 400 yards was Evan Engram and he's in Jacksonville now. Saying the Giants had the absolute worst group of pass-catchers last season would not be an exaggeration.
Early in the offseason reports started to surface that Toney and Darius Slayton were available for trade. With the NFL Draft now in the rearview mirror, a move for either player looks less likely. However, if another team were to experience a wrath of injuries at their receiver spot, Darius Slayton could be a target and would likely be the easiest for the Giants to move.
Sterling Shepard is still in New York, but he's long struggled with injuries and will be attempting to make it back from a torn Achilles he suffered in December. He will not be ready for the start of the season and fantasy managers should be expecting him to miss the majority of the year based on his own history and what we know about the kind of injury. The new coaching staff must not have been impressed with the receiver room if they were willing to trade two pieces of it and with Shepard's unknown status, the Giants not only needed more depth, but they needed to upgrade in terms of talent.
To do that, they drafted Wan'Dale Robinson out of Kentucky with the 43rd pick in this year's NFL Draft. At just 5'8 and 178 pounds, there are legitimate concerns as to where he plays in the NFL and what kind of role he will have.
---
Click here for more 2022 Player Profiles!
---
Who Is
Wan'Dale Robinson

?

Robinson played his first two collegiate seasons at Nebraska in 2019 and 2020. As a true freshman, he earned 59 targets and caught 41 of them, turning them into 461 yards and 2 touchdowns. He averaged a very impressive 9.57 yards after the catch per reception, which ranked 16th among receivers with at least 50 targets. He also generated a 2.53 yard per route run average, which ranked 52nd out of 352 receivers who had 50+ targets. However, while this production looks very impressive for a true freshman, there were some red flags, mainly his average depth of target, which was just 3.3 yards. This ranked 315th out of 352 qualified receivers. With such a low average depth of target, the question becomes whether he was truly getting open, or if his touches were mostly schemed.

During his sophomore season at Nebraska, Robinson finished with 64 targets, 51 receptions, 461 yards, and 1 touchdown. While his average depth of target almost doubled, up to 6.2, most of his other metrics fell. His yards after the catch per reception dropped down to 5.1, almost a 50% decrease from 2019. His yard per route run average also fell from 2.53 to 1.99. After his second season concluded, Robinson entered the transfer protocol and enrolled at Kentucky where he would put himself on the NFL Draft radar.
Wan'Dale Robinson was the 8th WR taken in the draft but is the WR14 off dynasty rookie boards per @DLFootball.

Going behind 2 G5 seniors including 23yo Tolbert and a 5th year FCS guy Watson.

Pick a metric: he's always been great. He has not been injured. What are we doing? pic.twitter.com/SIS5hddiIx

— AlfredJF (@AlfredJF) May 8, 2022
During his one and only season at Kentucky, Robinson earned 140 targets, which was the fifth-most in the country. He caught 74.3% of those targets and finished with 104 receptions, the third-most in the nation. According to Sports Info Solutions, Robinson's 103.2 yards per game was the ninth-most in the country.
He averaged 3.7 yards per route run, which was tied with Drake London according to Sports Info Solutions for third-best in the country. Robinson's 40% target share set the standard in the country. Some of this success could be pointed to his average depth of target, which rose to 10.4 yards. All of his statistics are off the charts impressive, but what does the film say? Below is a look at his Reception Perception success rate by route.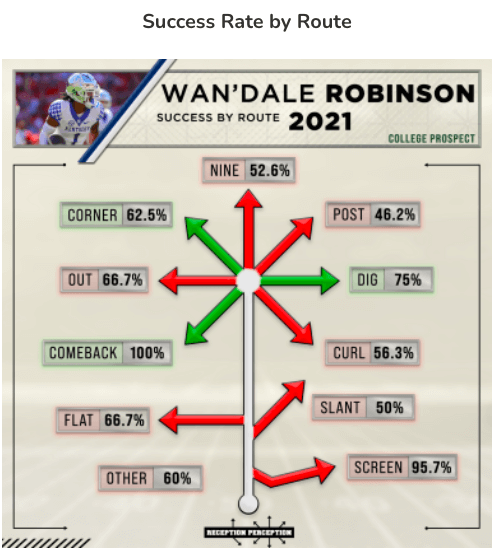 As you can see, Robinson posted below-average win rates on six out of the nine total routes. So if that's the case, how did he put up such elite numbers in 2021? Matt Harmon of Reception Perception had this to say about Robinson's game film,
"Robinson lined up in the slot or backfield on 66.5% of his sampled snaps and was off the line for 79.1%. He was routinely schemed touches in college playing a hybrid role...However, he's just not there a technician or consistent separator to comfortably project him as anything more than a created touches contributor right now. His success rate vs. man and press coverage were bottom-barrel scores. He is going to need a lot of development to build a career as a routine contributor in an NFL offense. His role was so predictable in college that even some of his screenplays got blown up in this small sample of games."
Robinson's collegiate profile is one of the more difficult ones to get a handle on because of the differences of opinion between the analytics and the film. Other advanced statistics that love Robinson are his 37.3% college dominator (75th-percentile) and his 18.7 breakout age (95th-percentile). However, Matt Harmon wasn't the only draft analyst to express some concerns about him. Lance Zierlein, NFL.com's lead draft analyst wrote this about him,
"He has gadget potential and can function as a dump-and-run target, acting as an extension of the running game. A lack of length and play strength could be a concern until he tightens up the route-running to prevent contested catches."
The one positive about Robinson's potential value is that Jason Garrett is no longer the offensive coordinator in New York. If Robinson does need to be schemed touches or be put in certain positions to succeed, which is likely the case for a 5'8 rookie, Garrett is undoubtedly the wrong man for that job. New head coach Brain Daboll, however, may be more up for the task, so what can Robinson provide to fantasy managers in his first year?
What Will
Wan'Dale Robinson

's Role be in New York?

Based on how Robinson was used in college and his size limitations, fantasy managers should be expecting him to be primarily a slot receiver and gadget player. The interesting thing about that for the Giants is they already have two receivers that were almost exclusively used out of the slot.

Sterling Shepard ran 72.9% of his routes from that position and Kadarius Toney ran 60.1% percent. With Shepard likely rehabbing most of the season, Robinson won't need to worry about him, but how the New York coaching staff decides to use Toney and Robinson will be interesting. It's always possible Toney is traded before training camp, which would significantly free up Robinson's path to immediate playing time.

Last season, Golladay and Slayton played the most snaps among the receivers. Some of this was due to injury, but the expectation should be that these two players are the two primary outside receivers for the Giants in 2022. Toney and Robinson will battle it out for slot duties and will likely end up splitting time there. It's also possible Toney could bump outside at times, putting Slayton on the bench and Robinson in the slot.

If all these players are still on the roster come training camp, the most likely scenario is a combination of all three, which would leave Slaton, Toney, and Robinson in somewhat of a receiver-by-committee approach with Golladay being the No. 1. While the Giants have 226 vacated targets, the vast majority of those were not directed to the receiver group in 2021. In fact, while their 226 vacated targets are the eighth-most in the NFL, they have the ninth-fewest vacated receiver targets in the league with just 47, which will make it different for Robinson to earn consistent volume. Again, a trade of Slayton or Toney would certainly help alleviate some of the concerns.

Robinson has an Underdog ADP of 197.2 and is being drafted as the WR85 off the board. With the concerns surrounding another season of poor offensive output and likely below-average quarterback play from Daniel Jones, it's hard to get too excited about Robinson's fantasy prospects in 2022. It's increasingly difficult to find a pathway for Robinson to reach the kind of ceiling where fantasy managers will actually have confidence putting him into their starting lineup. He's a much more appealing prospect in dynasty leagues, but for redraft, he shouldn't be viewed as anything more than a dart throw in the last round or two of your drafts. The most likely scenario is him spending the majority of the season on the waiver wire.

The Bottom Line
Robinson dominated in his final season at Memphis and put up elite scores in most advanced statistics.
He possesses an exceptional analytical profile.
There are concerns surrounding his size and how he was deployed in college.
Robinson is a poor route runner who struggled to get open and was fairly dependent on schemed touches in college.
He enters a crowded receiver room, which could be cleared up by a trade.
He is most likely to split slot duties with Kadarius Toney, which will limit his volume.
Expected poor team offensive output and below-average quarterback play significantly lowers his ceiling.
Robinson is nothing more than a last-round dart throw and a player who is most likely to spend considerable time on the waiver wire, barring a trade to Toney or Slayton.