Less is Moore for Rondale in Fantasy Football in 2022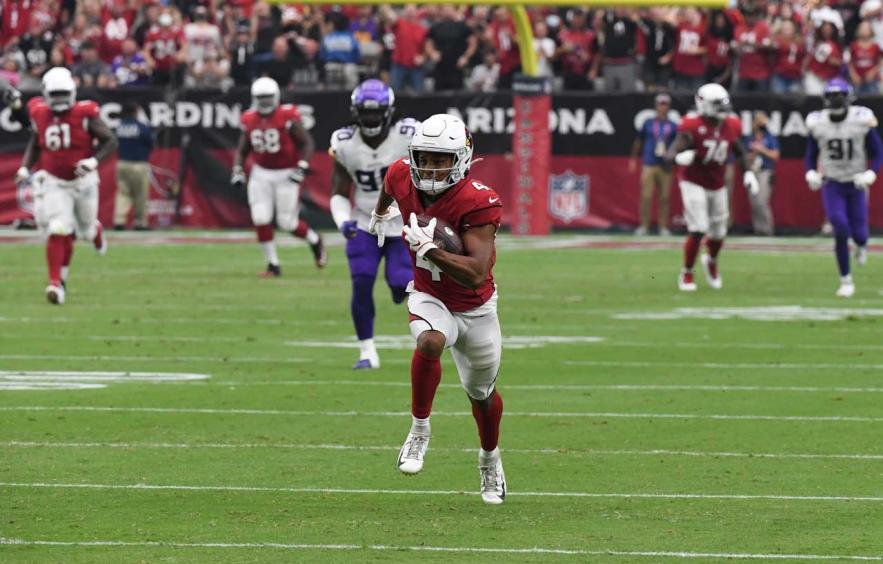 Norm Hall/Getty Images
There were plenty of people excited about Rondale Moore coming into the NFL in 2021, and plenty more even more excited about his landing with the Arizona Cardinals. It would be fair to say that his rookie season was slightly underwhelming, both from a "real life" and fantasy perspective. If we're being truthful, 2022 might not be much of an improvement.
---
Click here for more 2022 Player Profiles!
---
A Part-Time Player
Moore came into the NFL after breaking out early as a member of the Purdue Boilermakers. In his freshman season in 2018, he commanded a 29% target share on his way to 1,258 yards and 12 touchdowns. In the pre-draft process, Moore flashed blazing speed with a 4.37 40-yard dash time and also showed elite burst and agility. But the massive elephant in the room was his size. Moore stood just 5'7" and weighed in at 181 pounds. Still, the Cardinals liked what they saw enough to take him in the second round of the 2021 NFL Draft.
It would not be accurate to call Moore an immediate every-down player for the Cardinals. He played in 14 of their 17 games, but only managed 432 snaps over the course of the season. He lined up in the slot on 278 of these, a 64.3% rate. Moore played only 47.5% of the snaps in the games he played, only once going over 63%. Moore drew 64 targets as a rookie, catching 54 of them at an incredible 84% rate for 435 yards and a score.
He was the overall fantasy WR5 in just his second game in the NFL after scoring 20.9 half-PPR points against the Vikings, thanks to seven receptions for 114 yards and his first NFL touchdown. He didn't manage more than 12.2 Half PPR points in a single game after that.
Unhelpful Usage in Arizona
Moore's catch rate begins to look less impressive when one takes a closer look at just how he was used. Of his 54 catches, 37 receptions and 186 of his yards came when he was targeted behind the line of scrimmage. Despite his blazing speed, the Cardinals were seemingly reluctant to make use of him down the field. Only eight of his 64 targets were 10 or more yards downfield.
This is all the more baffling considering how many deep shots the Cardinals took in 2021. Kyler Murray attempted 76 passes of at least 20 yards, which made up 14.8% of his total attempts. This was the third-highest rate among all quarterbacks with at least 50 pass attempts.
As previously indicated, Moore lined up in the slot on a good number of his plays, and it was from this alignment that he drew the bulk of his targets. Moore saw 50 targets inside, catching 39 for 351 yards. But as we've previously covered, he was not exactly given the license to take flight from the slot. His average depth of target (aDOT) from the slot was just 2.7 yards, 19th among the 19 wide receivers in the league with at least 50 slot targets last season. Moore finished his rookie campaign as the WR70 in Half PPR scoring.
It's the Hope That Kills You
There are a few things that fans of Moore can cling to as reasons for optimism heading into 2022. DeAndre Hopkins is suspended for the season's opening six games, so his targets must go somewhere. There is also the fact that Christian Kirk is now a member of the Jacksonville Jaguars, taking a bulk of the 103 vacated wide receiver targets from a year ago with him. Kirk saw 83 targets from the slot last season, so there's a natural opening for more looks for Moore. Right? Right? Well...
The absence of Hopkins should, in theory, open up more opportunities for Moore. This was certainly the case in 2021 when Hopkins missed time with his own injury concerns. When Hopkins was on the field, Moore commanded just 4.2 targets per game. On these looks, he delivered 3.3 receptions for 34.0 yards and 6.2 half-PPR points per game. With Hopkins out of the lineup, Moore's targets jumped to 5.8 with his receptions leaping to 5.3. But despite an increase in work, Moore's output dropped to 23.8 yards with 3.5 air yards per game. His fantasy points also fell to a meager 5.1.
It would also be a mistake to assume that Moore would inherit the type of targets that Kirk commanded in the slot, even if he did gobble up the bulk of the looks. Kirk drew 83 slot targets a year ago, catching 63 passes for 809 yards and four touchdowns. His aDOT on his slot looks was 11.8 yards—remember that Moore's was 2.7. They did not want to look for Moore deep, preferring to keep him close at home to catch dump-offs from Murray.
The Cardinals also made a blockbuster trade on draft day, sending their first-round pick to the Ravens in order to obtain Marquise Brown. As a member of the Ravens last season, Brown was no stranger to slot duty himself. Like Moore, Brown drew 50 slot targets in 2021. He "only" caught 37 of them, but his aDOT of 9.9 helped him amass 413 yards and two touchdowns.
We also must not forget that tight end Zach Ertz isn't averse to spending a bit of time inside. Ertz commanded 52 slot targets himself in 2021 (both with the Cardinals and the Eagles), the fourth-most among all tight ends. Simply put, the Cardinals have a plethora of options they can use in the same area of the field as Moore, and they can get more yards from them.
Rondale Moore

's 2022 Fantasy Outlook

To be fair to drafters, it's not as if they are currently out over their skies with Moore ahead of the new season. His ADP at Underdog is just WR55, which is still significantly higher than we have him ranked at 4for4. I cannot envision a situation where he becomes fantasy relevant unless the Cardinals completely change how they use him, which I don't see happening, given the other players at their disposal.

I would much rather draft players like Kenny Golladay, Jakobi Meyers, or K.J. Osborn than Moore, and all three of these players are currently going after him on Underdog. We should see more of Moore in 2022, but not enough to make him fantasy relevant.

The Bottom Line
Moore came into the NFL with significant question marks, none of which have been answered after his rookie season.
The Cardinals' use of Moore in 2021 shows that they had little or no inclination towards making him a feature part of their offense.
The Cardinals have plenty of options available to do a similar job to Moore, and they can probably all do it better.
Even as the WR55 off the board, Rondale Moore is being overdrafted and unlikely to be fantasy relevant in 2022