How Does Breece Hall Fit Into Jets' 2022 Offense?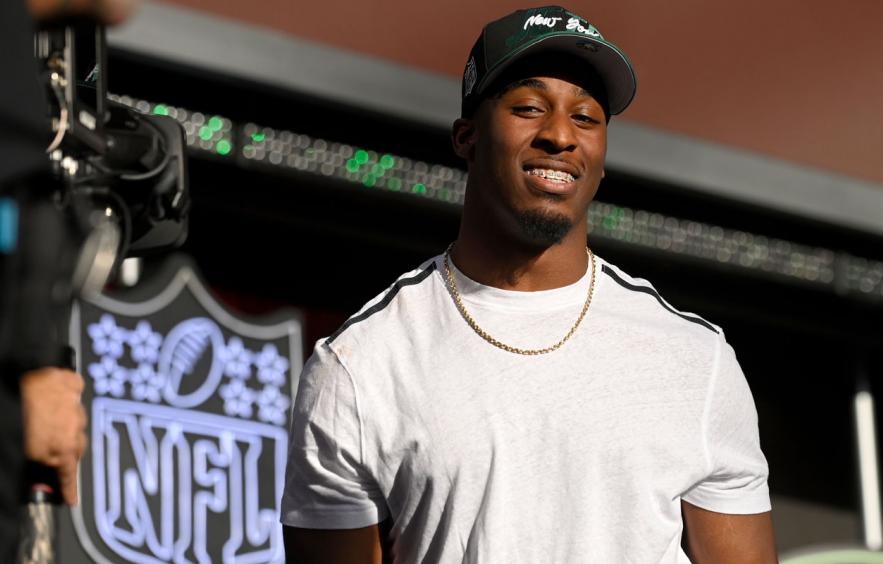 David Becker/Getty Images
Running back was not often mentioned as a position of need for the New York Jets entering this year's offseason. After all, they had drafted fourth-round rookie, Michael Carter, who amassed 964 scrimmage yards in 2021. General manager Joe Douglas apparently disagreed with that narrative because with the 34th pick in this year's NFL Draft, the Jets made Breece Hall out of Iowa State the first running back selected.
At first glance, it seemed to be a bit of a surprise, but when you look at the entirety of the organization's moves over the last two years, this is about Zach Wilson giving him what he needs to be successful and the Jets needed more consistency in their running game.
The backfield now appears to be a bit muddied. The Jets already employ Carter, who was a good pass-catching back last year. So how does Hall fit into that equation?
---
Click here for more 2022 Player Profiles!
---
Breece Hall

, the Prospect

Hall signed on to play football for the Cyclones, enamored with the idea of playing right away. In his freshman year, he ended up leading the Cyclones en route to 897 rushing yards and 9 touchdowns in 2019. He averaged 4.8 yards per carry and finished the season with over 1,000 scrimmage yards. As impressive as those rushing totals are for a true freshman, it's his role in the passing game that really stands out. He finished with 27 targets and was able to corral 23 of them for 252 yards and one score. For context, Kenneth Walker III, the second running back off the board recorded 19 total receptions in his three-year college career. All in all, it was a very successful first year.

Hall took his game to new heights as a sophomore, finishing with 1,562 rushing yards, which was the most in the country. He averaged 5.6 yards per carry and found the end zone 21 times, which was second only to Najee Harris. He also stayed involved in the passing game, which is a crucial component of future fantasy success.

In his encore before departing for the NFL, Hall put forth his best all-around campaign of his collegiate career. While his rushing yard total dipped to 1,472 yards, his yard per carry average increased to 5.8. However, where he popped was in the passing game. He received 41 targets in his junior season and caught 37 of them—a very impressive 90.2% catch rate. He finished with 310 receiving yards and three scores. His 41 targets were the 16th most in the country for any running back and he finished 17th in receiving yards.

Lance Zierlein, NFL.com's Media Draft Analyst had this to say about Breece Hall,
"Will give NFL evaluators early starter vibes with his blend of size, power, and creativity… Hall has full-package, three-down talent with surprisingly soft hands out of the backfield and should find early touches as a Day Two draft pick with above-average potential."
Hall profiles as a do-it-all kind of back. He finished his college career with 82 receptions and 743 yards out of the backfield. His 9.1 yard per reception average is not too far below fellow rookie James Cook's 10.7 average, who is widely believed to be the best pass-catching back in this year's draft class. Unlike Cook who does not profile as a three-down back due to his size and lack of rushing attempts in college, Hall has that kind of upside. He doesn't need to be the best pass-catcher because he's so incredibly effective running the ball. In his three years at Iowa State, he finished with five touchdowns of over 75 yards. His 217-pound frame will allow him to work on short-yardage and goal-to-go situations and his 4.39 forty time showcases his ability to hit the home run, as well.
#1 #RAS RB 2022



Breece Hall is a RB prospect in the 2022 draft class. He scored a 9.96 RAS out of a possible 10.00. This ranked 7 out of 1624 RB from 1987 to 2022. https://t.co/nU6qsuhlgP #RAS pic.twitter.com/NoLlWUZBip

— Kent Lee Platte (@MathBomb) April 13, 2022
When you consider the upside he brings on the ground, with his speed and size, and combine that with the pass-catching ability he displayed at Iowa State, fantasy managers may be looking at a new, true three-down running back at the next level. He'll still have to compete with Michael Carter for those pass-catching responsibilities, but he showcased enough in college to believe he might not need to come off the field.
Making Sense of the
Jets

' New Backfield

Head coach Robert Saleh and offensive coordinator, Mike LaFleur are just in their second season and the offense has seen significant additions again this offseason. Both coaches come from San Francisco where they worked under Kyle Shanahan, who operated a run-centric offense that has historically used a committee approach. However, Shanahan has not been known to allocate as much draft capital as the Jets used to select Hall.

Last year, the Jets' running backs combined for 326 carries, 1,365 rushing yards, and just 7 touchdowns. They also received a whopping 129 targets, which they turned into 83 receptions, 755 yards, and 2 additional scores. They averaged just over 24 touches per game and Carter led the way with 13.1. The running backs combined for a 21.4% target share in 2021, although those numbers are somewhat skewed. There was a stretch of five games where Wilson missed four of them completely and attempted just 10 passes in the fifth. In those five games, the Jets' running backs received 61 targets out of the 229 attempts, which resulted in a 26.6% target share. In roughly three games worth of action, backup quarterback Mike White threw just under 38% of his pass attempts to running backs. Zach Wilson, on the other hand, threw just 17.4% of his attempts to his backfield mates.

Between the addition of Garrett Wilson and the assumed health of Elijah Moore and Corey Davis, fantasy managers should be expecting a lower target share for Jets' running backs this season. The difference between the team's overall target share to running backs and Wilson's was worth roughly 25 additional targets, which is something to be mindful of when looking at the upside in this backfield. This would result in an expected target total of closer to 100 for the running backs in 2022.

Many fantasy managers tend to believe Carter was the primary pass-catching back in New York, but that wasn't exactly the case. In fact, Carter and Ty Johnson both saw 55 targets on the season. Despite catching two fewer passes, Johnson finished with more yards and the only two receiving scores out of the backfield. While Hall has the potential to take complete command of this backfield, it's too optimistic to assume that would happen immediately.

Rookie running backs often struggle with pass protection early and it's because of this that Johnson and Carter are likely to stay involved early. Hall, because of his early-down skillset, is the clear favorite to lead the backfield in snaps and that playing time will result in a number of targets throughout the year. However, at this time, fantasy managers should still be bracing for Carter and Johnson to lead the team in this regard. So what might the touch distribution look like in New York? Here is a possible split:

The above table is working off of 105 running back targets. The Jets attempted 603 pass attempts last year and Wilson's target share towards his running backs was 17.4%, which is roughly 105 targets. The Jets were dead last in rush attempts per game last season with just 22.4. The Jets' offense looks poised for a much better statistical season and with the additions added this offseason and the growth from the players already on the roster, it's fair to expect the Jets are able to keep more of their drives alive. If they attempt just 24 rushes per game, which would have still leave them just 27th in the league in rush attempts, they'd have 408 attempts to go around.

With around 230-235 carries projected, Hall would have roughly 58% of the carries and 35% of the backfield targets. This kind of workload makes him a mid-range RB2 for 2022. The workload split listed above would be somewhat similar to the one in Washington where Hall would fill the Antonio Gibson role and Carter/Johnson would be appearing as J.D. McKissic. Gibson finished as the RB18 in terms of PPG in half-PPR scoring last year and that's about where Hall should be valued.

There is also a possibility that Hall renders Carter and Johnson mostly irrelevant. Hall proved in his three years at Iowa State he's more than capable of catching the ball out of the backfield and he should already be viewed as a much better runner than both players. If Hall is able to acclimate to the pro game faster than expected and prove to the coaching staff that he can keep Wilson clean in the pocket, he could earn more of a three-down role. If Hall can do both, defenses wouldn't be able to assume run/pass based on which running back is on the field. While this shouldn't be the expectation, it's within the range of outcomes for Hall to do to Michael Carter what Jonathan Taylor did to Nyheim Hines. That isn't to say Hall will be as good as Taylor, but as the season moves along, Hall could overtake his respective backfield in the same manner Taylor did during his rookie season.

Hall enters the young offseason with an Underdog ADP of 50.4 and is being drafted as the RB21. Fantasy managers shouldn't be shying away from the former Cyclone at this price. If Wilson takes a step forward in his sophomore season, there's some upside to be had at that price and even if Carter continues to be involved on passing-downs, Hall will likely receive enough carries to justify that ranking.

The Bottom Line
Hall had an extremely productive three-year career at Iowa State. He led the country in rushing as a sophomore and found the end zone 56 times.
He's an incredibly gifted athlete and possesses a rare combination of speed, size, and power.
Hall has an encouraging receiving profile from college, which makes it more likely he'll be a capable pass-catcher in the NFL.
He is best viewed as a mid-RB2 since he is likely to share the passing work with Michael Carter. He's being selected as the RB21 on Underdog; this is an appropriate spot for Hall.
However, if Hall is able to separate himself from Carter and Wilson takes a step forward in Year 2, which would increase the team's offensive output, Hall could flirt with back end RB1 numbers, although this should not be the expectation.