How DeVante Parker to the Patriots Impacts Fantasy Football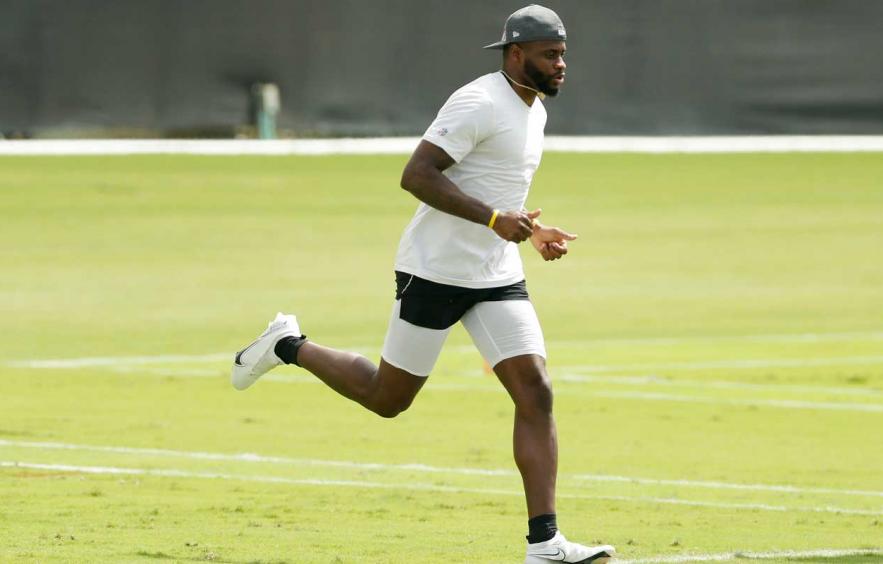 Michael Reaves/Getty Images
Seeking to add talented weapons to sophomore quarterback Mac Jones' arsenal, the New England Patriots traded a 2023 third-round pick to the Miami Dolphins for veteran wide receiver and former first-round pick DeVante Parker and a 2022 fifth-rounder. The Patriots were seeking outside talent to provide the offensive boost they were hoping to receive from signing Nelson Agholor a year ago. Parker has been inconsistent throughout his career but should walk into WR1 status on the depth chart and will get a fresh chance to produce.
Click here for more 2022 Player Profiles!
How Good is
DeVante Parker

?

Parker has shown he can be really good… when healthy. That's the kicker for the 29-year-old. He's missed games in all but one of his seven seasons as a pro, including seven last year. He always seems to be nicked up and is often hobbled even when active. Parker has had varying levels of success throughout his career, highlighted by his one full season in 2019 where he averaged 13.14 half-PPR points per game, which would've made him the WR12 last year.
DeVante Parker

Career Statistics

| Year | G | Tgt | Rec | Yds | TD | Half-PPR Pts | Half-PPR/G |
| --- | --- | --- | --- | --- | --- | --- | --- |
| 2015 | 14 | 50 | 26 | 494 | 3 | 80.4 | 5.74 |
| 2016 | 15 | 87 | 56 | 744 | 4 | 126.4 | 8.43 |
| 2017 | 13 | 96 | 57 | 670 | 1 | 101.5 | 7.81 |
| 2018 | 11 | 47 | 24 | 309 | 1 | 48.9 | 4.45 |
| 2019 | 16 | 128 | 72 | 1,202 | 9 | 210.2 | 13.14 |
| 2020 | 14 | 103 | 63 | 793 | 4 | 134.8 | 9.63 |
| 2021 | 10 | 73 | 40 | 515 | 2 | 83.5 | 8.35 |
| Career | 93 | 584 | 338 | 4,727 | 24 | 785.7 | 8.45 |
For his career, Parker averages 8.45 half-PPR points per game, which would make him the WR47 last year. That's the large window of expectations for Parker as the top wide receiver on the depth chart. Somewhere between Sterling Shepard and Mike Evans.

Parker has the ability to open up an offense. His 12.9 yards per reception last season would've been third on the Patriots and he should be able to repeat or improve upon that number with Mac Jones at quarterback. Both Jones and Tua Tagovailoa have thus far played for accuracy and the short game, but Jones actually had a higher yards-per-attempt average (7.3) than Tagovailoa (6.8) last year. At 6-foot-3, Parker is a big target on the outside and he brings the exact skill set the Patriots were hoping to get when they drafted N'Keal Harry in the first round in 2019.
Parker's Opportunity in New England
New England definitely runs a more conservative offense than Miami did, at least last year under Josh McDaniels. We'll see who takes over calling plays in New England, but if there's any truth to the rumors of long-time defensive-minded Bill Belichick taking over the role, an increase in neutral passing rate shouldn't be expected. According to RBSDM, the Dolphins were seventh in the league in 2021 with a 56.1% early-down neutral pass rate – first and second downs – while the Patriots were ranked 27th, all the way down at 45.9%. The Patriots are built to run and to win with defense. There's no reason to suspect that changing any time soon.
However, the Patriots also lack an elite outside receiver. Their leading receiver from last year, Jakobi Meyers, received the vast majority of his targets from the slot, while 83% of Parker's targets came from outside, per Sports Info Solutions. The Patriots have several wide receivers vying for snaps, which creates a murky situation for Parker, but it's not like any of them are irreplaceable.
In fact, 21.9% of the Patriots' receiving yardage came from Hunter Henry and Jonnu Smith, their two high-priced tight ends. Expect Henry and Smith to continue to be featured in the offense, but there's no reason Parker can't push Nelson Agholor and Harry – who may be on the trade block – in the lineup and acquire a significant target share. The Patriots haven't added anyone else of consequence to their wide receiver room, and have drafted horribly at the position under Belichick. Even a modest 16% target share would land him around 83 targets based on last year's numbers.
The opportunity is there for Parker to lead this team in targets. Meanwhile, any hope for a rebound for Agholor should be laid to rest. Harry is undraftable until unless he's traded. I expect Jakobi Meyers to continue to get regular work out of the slot and Kendrick Bourne to have the occasional burst of production, but this is ultimately a better spot than Miami for Parker to contend for targets, even if there are fewer overall targets to go around. Expect his ADP to rise in the coming months, but his WR71 ranking on Underdog should be a bargain for those drafting early. Parker has WR2 upside with his new role.
How Parker's Departure Affects the
Dolphins
Parker was set to create just enough murk to be annoying in Miami. After the Dolphins traded for Tyreek Hill, the writing was on the wall for any fantasy managers still clinging to the hope of Parker returning to his 2019 production as a Dolphin.
With Parker out of the picture, things get easier for fantasy managers looking at the Dolphins roster. John Daigle has 166 available targets for them, and the expectation is that the bulk of those will go to Hill and fellow newcomer Cedrick Wilson. With Parker in the mix, Wilson would become an afterthought. Now, Wilson becomes a viable fantasy option in deeper formats, with the potential to put up WR3 numbers in any given week. He could be a bargain for fantasy managers looking at upside, particularly if Hill or Waddle get injured.
Bottom Line
Parker has WR2 upside with an increased role on a team that desperately needs him.
Nelson Agholor and N'Keal Harry are most likely going to see a decrease in snaps and targets with Parker on board.
Parker's departure from Miami opens the door for Cedrick Wilson to be fantasy relevant.