Fantasy Football Debate: Justin Jefferson vs. Ja'Marr Chase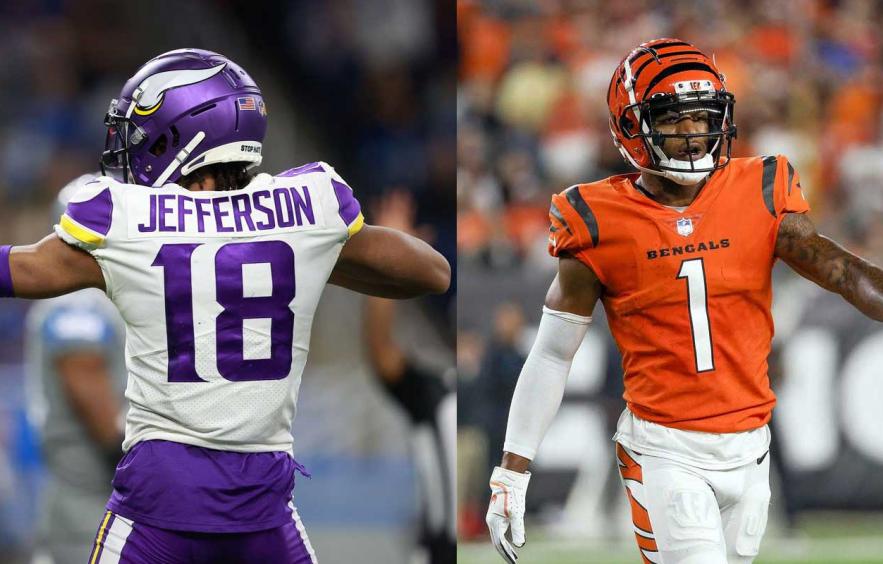 Jefferson by Rey Del Rio, Chase by Dylan Buell/Getty Images
Justin Jefferson and Ja'Marr Chase are being drafted as WR2 and WR3 respectively, in the first round on Underdog Fantasy. In this debate, Pranav Rajaram argues for Justin Jefferson while Brandon Niles fights for Ja'Marr Chase.
---
Click here for more 2022 Player Profiles!
---
The Case for
Justin Jefferson
Pranav: Justin Jefferson has had the greatest start to a career for a wide receiver in NFL history. That might sound like I'm exaggerating, but the numbers back it up: Jefferson has over 200 more receiving yards than any other player in their first two seasons, and is tied for the most catches. He has been a legitimate superstar from the day he stepped foot on an NFL field and has a real chance of continuing his dominance in 2022.
When a player has an incredible rookie season, it can sometimes be hard for them to live up to those lofty standards in the following years—Players like Odell Beckham and Kelvin Benjamin arguably peaked in their first year in the league. For Jefferson, however, this was not the case:
Justin Jefferson

Career Stats

| Year | Targets | Receptions | Receiving Yards | Touchdowns | Fantasy Finish |
| --- | --- | --- | --- | --- | --- |
| 2020 | 125 | 88 | 1400 | 7 | WR6 |
| 2021 | 167 | 108 | 1616 | 10 | WR4 |
As we can see, Jefferson improved on every single aspect of his record-shattering rookie campaign. This is an incredibly promising sign, as he can be expected to only get better as he continues to adjust to the NFL.
Another one of the most impressive aspects of Jefferson's ridiculous first two years is that he was able to do so well in a run-first offense. With Mike Zimmer as head coach, the Vikings ranked bottom-10 in neutral down pass rate in both 2020 and 2021. This means that Jefferson was able to put up insane numbers despite his team choosing to establish the run.
Looking ahead to 2022, Jefferson's situation has only gotten better. The Vikings fired the run-focused Zimmer and hired Rams OC Kevin O'Connell to be their head coach. O'Connell, a 37-year-old disciple of the Sean McVay coaching tree, will be able to implement a modernized offense to feed his WR1 even more. Jefferson has already been able to put up phenomenal stats in a less than ideal system, but just imagine what he could do with the person whose top receiver last season was Cooper Kupp. O'Connell's presence will also likely lead to a better Vikings offense as a whole, leading to more scoring opportunities for Jefferson.
While Jefferson's former LSU teammate and fellow gritty extraordinaire Ja'Marr Chase is undoubtedly a phenomenal fantasy player in his own right, there are a couple more uncertainties with him that make me lean toward Jefferson. The first of these is consistency. Last season, there were stretches where Chase was a colossal disappointment for fantasy owners. From weeks 8 to 14, Chase averaged just 41 receiving yards per game and had just one week with double-digit targets. His highs (11/266/3 versus the Chiefs in fantasy finals week sticks out) make him look great at the end of the year, but Jefferson was the far more reliable option on a week-to-week basis. Chase was also the beneficiary of big plays last year, catching seven touchdowns of over 40 yards. This number is bound to come down closer to the average—in fact, Chase ranked 1st in 4for4's touchdowns over expectation model.
Wrapping things up, it is certainly possible that Jefferson and Chase both have amazing seasons and are considered the league's two best wide receivers at year's end. However, for fantasy this year, Jefferson's new offensive system and more proven consistency make him the more attractive option in drafts, and he has a very real chance of continuing his upwards trajectory and finishing the season as the overall WR1.

The Case for Ja'Marr Chase
Brandon: This is a tough one for me because I genuinely love both these players and I have no qualms drafting either of them with a high first-round pick in all fantasy formats. That being said, if I have to go with one of them, it's hard to pass on the most recent of the rookie receiver phenoms from the past two seasons.
Chase finished just a hair behind Jefferson in half-PPR fantasy points last season as the WR5. He did so on a whopping 39 fewer targets and 27 fewer receptions. Chase was remarkably efficient, producing huge plays on a regular basis and providing fantasy managers with maximum bang for their buck.
Some may say this is ripe for regression. Perhaps, but Chase was considered an elite talent coming into the league as a do-it-all receiver with ridiculous ball skills, silly separation ability, and phenomenal run-after-catch talent.
Ja'Marr Chase really has another gear 💨💨💨



via @nflpic.twitter.com/BT1LbJyxYP

— NFL on CBS 🏈 (@NFLonCBS) April 15, 2022
We've been saying for years that Tyreek Hill's big-play ability makes him a risky bet to repeat his lofty performances. Yet, year after year, Hill finishes among the elite players at his position, largely because he's not just a speed guy but a talented route-runner. Who are we to say Chase doesn't also have such incredible talent that big play should be expected? PFF ranked him eighth last year among all wide receivers with at least 50 targets and that was just his first year!
Most of these wonderful things can be said about Jefferson as well, but what really gives Chase the edge is the offensive talent around him.
With Adam Thielen entering his age-32 season and missing 11 games over the past three seasons, Jefferson is likely to see more and more double-teams, while defenses will need to choose between Chase and Tee Higgins when they play the Bengals.
At quarterback, give me Joe Burrow over Kirk Cousins. Cousins has long been underappreciated in fantasy circles, but with a new coaching staff in place and entering his age-34 season, I'd rather put my stock into Burrow's potential. While I don't love Burrow's value as a fantasy option this season (no seriously, I'm not a fan), I do think the Bengals' passing offense should continue to develop, and repeating his 34 touchdowns from last season is very plausible with the weapons he has. Chase should be the primary beneficiary.
While I love both players, I think gambling on Chase's talent – especially in best ball formats where his huge weeks can swing championships – is a winning strategy. I think he has all the traits that will make him the exception to the regression rule, and that by season's end, he'll be vastly considered the best wide receiver in football.