Elijah Moore is Clear for Take Off in Fantasy Football Leagues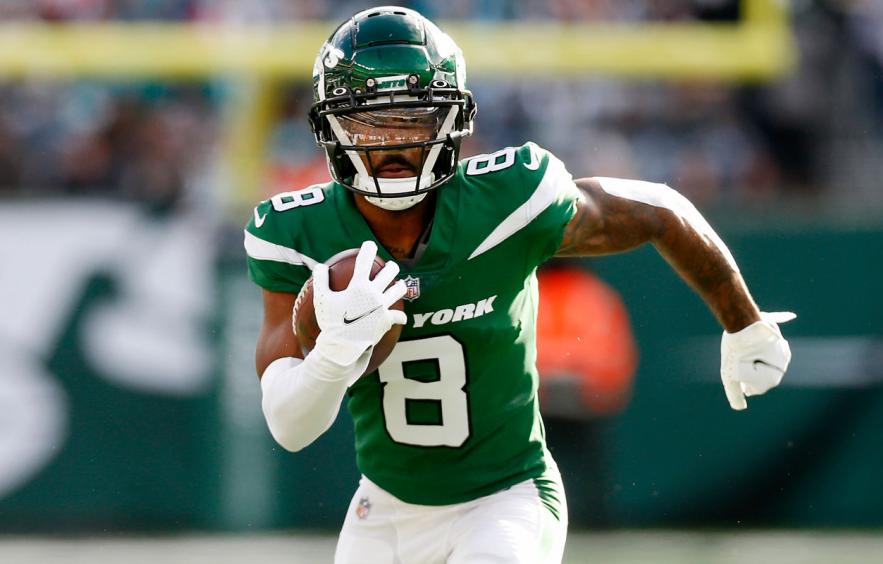 Jim McIsaac/Getty Images
Elijah Moore put together an epic stretch of fantasy performances last season as a rookie. Following the team's Week 6 bye until his injury in Week 13, Moore was the WR4 in half-PPR scoring and averaged 15.2 PPG.
With the New York Jets using a top-10 selection on Garrett Wilson out of Ohio State and the return of veteran receiver, Corey Davis, there are some concerns about whether there will be enough targets to go around. If you're one of those who do not believe in the "too many mouths to feed narrative", there are still concerns about whether Zach Wilson can take the necessary step forward so that all of their play-makers can benefit.
Moore currently has an Underdog ADP of WR32. Last year, in 11 games, he finished as the WR48 but was the WR29 in PPG. The Jets' offense could take a big step forward in 2022. They're entering their second year with Robert Saleh as head coach and Mike LaFleur as their offensive coordinator.
---
Click here for more 2022 Player Profiles!
---
Elijah Moore

's Rookie Season

While fantasy managers were given a glimpse of what Moore is capable of, his true breakout season has to wait. There's been much said about his splits with and without Zach Wilson behind center, but some of that needs to be put into context.
Elijah Moore with and without Zach Wilson. how. pic.twitter.com/GpPSdRJin2

— Hayden Winks (@HaydenWinks) May 31, 2022
Those numbers certainly are not ideal and paint a concerning outlook for Moore's 2022 season, but most of this can be explained. The games with Wilson were not only Moore's first four games of his career but Wilson's too. They were also Robert Saleh's first four games as a head coach and Mike LaFleur's first four games as an offensive coordinator. Some growing pains should be reasonably expected, but let's look even deeper than that.
In two of those four weeks (games three and four of the sample), Moore didn't even play 50% of the snaps. This was because he was injured in Week 3 and brought along slowly in his first game back. Moore struggled in his first game, but in just his second game, he earned eight targets and caught four of them for 47 yards. In his third game, prior to getting injured, he had already received six targets, so he was beginning to earn targets.
Once the Jets had their bye in Week 6 and with Moore fully healthy, he put on a show and exhibited why he was such an exciting prospect in the 2020 NFL Draft. From Weeks 7–13, the former Ole Miss standout averaged 8.1 targets, 5 receptions, and 67 yards per game. While some may argue his six touchdowns during that timeframe inflated his fantasy scoring, his per-game averages put him in some very impressive company.
The six touchdowns he scored in seven weeks catapulted Moore into the top five of receiver scoring during that time, but his per-game utilization metrics were on par with several highly respected and valued fantasy players. This streak of dominance was not sparked by a change in quarterback, but rather by Moore's incredible on-field performance.
If the Jets decide to play Elijah Moore in the slot, that's cool. He'll rip it up there. If they don't, no problem at all because every piece of evidence from his rookie season shows he can win outside at a high rate.



Full #ReceptionPerception profile: https://t.co/jTknQB5NKm pic.twitter.com/0z4DBcZD0T

— Matt Harmon (@MattHarmon_BYB) May 24, 2022
Based on Matt Harmon's Reception Perception profile on Elijah Moore, he was simply getting open at will. As you can see from the tweet above, Moore displayed the ability to get open regardless of what route he was running. He excelled in the short, intermediate, and deep parts of the field. Matt Harmon had this to say about Moore's performance,
"Moore's 75.2% success rate vs. man coverage puts him in the company of receivers who go on to have high-end career success and are destined to enjoy a breakout season sooner than later. Moore showed he could beat press coverage as an outside receiver with a 73.3% success rate (70th percentile)... He's a dangerously quick, full-field route runner who is just plain damn impressive. Players who get open like Elijah Moore just so rarely fail. Receivers who know how to beat man, zone, press, and get separation at all levels earn and command volume. Moore should be no exception."
After such an explosive rookie season, the sky is the limit for Moore. The Jets have fairly quickly put together an exciting, young offense that has unlimited potential. Based on his rookie season, fantasy managers should be optimistic about his sophomore season, although the addition of Garrett Wilson does present some questions as to how high Moore's ceiling is.
Elijah Moore

's 2022 Fantasy Football Value

The Jets' offense struggled mightily last year, but most of that should have been expected based on how many new parts they were incorporating last season. Moving into the 2022 season, there are reasons for optimism. In Wilson's first five games of the season, he threw just four touchdowns and nine interceptions. However, in his final seven games, Wilson threw five touchdowns and just two interceptions. He displayed noticeable improvement in his decision-making.

The Jets finished 28th in scoring last year, but they should be noticeably better this season. While they may stay below league average, fantasy managers should expect the offense to be more effective with most of the primary pieces entering their second year together.

New York finished with 595 attempts.With Moore's 18.6% target share, he paced for 111 targets.

Based on his Reception Perception profile from 2021, Moore's ability to separate and get open should help him increase his target share in Year 2. His 25% target rate (targets per route run) shows there is room for improvement.

The most interesting aspect of Moore's 2022 season will be where he lines up. In his rookie season, he finished with just 79 routes from the slot, 16.7% of his routes. Based on his Reception Perception Draft Profile from 2021, he ran 74.2% of his college routes from the slot. From his collegiate sample, he earned a target on 35.6% of those routes. If he moves into the slot on a full-time basis, there's the opportunity for a healthy target share this upcoming season.

There is one negative to consider and that's just how Saleh and LaFleur choose to deploy their personnel. They signed two tight ends, Tyler Conklin and C.J. Uzomah, in free agency, which means they could be interested in using 12-personnel more than fantasy managers would like.

In 2020, the 49ers—where Saleh and LaFleur were both employed—ran just 44% of their snaps with three receivers on the field. This was tied for the third-lowest in the NFL. In 2021, the Jets used 11-personnel on 61% of their snaps last season, which was the 11th-fewest in the NFL.
Corey Davis is 6'3" and a top 10 run blocking WR in this league. If the Jets want to use both CJ Uzomah and Tyler Conklin in the red zone, it's going to be one of Elijah Moore or Garrett Wilson coming out of the game.



I wonder which one?

— Andrew Cooper (@CoopAFiasco) May 11, 2022
If, when the Jets go to just two receivers, Moore may come off the field. Even if he and Garrett Wilson split that job, it will lower Moore's fantasy upside by decreasing his number of snaps and ultimately, his routes. While he is being drafted as the WR32, here at 4for4 he's ranked as the WR38. Moore is projected to finish with 59 receptions and 806 yards, indicating there are concerns regarding what his overall target total might be in 2022 with the additions of Wilson, the two tight ends, and a healthy Corey Davis.

The Bottom Line
Elijah Moore was viewed as an elite prospect coming out of Ole Miss and he followed that up with an excellent rookie season.
He displayed exceptional separation skills and high-end fantasy production.
A move into the slot could increase his target share, but that shift could also lead to him coming off the field on two-receiver sets.
The New York Jets have done an amazing job at putting together an exciting, young offensive core and if Zach Wilson takes a step in his second season, this offense could be a surprisingly effective unit.
Fantasy managers are best treating Moore as a WR3 with backend WR2 potential if everything breaks right for him.