Elijah Mitchell Will Be Fantasy Football's Best Dead-Zone Running Back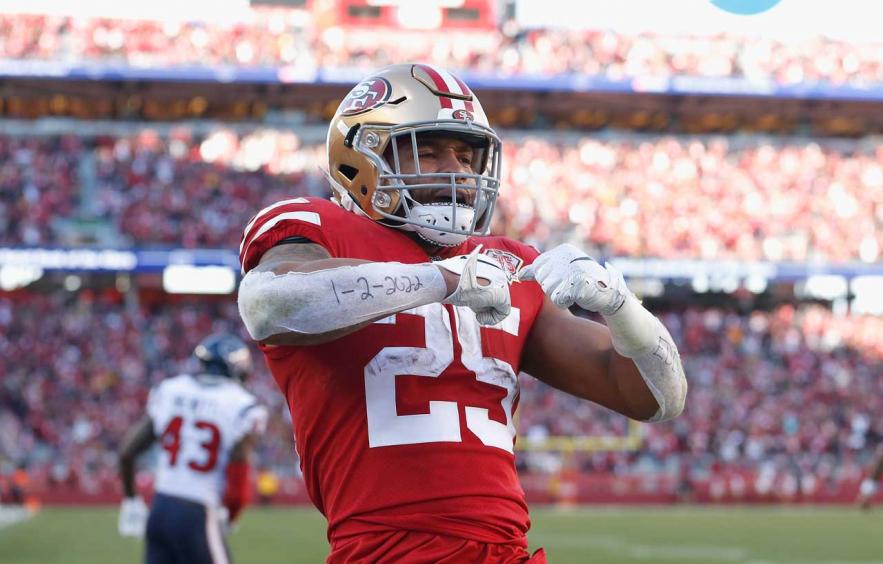 Lachlan Cunningham/Getty Images
In what appeared as a crowded, difficult-to-navigate San Francisco 49ers backfield before the start of the 2021 season, one very clear option emerged after just one week of the regular season and it was a name no one was expecting. For the first time since the 2017 season, a 49ers' running back finished in the top-20 of the NFL in backfield touch%, and it was sixth-round rookie Elijah Mitchell. With Jeff Wilson tearing his meniscus in May and Trey Sermon seemingly on the outs with the coaching staff from the time he was drafted, the lane was cleared for Mitchell to come out in Week 1 and eclipse 100-yards rushing on 19 attempts.
---
Click here for more 2022 Player Profiles!
---
Though the rookie's first season in the league wasn't without its bumps, he looked exceptional when he was on the field and will look to continue that momentum into the 2022 season. Below we will look back at his first year in the league and try to find out how likely he is to produce an encore in fantasy football this fall.
A Stellar Rookie Season
It wasn't deep into the 2021 regular season before sixth-round selection Elijah Mitchell entered the fantasy football landscape. With third-rounder Trey Sermon a healthy scratch and presumptive number-one option Raheem Mostert leaving the game with a knee injury after only three snaps, Mitchell would turn his opportunity into an RB12 finish for the week and there was —mostly— no looking back. The rookie was 2021's first waiver wire cover boy, as everyone scrambled to pay whatever FAAB price required to be able to play Kyle Shanahan's main rushing-game piece.
Our initial 4for4 ranking had Mitchell as the RB24 after the Week 1 performance, and we actually undershot how much of an impact he would be in this offense; he finished the season as the RB12 with 14.1 half-PPR points per game. As is often the case with running backs —and is especially the case with 49ers running backs— the injury bug would bite Mitchell throughout the season, relegating him to an overall RB25 finish because he only played in 11 games.
Despite dealing with a murderer's row of ailments (shoulder, ribs, finger, knee, concussion) he continually returned to the lineup as the main cog in the machine. The 49ers had 240 running back rush attempts during games in which Mitchell was active, and he accounted for 86% of them, adding in a 26-194-1 receiving line on 27 targets. Even super-athlete Deebo Samuel would get more or less booted from his hybrid role when Elijah Mitchell was around, as Samuel would account for only 29 of his 86 rush attempts while the rookie was active.
Before we pencil in Elijah Mitchell to another RB12 finish in 2022 we need to consider what is changing inside of the offense and how fickle Kyle Shanahan seems to be with the running back position.

Another Rookie Running Back Fuels the Narrative
There are two sides to the Kyle Shanahan debate, and you can find smart people arguing their case on either half. The Shanahanigan-ists will argue that Shanahan's main running back has changed in each of the last six years, or, every single year he's been in San Francisco, and his final year with the Falcons. And, well, they are not wrong.
There are some unfortunate years in there from a fantasy-usage perspective, but there are also some fantastic years for production in this seven-year sample size as well. What's more, it would be difficult to argue that this stretch didn't also include a load of terrible injury luck. Mitchell (five), Raheem Mostert (16), Mostert again (eight), Tevin Coleman (two), and Matt Breida (two) all missed time during their season as Shanahan's RB1 and this isn't including the litany of injuries to second and third options on these teams. These former starting running backs didn't repeat either because they were (a) an aging veteran, (b) continued to miss time due to injuries the next year, or (c) were only rotational backs, to begin with. Assuming Mitchell is healthy, he qualifies for none of these.
Of course, there is risk in drafting Elijah Mitchell with perceived coaching tendencies, injury history, and a new rookie RB (Tyrion Davis-Price) in the building, but that's why he's in the dreaded RB Dead Zone. But this isn't unathletic Mike Davis in an awful situation with Atlanta, this is Elijah Mitchell. The guy who missed games on multiple occasions but came back to dominate backfield touch share, force Deebo Samuel back into his wide receiver role, and ranked 13th (5.0 YPC) in the league in outside zone plays, 13th (4.9 YPC) on stretch plays, and fifth (5.7 YPC) on pitch plays amongst qualifying running backs in 2021.
Mitchell makes the defense pay when they're moving horizontally, Kyle Shanahan clearly loves him for it, and that's why he's a top-20 back in 2022, even if rookie Davis-Price sneaks a number of between-the-20s carries from him.
Bottom Line
Elijah Mitchell continually returned to the lineup as the undisputed number one running back option time and time again during his rookie season.
Kyle Shanahan's "wandering eye" is overstated.
In Underdog drafts, Mitchell is currently coming off the board as the RB24 at the end of the sixth round. With 250+ touches well within his range of outcomes, his current ADP means that you can welcome him to your team upwards of 20 spots after the likes of Breece Hall, J.K. Dobbins, and David Montgomery. He could easily be the most productive "Dead Zone" running back this season.