Cordarrelle Patterson: Ready for a Fantasy Football Encore?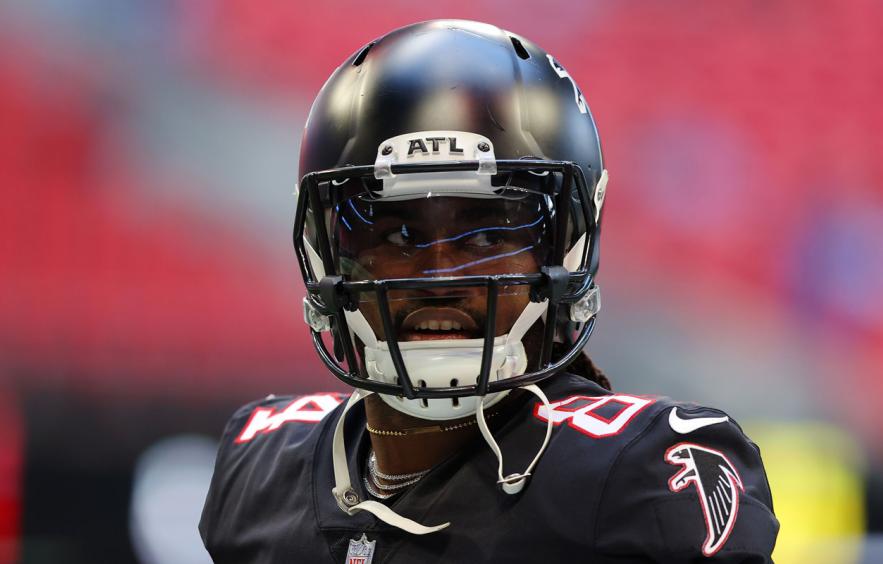 Todd Kirkland/Getty Images
Cordarrelle Patterson was one of the best waiver wire pick-ups in all of fantasy football last year. With injuries to star running backs like Christian McCaffrey and Derrick Henry to lackluster performances from Saquon Barkley and Miles Sanders, Patterson ended up being more than just a life raft for many.
The long-time receiver would finish 2021 as the RB9 in half-PPR scoring and was 17th among running backs in terms of points per game (PPG). During the meat of the regular season, he was even better. From Weeks 2–14, he was the RB7 and averaged 16.5 PPG. Unfortunately for fantasy managers, he would suffer a high-ankle sprain that wouldn't cause him to miss any time, but seemed to negatively impact his on-field performance.
Looking forward to 2022, the Atlanta backfield looks just as uninspiring as it did last year. They released journeyman Mike Davis only to replace him with a different journeyman, Damien Williams. They didn't draft a running back until they selected the BYU bruiser, Tyler Allgeier in the fifth round, all but ensuring Patterson's top dog status. Despite all of this, he's being drafted as just the RB30 on Underdog.
---
Click here for more 2022 Player Profiles!
---
The
Cordarrelle Patterson

Experience

The former Volunteer is now entering his 10th season at the ripe age of 31 years old. For most running backs, that's pretty much a death sentence, but Patterson isn't your typical running back. He has just 588 career touches and hasn't come close to the kind of beating most 31-year-old backs have endured.

In fact, up until last season, Patterson wasn't even a running back by designation. Through the first nine years of his career, he had never received 65 carries in any season and had six seasons with less than 20 rushing attempts.

He struggled to make his mark on the field outside of special teams. Prior to 2021, the most total yards he accrued was 627, during his rookie season in 2013. The last time he had 500 or more total yards was in 2014. All of this certainly begs the question, was 2021 a flash in the pan, or is it something fantasy managers can trust in for 2022?

In 2021, he destroyed his previously held career highs. He finished with 205 touches, completely blowing past his previous high of 85. His total yardage shot all the way up to 1,166, almost doubling his career-high. He also found the end zone 11 times, which consists of 38% of his career touchdowns.

If his role hadn't changed, fantasy managers would be correct in chalking his 2021 season up to a flash in the pan or as proof of his eventual acceptance into the one-hit-wonder hall of fame. Except his role did change.

In the new age of fantasy football and PPR scoring, Patterson's transition couldn't have come at a better time. The days of multiple running backs getting 300+ carries are all but dead and we're left chasing running backs who are involved in the passing game. Who better for that role than a former receiver?

Patterson finished 2021 with the fifth-most targets among running backs with 68 and the second-most receiving yards with 548, behind only Austin Ekeler. Despite his standing in these two areas, he only ran the 16th-most routes, an indication those numbers could be even higher with more opportunity.
Cordarrelle Patterson pic.twitter.com/d8DR6kvNKx

— Ian Hartitz (@Ihartitz) June 7, 2022
As far as opportunity is concerned, few players have earned as much as he did last season. He finished with the second-highest yard per reception average among running backs and the second-best yard per route run average, behind only Christian McCaffrey.
While he's far from the most gifted rusher, he held his own just fine. He finished with 153 carries and 618 rushing yards. He ranked 28th and 29th in those categories, respectively. While most fantasy managers would like Patterson to have more carries, targets and receptions are significantly more valuable and that's where he signs. How should fantasy managers be handling Patterson's value this upcoming season?
Can
Cordarrelle Patterson

Provide an Encore?

The short answer is yes. There's nothing standing in between Patterson and the fantasy role he held in 2022. Damien Williams is not going to take away pass-catching duties from him and neither is Allgeier. Patterson is locked into the kind of role fantasy managers want him to have.

It's hard to imagine Williams being anything more than a veteran depth piece at this point. He'll be entering his eighth year in the league and has one season with more than 100 carries. The next time he has 500 rushing yards, it'll be his first. Four of his seven years in the league ended with him having a yard per carry average below four. He has exactly one year where he's finished with more than 24 receptions. Needless to say, Williams will not be taking very many touches away from Patterson.
- That's 93 half-PPR points. Would've been RB42 last year w/absolutely ZERO TDs & ZERO carries.

- W/just 6 carries per game (102 total) at a 4.0 YPC, you add 41 more points. Up to 134 (RB26 last year).

- Still ZERO TDs. Give him 4 TDs & he's at 158 (RB18 last yr).



Easy buy.

— Rob (@RobFFSlayer) June 7, 2022
Tyler Allgeier is a different story, however. He was a dominant runner at BYU and finished his last two years in college with 2,731 rushing yards and 42 touchdowns. His rookie profile can be found here, if you're looking for a more in-depth breakdown of what is likely in store for him during his first year in the NFL.
Allgeier is a big-bodied running back at 224 pounds who was used marginally in the passing game in college and sports just a 4.60 forty-yard dash time. By all accounts, Allgeier is a plodder. The most likely role the rookie has in 2022 is working between the 20-yard lines, doing some of the dirty work while Patterson continues to operate as the primary back in pass-catching situations and the red zone.
Patterson is currently being drafted as the RB30 on Underdog and here at 4for4, he's ranked as the RB27. At both of those price points, Patterson feels like a good investment. His role in the passing game is secure and the backfield competition is all but non-existent.

Bottom Line
Cordarrelle Patterson will continue to receive the vast majority of the high-value touches for Atlanta – targets and red zone touches.
His role in the passing game gives fantasy managers a safe floor week to week.
Waiting on a running back can be dangerous at times, but drafting such a highly used pass-catcher makes for a much safer bet.
Provides excellent value as any fantasy manager's RB3.
Patterson has a good chance to finish as an RB2 in 2022 due to the number of targets he's likely to see this season.