Can Tyler Allgeier Soar Into Fantasy Football Lineups in 2022?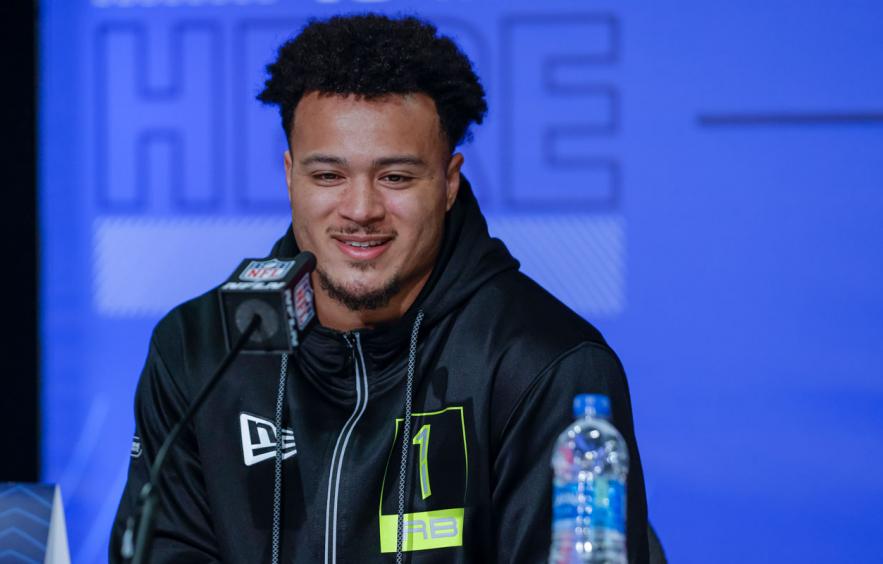 Michael Hickey/Getty Images
Going into the 2022 NFL Draft, almost everyone expected the Atlanta Falcons to target a running back early. Their leading rusher in 2021 was the former receiver, Cordarrelle Patterson and he handled just 153 carries and finished with 618 yards. The man behind him on the depth chart last season was journeyman runner, Mike Davis. However, Atlanta decided not to address the position until the fifth round.
With the 151st pick in the NFL Draft, the Falcons selected Tyler Allgeier out of BYU. They also signed Damien Williams early on in free agency and after selecting Allgeier, the Falcons released Davis. Right now, their depth chart consists of Patterson, Williams, Allgeier, and Qadree Ollison. Patterson and Williams are both on the wrong side of 30 and if either of them rushes for 650 yards, it'll be the first time for either of them.
There can be value in targeting ambiguous backfields because fantasy managers don't know how to value them. Allgeier has a chance in Atlanta to seize an early-down role in their offense with Patterson continuing to work in a hybrid and passing-down role.
---
Click here for more 2022 Player Profiles!
---
Tyler Allgeier

's Prospect Profile

Tyler Allgeier walked on to BYU's football program after not having received a scholarship. He ended up redshirting his first year on campus in 2018 and played sparingly the following year. In fact, in 2019 Allgeier not only played running back, but he also took some snaps at linebacker and recorded 26 tackles and one forced fumble. It wasn't until 2020 when he became the starting running back for the Cougars and he wasted no time making a name for himself.

In his first season as a starter, the former walk-on registered just 149 carries but still managed to rush for 1,133 yards. He finished the season with a ridiculous 7.6 yard per attempt average. Among running backs with at least 100 carries, this ranked third in the country. That wasn't the only area he shined, however. Despite receiving just 149 carries, which was tied for 24th-most, he still managed to finish sixth in yards after contact with 704.

The efficiency he displayed in 2020 created a situation where it'd be tough for Allgeier to live up to the lofty standards he had set the previous year, but he was up to the task. In 2021, Allgeier finished 10th in the country according to Sports Info Solutions in yards per carry with a 5.8 average. While that number dipped from his 2020 season, his attempts almost doubled, up to 275.

He finished with the third-most rushing yards per game at 123.9. As good as those numbers look, the advanced metrics make Allgeier look even better. He had the highest percentage of runs where he was hit at or behind the line of scrimmage and still finished with a positive expected points added according to Sports Info Solutions. He did this 32% of the time. He also had one of the lowest bust percentages in the country. This is defined as the percentage of plays that result in expected points added of -1. He was at just 5%, which was the fifth-lowest in the country.
Tyler Allgeier over the past two seasons:



1st in rushing yards after contact (1,847),

2nd in rushing touchdowns (36)

3rd in PFF rushing grade (94.8) among FBS players with at least 150 carries.



Would have been taken by Atlanta in Rd 4 if they had a pick available to them. https://t.co/Z4frrpqaWi

— Andrew Erickson™ (@AndrewErickson_) May 2, 2022
He averaged 16 broken tackles per 100 attempts—seventh-most—and averaged 3.5 yards after contact per attempt, which tied for sixth. Allgeier finished with 1,611 total rushing yards and 23 touchdowns. During this final season, he also received 32 targets in the passing game. He finished with 28 receptions and 199 receiving yards. There's certainly a lot to like here in regard to how Allgeier runs the football. Lance Zierlein, NFL.com's lead draft analyst had this to say about him:
"Well-built, highly productive zone-scheme runner with impressive vision and feel for the job. Allgeier is smooth and instinctive with one-cut talent. He effectively navigates the ebbs and flows of run lane development. He's more agile than twitchy and relies on his ability to quickly process. While he sees it clearly, his pace and burst can be a little hit-or-miss and might allow for NFL defenses to prevent the chunk play. Allgeier is clearly talented as a runner but will need to prove his explosiveness."
This is likely what caused Allgeier to fall in the draft. For starters, he does not appear to have the talent to be a major contributor in the passing game. That type of running back, especially in today's pass-happy league, is being devalued, but as Zierlein indicates there are questions regarding his explosiveness and if he has the speed and quickness to hit the holes that open for him. His Relative Athletic Score (RAS) does leave a bit to be desired.
Tyler Allgeier is a RB prospect in the 2022 draft class. He scored a 7.33 RAS out of a possible 10.00. This ranked 426 out of 1589 RB from 1987 to 2022. https://t.co/1t3Pg24qRW #RAS pic.twitter.com/v4MpVZX41W

— Kent Lee Platte (@MathBomb) April 4, 2022
He's just a marginal athlete across the board, but he does have great size at 224 pounds. That kind of size could help him see the field on early downs and goal-to-go situations. His 4.60 forty is not ideal and illustrates some of the concerns Zierlein referenced earlier. However, he's clearly shown the ability to be an effective runner and Atlanta has one of the most ambiguous backfields in the NFL. Does that make him someone fantasy managers should target in 2022?
What is
Tyler Allgeier

's Role in Atlanta?

The Falcons had one of the worst rushing attacks in the NFL last season. They were 29th in attempts with 393, 31st in yards at 1,451, had just 11 touchdowns, which ranked 29th, and averaged just 3.7 yards per carry, ranking 30th. Entering the 2022 season, they really didn't do much to address those concerns outside of adding Allgeier in the draft.

They brought in Damien Williams, but he's been a journeyman his whole career. He's never had more than 500 rushing yards in a season and has averaged just 48 attempts per season over his seven-year career. If they're looking to improve their rushing game, Williams isn't the guy to help and Patterson was in Atlanta in 2021 when their run game was so poor.

Patterson finished last season with 153 carries and 618 yards. His 4.0 yard per carry average was tied for 34th among running backs with at least 100 attempts. Patterson does bring with him a much more well-rounded game and presents as a threat in the passing game. He garnered 69 targets last year, which ranked fifth among running backs. His dual-threat ability is going to keep Patterson on the field far more often than Williams and Allgeier. However, there is the possibility Allgeier sees some of that early-down work Patterson isn't as well-equipped to handle.
"There is absolutely a chance that Tyler Allgeier could be the Falcons early down back [as a rookie] and use Cordarrelle Patterson more in a hybrid role," @mikerothstein on Fantasy Dirt @SiriusXMFantasy.

— Michael Fabiano (@Michael_Fabiano) May 5, 2022
Mike Rothstein covers the Atlanta Falcons for ESPN, so it's possible this might have some legs to it come to the start of the season. While Patterson can be an exciting offensive weapon, using him between the tackles is not ideal for where his strengths lay. In that instance, it may make more sense for the Falcons to use Allgeier and it's possible that's what Atlanta does this season.
The backup running backs for the Falcons last year were given a total of 196 carries and received 77 targets. If they do intend to use Patterson in more of a hybrid role, fantasy managers shouldn't be expecting anywhere close to 77 targets being distributed to Allgeier and Williams. That's especially true after the Falcons drafted Drake London in the first round and it's reasonable to expect a big step forward for Kyle Pitts in his second year. However, if Allgeier is given a chance to handle the majority of the rush attempts given to non-Patterson running backs, he could still be looking at close to 200 touches in his first year.
That's not a given and it still requires Allgeier to beat Damien Williams out for that No. 2 spot on the depth chart but assuming he's able to do that, Allgeier may be in line for early-down work and close to 200 carries for Atlanta as a rookie. His role in the passing game is likely to be minimal to almost non-existent. The concern for fantasy is that his touches could very well be "empty touches". He is unlikely to be involved in the passing game and Patterson will probably be the red zone back because of his ability to catch passes. This means the carries Allgeier would get would primarily be between the 20-yard lines with little touchdown-upside.
The interesting thing to consider is what his role would look like in the event of a Patterson injury. There's no question Williams' role would increase, but Allgeier would likely be in line for a sizeable workload in that scenario.
The former BYU star currently has an Underdog ADP of 142.5 and is being drafted as the RB45. There are a few running backs being drafted behind him such as Darrell Henderson, Gus Edwards (assuming he's healthy after his torn ACL), and Kenneth Gainwell who are in similar situations, but on better offenses that are probably better targets than Allgeier, but this is roughly the range fantasy managers should feel confident drafting him. If he's able to beat out Williams and becomes the Falcons' No. 2 running back, he's likely to carry RB4 value and has some upside in the event of a Patterson injury.

The Bottom Line
Allgeier was an extremely productive runner at BYU in 2020 and 2021.
He is a big running back at 224 pounds who displayed the ability to break tackles and gain yards after contact.
He lacks explosiveness and long speed to be able to hit the home run.
There will likely be a very minimal role in the passing game, lowering his upside.
Allgeier could have 175–200 touches, but they could be empty touches (no receptions, low scoring potential).
He is best viewed as an RB4 with upside.