Avoid Tyler Lockett in Fantasy Football in 2022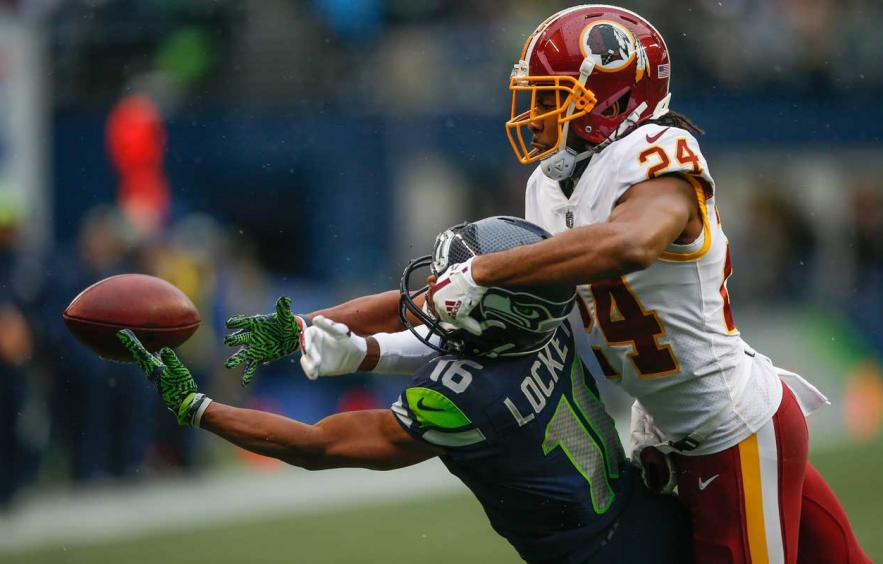 Otto Greule Jr/Getty Images
Tyler Lockett is indubitably an NFL success story. A third-round pick in 2015, Lockett earned a spot on the Seahawks roster as a return specialist, earning first-team all-pro honors in his rookie year. He continued to develop his skill set, and eventually solidified himself as the Seahawks' slot receiver. Since then, he has had 1,000 receiving yards in each of the last three seasons and is widely acknowledged as one of the more underrated receivers in the league. However, despite his prior success, Lockett is only being selected as the WR46 in fantasy leagues this season (in the back of the 9th round), and for what I believe to be good reason. Here is a look at why, due to a bevy of outside circumstances, Lockett is firmly on my do-not-draft list for fantasy in 2022.
---
Click here for more 2022 Player Profiles!
---
New QB, Who Dis?
Breakups are always hard no matter the person or circumstances, and football is no exception. For the first time in his career, Tyler Lockett will be catching passes from a QB not named Russell Wilson, and this could certainly have a big impact on his fantasy value. Russ and Lockett had established one of the best QB-WR connections in the league, and a lot of Lockett's production came due to the mind meld he had with Wilson:
NEVER forget this Tyler Lockett catch😤🔥 pic.twitter.com/kPlxKSxsAS

— PFF (@PFF) March 31, 2021
Now, with Wilson traded to the Broncos this offseason, Seattle's signal-caller will be one of Drew Lock or Geno Smith. Both of these options are, to say the least, a huge step down from Russ.
Seahawks

QB Stats in Seasons as Starter

| | Russell Wilson | Geno Smith | Drew Lock |
| --- | --- | --- | --- |
| Seasons >14 Games | 10 | 2 | 1 |
| Yds/G | 234.6 | 185.7 | 225.6 |
| Passer Rating | 101.8 | 71.5 | 75.4 |
| QBR | 65.6 | 43.5 | 51.2 |
| Interceptions | 8.7 | 17 | 15 |
We can see here that Lockett will be forced to adjust from a multi-time Pro Bowler under center to a mediocre player at best. This will understandably hurt his fantasy value—save for a few exceptions, fantasy receivers almost always need a good quarterback to produce well. In the rare cases where there is a valuable receiver with a bad QB (think Allen Robinson with Mitch Trubisky), the receiver is usually the clear top receiving option on his team. Lockett, however, is the clear #2 in the Seattle WR room behind D.K. Metcalf, making it truly difficult to imagine a scenario where he's able to shine through the shade of his poor quarterback.
Let Pete Cook
Fantasy managers who have drafted Russell Wilson in the past might remember pulling their hair out because Seahawks coach Pete Carroll wouldn't let Wilson throw the ball. The Seahawks would consistently finish as one of the top running teams in the league (in volume), seemingly choosing to only deploy their top-5 quarterback when the game was on the line. This was cited as one of the reasons that Russ wanted out of Seattle, as the Let Russ Cook movement never really panned out.
With Wilson out of the picture, Carroll now has even more incentive to do what he loves most: run the football. The Seahawks drafted running back Ken Walker out of Michigan State in the second round of this year's NFL draft, and also have Rashaad Penny and Chris Carson on their RB depth chart. This three-headed monster will likely manage the bulk of the entire Seattle offensive load this season. As a result, Lockett's fantasy value will be diminished even further. In the past, Lockett has been a target monster (he has had 100 targets every year since 2019), but in an even more run-heavy offense, it will be hard for him to reach those numbers.
Where's the Upside?
At the end of the day, fantasy players love upside. Even if a player could fall flat in a manager's face, the possibility that they are great sometimes can make them worth a shot in fantasy drafts. However, with Lockett, it is tough to see where that upside could come from. Lockett's fantasy output has been bolstered by his red zone prowess (26 touchdowns in the last four seasons despite being just 5'10"), but the change at QB will likely result in fewer scoring opportunities for Lockett and the Seahawks as a whole. With players like Chris Olave or Chase Claypool (who are both being drafted close to Lockett), it is at least possible to envision a dream scenario where they are draft day values. On the other hand, with Lockett, that simply does not seem to be the case.

The Bottom Line
Lockett has enjoyed success in his NFL career so far, but much of that can be attributed to having Russell Wilson as his quarterback. With Wilson being replaced by one of two subpar players, Lockett will struggle to live up to his prior production.
The Seahawks will likely be an even more run-centric team with Wilson gone, limiting the chance that Lockett will be fed with targets to offer any consistent fantasy value.
There seems to be a general lack of upside surrounding Lockett—players taken above him in fantasy drafts are in better situations, while those below him have a much better chance of outperforming their draft positions.
Avoid Lockett in drafts unless he falls well past his ADP of 93 in fantasy football this year.