NFL Awards Betting Market Breakdown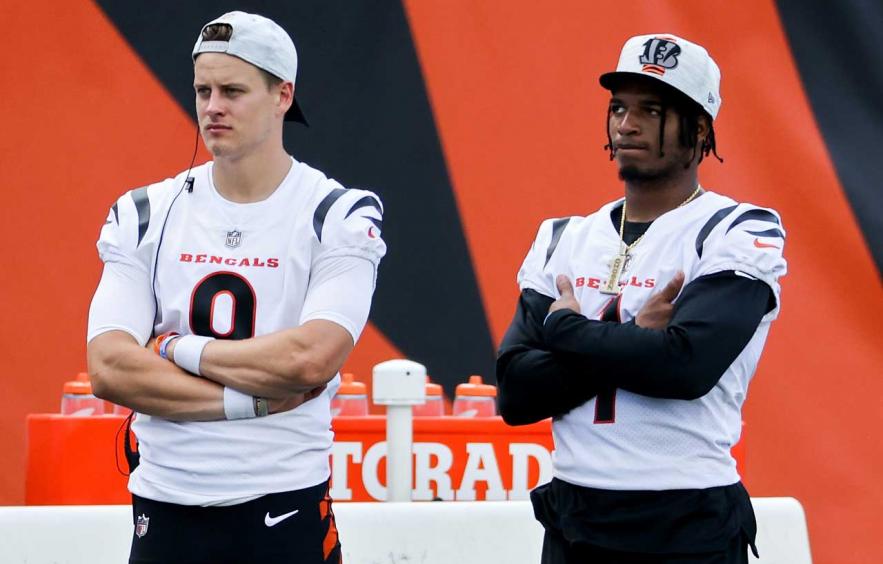 Photo by Dylan Buell/Getty Images
The end of the NFL season is nigh, giving us one last opportunity to take advantage of betting markets for season-long awards. Not all of these are set in stone yet, giving us some potential edges in the markets. While I won't be betting on each of these (because of some of the heavy juice), I've given my pick for each award along with the sportsbook that offers the least juice for that pick in parentheses. We also have a convenient Odds Table that will show you the best odds on every player for each award.
The NFL is still going on, too, and if you want to find player props to bet on, check out our NFL Player Prop Tool and NFL Player Prop Stat Explorer.
Note: All lines posted were accurate at the time of being posted in our subscriber Discord.
---
Jump to Award: Offensive Rookie of the Year | Offensive Player of the Year | Defensive Player of the Year | Comeback Player of the Year | Coach of the Year | MVP
---
2021 NFL Awards Bets
Offensive Rookie of the Year (OROY)
Like many things this season, the OROY race has been a rollercoaster. Ja'Marr Chase came out of the gate lighting the world on fire with 653 yards and five touchdowns in his first six games, including three touchdowns of at least 40 yards. It looked like he couldn't be stopped and would coast to winning this award.
Chase hit a lull in the middle of the season, though, at which point Mac Jones started to take over the market amidst the Patriots' seven-game win streak. During that span, Jones's advanced stats were off the charts as he averaged a league-high 0.242 EPA per play and had a 3.4% completion percentage over expectation. But the standard stats haven't been there for Jones this season with 1.75:1 touchdown-to-interception ratio and an average of just 221 passing yards per game.
Over the past couple of weeks, Chase has returned to his early-season form and has overcome Jones as the favorite for the first time since early November. Despite quarterbacks winning this award the past two years, I don't believe it's become a quarterback award like the MVP award has. Chase has been a phenom and one of the best at his position (not just among rookies) this season, so there's no reason not to reward that.
My Pick: Ja'Marr Chase (-250 on DraftKings)
Offensive Player of the Year (OPOY)
This is a two-man race right now between Cooper Kupp and Jonathan Taylor. Both of them have had phenomenal seasons, at many times putting the team on their backs. In fact, each of them have been brought into the MVP conversation by national media at times, but it seems like that is out of the question at this point. I think what sways this award is the record-breaking potential for each player (regardless of what you think about the number of games played). Kupp is 136 yards from breaking the single-season receiving yards record, a mark he's gone over three times this season.
Taylor, with 1,734 rushing yards this season, isn't going to break the single-season rushing yards mark of 2,105. But, he is within reach of becoming the ninth running back to record 2,000 rushing yards in a season and he needs 266 yards to do this. I think this is reasonable given they're facing a Jaguars defense ranked eighth-worst in rushing yards allowed this season.
Overall, I still think Kupp has the edge even if neither hit their milestones as he's on a guaranteed playoff team and has been much more consistent throughout the season. There's also some slight value on Kupp on PointsBet where he's listed at +110, while he's tied with Taylor at -110 at almost every other book.
My Pick: Cooper Kupp (+110 on PointsBet)
Defensive Player of the Year (DPOY)
There are many people who believe that as long as Aaron Donald (who has won this award three of the last four years) is in the NFL he should be the DPOY. And while that may be true from an advanced statistical and impact perspective, awards are often driven by narrative and simple production.
Someone who has the ladder going for him is T.J. Watt, who is just one sack away from tying Michael Strahan's single-season sack record and 1.5 sacks away from breaking it. If Watt were to break the record, it wouldn't need an asterisk next to it because he'll have only played in 15 regular-season games (he missed two games due to injury). The fact Watt could beat this record with one fewer game is impressive as hell and would sway voters to someone with one of the greatest defensive seasons ever.
This award is all but decided and I'm staying away from betting it with how much juice there is on Watt to win it.
My Pick: T.J. Watt (-2000 on DraftKings)
Comeback Player of the Year (CPOY)
All offseason (and through most of the season), Dak Prescott had been tied to the CPOY award. I mean, all Prescott had to do was match his early-season performance from last season and he'd cruise to victory right? Well, Joe Burrow, who suffered an equally-gruesome injury last season, has put himself not only in consideration for CPOY, but also for MVP.
Slowed down by a mid-season ankle injury, Prescott hasn't played that great lately. Meanwhile, since Week 10, Burrow is second in EPA per play, first in completion percentage over expectation and has thrown 14 touchdowns to just three interceptions on his way to securing the Bengals' first AFC North title since 2015.
Prescott still has the narrative angle going for him, though, as the severity of his injury was played up on Hard Knocks this offseason. Prescott is also expected to play this weekend (but it's unclear for how long) and Burrow has already been ruled out. Because of this, I expect Prescott to win the award, but am going to play the odds and use my money betting on Burrow at longer odds with the hope his narrative gets steamed (he's currently +135 on FanDuel).
My Pick: Dak Prescott (-134 on PointsBet)
Coach of the Year (COY)
In my opinion, this is the most polarizing award right now given the fact we don't have a heavy favorite right now like we do for most of the other awards. Before I walk through the betting aspects of this, let's give a high-level overview of where each team stands in the playoff race and how this week's game impacts their standings:
The one seed in each division carries so much weight now as it's the only team with a bye, and it ultimately carries some weight in the voting of this award. Regardless of the season the Packers have had, LaFleur's success has always been tied to Aaron Rodgers (whether you think it is or not). One other big factor in COY is his team's performance relative expectation by way of season win totals—in this respect, Taylor has a huge advantage.
Going into the season, the Packers, Titans and Bengals had win totals of 10, 9 and 6.5, respectively, which currently translates to wins over expectations of 3, 2 and 3.5. If all three teams win this weekend, the Bengals will have the advantage in total wins over expectation and nearly 70% more wins than were expected, which is huge.
My pick to win is Zac Taylor, but I don't think putting a little down on Vrabel to win is a bad way to spend your money. In any case, all three of these guys have plus odds right now, so putting money on two of the three you think are most likely to win could potentially guarantee you a small profit if you play it the right way.
My Pick: Zac Taylor (+200 on PointsBet)
Most Valuable Player (MVP)
As the heavy favorite, Aaron Rodgers is set to win the MVP award for the fourth time in his career. This season, Rodgers is fourth in PFF's passing grades, first in EPA per play, second in completion percentage over expectation, first in touchdown percentage and first in touchdown-to-interception ratio. Though he isn't leading the league in many counting stats, Rodgers is playing some of the best football of his career.
The other candidate people are making a case for is Tom Brady. Steve Palazzolo of PFF makes a really compelling argument in this Twitter thread, but the fact of the matter is I don't believe the majority of the MVP voters are going to be swayed by this. That said, similar to the COY award, I'd be more likely to sprinkle a little on Brady at long odds on the off chance this argument resonates with voters, but think Rodgers comes away with the MVP for the second-straight season.
My Pick: Aaron Rodgers (-400 on DraftKings)
For the most up-to-date picks, check out my Twitter and subscribe to our Discord. This sheet from Dan Rivera tracks all my betting picks and those from the rest of the betting staff. Just click on the tab with my name on it for the results.
---
This article is intended for entertainment purposes and adult users only. Call 1-800-GAMBLER if you have a gambling problem.