TJ's #Taek: Week 16 NFL DFS GPP Recap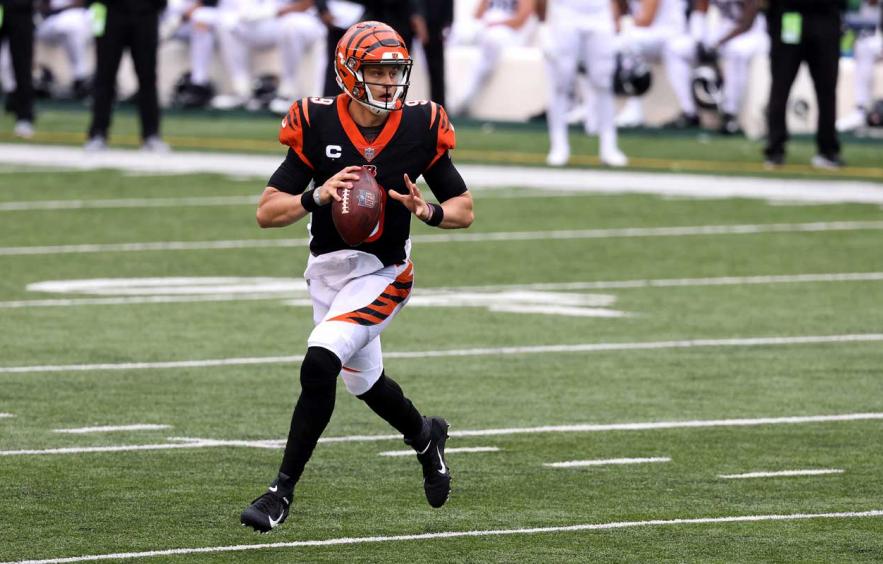 Kirk Irwin/Getty Images
Week 16's winning lineups from the biggest contests on FanDuel and DraftKings can be used to tease out lineup-building strategies and offer clues on how you could have landed on a similar team. Reviewing your hits and misses each week is imperative if you want to be a profitable DFS player but examining winning lineups is also a useful exercise in cultivating a winning approach.
---
More GPP Strategy: QB | RB | WR | TE | DEF
---
DraftKings Week 16 Millionaire Winning Lineup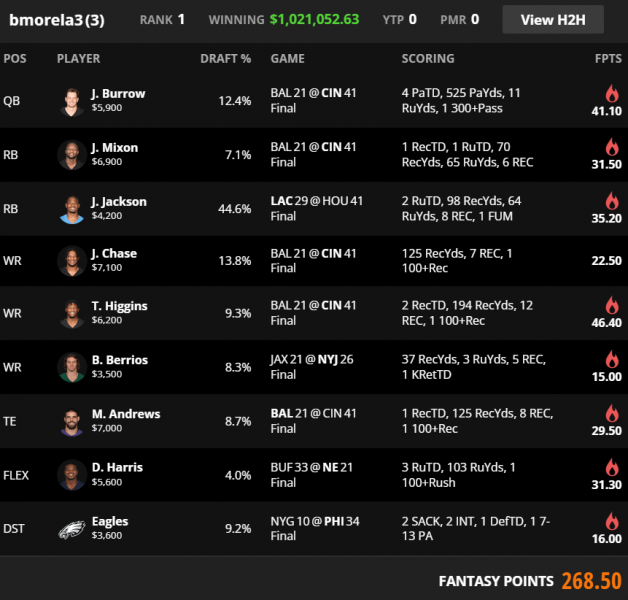 Ownership
This lineup had cumulative ownership of 117.4%, the third-highest of any lineup this season and the second time in as many weeks that the number was above 115%. That number was heavily weighted by a running back in 45% of lineups—six roster spots with sub-10% ownership were the second-most by a winner this season. There were nine players in at least 20% of lineups but only one made it in the winning lineup.
Stacks
No 2021 Millionaire winner has used a heavier game stack than the one used in Week 16, with five players from one game including four from one offense. A game needs to go absolutely nuclear for this strategy to work in such a large field—onslaughts are typically more valuable in small-field contests—but that's exactly what happened with the Bengals. This was only the third time that a Millionaire winner did not use a secondary mini-correlation. Winners have used about five total correlated players on average in their lineups.
Flex
For the sixth time this season, the Millionaire winner used a running back in the flex. Running backs were used in 41% of lineups in Week 16, the fifth-highest mark of the year. Two winners have used a tight end in the flex while a wide receiver has been used eight times.
Leverage
A lot of the leverage in this lineup game from the salary allocation. The two highest-owned players in the Millionaire were Cooper Kupp ($9,100 - 52% and Antonio Brown ($4,900 - 52%). By avoiding both of those players and their salary tiers, a unique lineup came about with just one sub-5% play. In a week where the top six running backs combined for 163% ownership (over two-thirds of the total running back ownership), Damien Harris was a perfect price pivot off of three of the most popular players at his position in a game where he figured to get almost all of the backfield work with Rhamondre Stevenson out against a suspect Bills rush defense.
FanDuel Week 16 Sunday Million Winning Lineup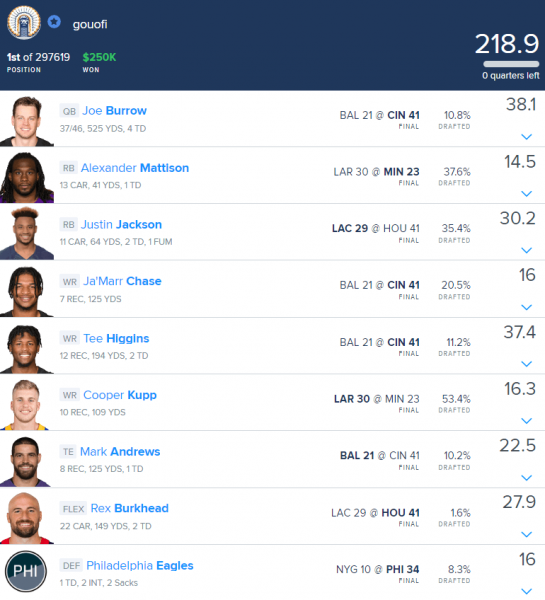 Ownership
There have only been two weeks this season where the Sunday Million winning lineup had cumulative ownership above 155% and they have come in the last two weeks—Week 16's winner was 189%. This was the second time that a winning lineup had two running backs with ownership over 20% and just the second time in the last three years with two over 30%. While seven roster spots had double-digit ownership, a 1% play was enough to separate from the field.
Stacks
Heavy quarterback stacks have not been necessary to win large-field contests on FanDuel as this was just the third Sunday Million winner to use more than three players in their primary quarterback stack. It was just the fourth time this season that the winner used a pass-catcher from their quarterbacks opponent. This was the most correlated winner of the year with eight total correlated players including two individual mini-stacks with running backs. Of the 16 winners, 13 have used some type of mini-correlation that included a running back.
Flex
Three running backs were used in the winning lineup for the seventh time this season. One winner has flexed a tight end and eight winners have rostered four wide receivers. Trying to figure out what the field is going to do at the flex and doing something different is a great way to be unique in large-field contests but this week offered too much running back value to go against the three-RB grain.
Leverage
With the most popular player on the slate, two of the most popular running backs and seven players over 10%, the leverage was mostly in going all-in on one game and having it hit. Based on ownership percentages of the players in the primary stack only about 75 lineups out 297K+ should have had that same stack. Using Rex Burkhead as a perfect price pivot off of Ronald Jones and correlating Burkhead with a chalky Justin Jackson provided more than enough of a contrarian play to separate from the other leaders.
TJ's Final #Taek
The end of the season is always an opportunity for astute DFS players to gain an edge on the field. As teams are eliminated from playoff contention, injuries pile up, players chase incentive bonuses, coaches are fired, and a multitude of other changes leading up to the NFL playoffs, NFL DFS takes on some characteristics of NBA DFS in terms of inactives and changes to expected playing time—DFS players should be ready to blow up lineups and start from almost scratch with little time to spare before lock. This is only exacerbated with the pandemic still wreaking havoc on the league.
No matter the reason for surprise news, there's always a huge edge to be had in reacting properly to late-breaking news. Many DFS players are simply too lazy to change the lineups they have already put hours into while some might simply botch projections, be it fantasy projections or ownership projections—the latter can really get thrown out of whack and offer huge edges.
Over the final couple weeks of the regular season, be cognizant of the news edge, especially when there is slate-changing news leading up to kickoff—the average player likely won't adjust properly.