TJ's #Taek: Week 14 NFL DFS GPP Recap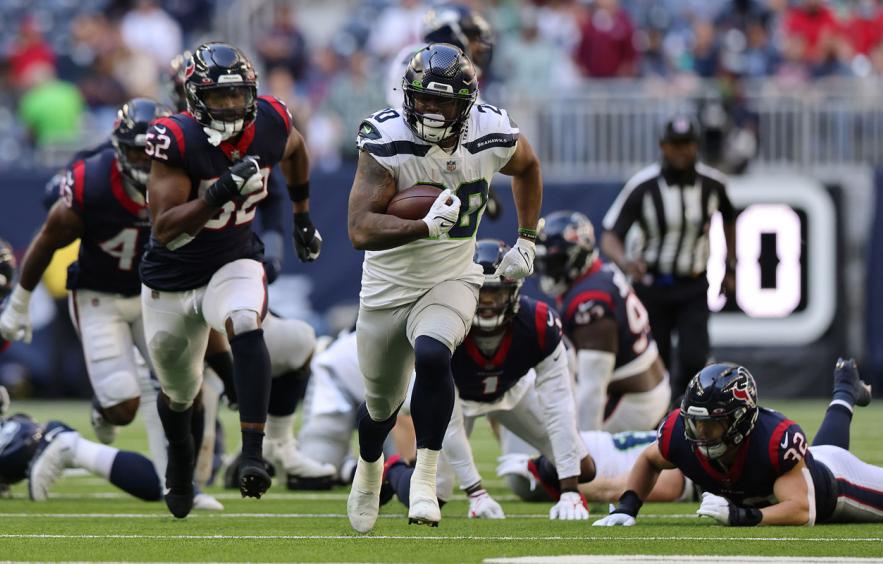 Tim Warner/Getty Images
Week 14's winning lineups from the biggest contests on FanDuel and DraftKings can be used to tease out lineup-building strategies and offer clues on how you could have landed on a similar team. Reviewing your hits and misses each week is imperative if you want to be a profitable DFS player but examining winning lineups is also a useful exercise in cultivating a winning approach.
---
More GPP Strategy: QB | RB | WR | TE | DEF
---
DraftKings Week 14 Millionaire Winning Lineup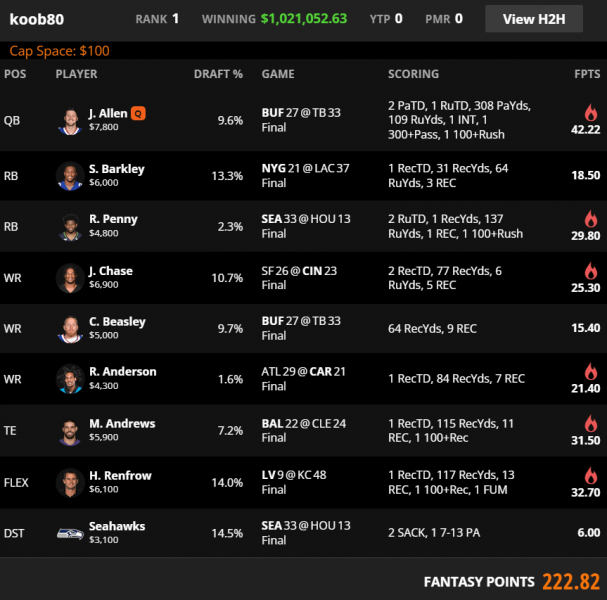 For just the second time this season, the Millionaire winner spent more than $7,500 on their quarterback with Josh Allen easily paying off his salary as just the fourth quarterback ever to hit a double DraftKings bonus. Allen's salary was offset by pairing him with a $5,000 pass-catcher and a contrarian element was added by including no Tampa Bay players—the Buccaneers projected as a top-two offense in cumulative ownership. For the fifth time in six weeks, the Millionaire winner stacked their quarterback without a bring-back from the other team.
A secondary stack including a running back has been prevalent among winners this season and Rashaad Penny was useful as a way to offset the Seahawks defense high ownership. Saquon Barkley wasn't overly unique, as he was in over 13% of lineups, but using him as the only player in that game was sharp in separating from the field as the Chargers projected to be the most popular offense on the slate, and Barkley was likely used heavily in LA stacks.
There wasn't any other correlation to speak of in this lineup but the biggest differentiator was Robby Anderson. Carolina's passing game projected well against a poor Atlanta defense but most of the value was falling on Cam Newton and D.J. Moore although Anderson had played 92% of snaps in both games with Newton as the starter, totaling 10 targets in those contests.
Paying up at tight end hasn't been typical of winners this season, as just three first-place lineups prior to Week 14 had spent more than $4,900 at the position but it was a position that was projecting strongly at the top while the value plays were relative dart throws.
Winners have averaged 99% cumulative ownership ranging from 28% to 122%.
FanDuel Week 14 Sunday Million Winning Lineup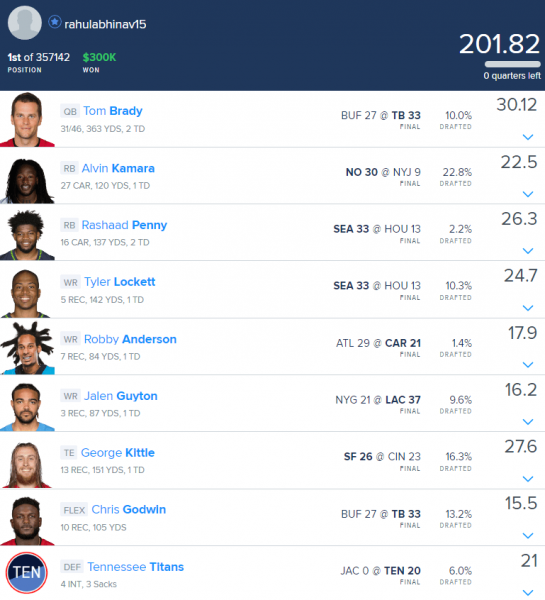 The Week 14 Sunday Million winner relied on a Buccaneers' stack as this game was projecting as the highest-scoring contest by a huge margin. While Tom Brady was just $200 less than Josh Allen on DraftKings, the gap was $600 on FanDuel. Without the yardage bonuses that Allen was able to compile on DK, Brady's 30.12 FD points were plenty to help lineups top the leaderboard.
This lineup was the most extreme running back strategy we have seen from a winner all season. It was the first time that the winning lineup used a sub-$5,500 back with a back priced over $8k and just the second time that a back in over 20% of lineups was paired with a sub-5% running back.
As has been the case in recent weeks, the Sunday Million winner hasn't forced heavy stacks—six of the last seven winners have used four or fewer players with some correlation to another player in the lineup.
Winners have averaged 81% cumulative ownership ranging from 54% to 155%.

TJ's Final #Taek
Each week, I've discussed average ownership of winning lineups and that's important to have in mind when building teams. Knowing these parameters can give you a sense if builds are too chalky or too contrarian, but it's also critical to understand how lineups are typically being constructed in order to fall in this range of overall ownership.
Consider the average ownership for winning Sunday Million and Millionaire at each position over the entire year:
Average Positional Ownership of Winning GPP Lineups, 2021

| | QB | RB1 | RB2 | WR1 | WR2 | WR3 | TE | Flex | DEF | Cumulative | Average |
| --- | --- | --- | --- | --- | --- | --- | --- | --- | --- | --- | --- |
| DraftKings Millionaire | 7.5% | 18.7% | 9.2% | 16.4% | 11.4% | 7.2% | 10.5% | 4.1% | 6.9% | 90.5% | 10.2% |
| FanDuel Sunday Million | 10.1% | 20.8% | 9.4% | 20.3% | 12.3% | 8.2% | 8.9% | 5.8% | 7.8% | 80.7% | 11.5% |
Note that there is generally a mix of some chalk with some contrarian plays. In other words, a lineup full of players with 11% ownership isn't going to be contrarian enough to separate from a tournament field even though the overall ownership is relatively low. At the same time, players become chalk because they are usually in very good spots. It's easy to get too caught up in being unique and miss those good spots.
These positional averages aren't the perfect formula, but they can provide some context to what is winning in tournaments and guidance on how to build a player pool.