Tyler Lockett: A Safe and Consistent WR2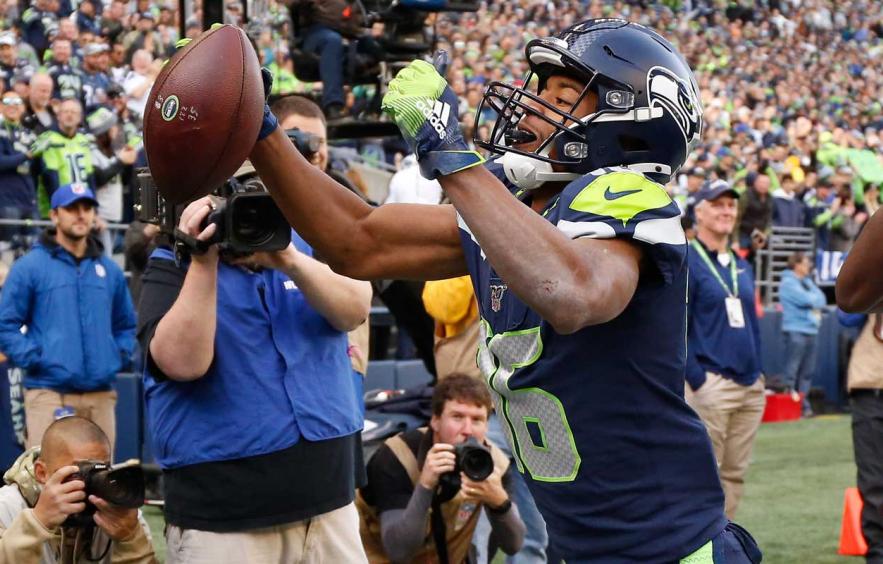 Otto Greule Jr/Getty Images
Tyler Lockett has developed symbiotic chemistry with Russell Wilson throughout their time together in Seattle. Lockett has finished as WR19, WR23, and WR12 in half-PPR points per game (minimum 10 games played) in his last three seasons, making him one of the more consistent producers at the wide receiver position. He's currently being drafted as WR20 (42.8 ADP) in Underdog fantasy leagues. Lockett is the ideal WR2 for your fantasy team, especially if you take a shot on an upside WR1 like Justin Jefferson or CeeDee Lamb, providing a nice balance of floor with upside. He is well-positioned for another top-24 finish, but there are some who have expressed their doubts about his performance in 2020.
---
Editor's Note: Read more player profiles from the 4for4 staff!
---
This is because Lockett amassed 36 of his 100 receptions, 390 of his 1,054 yards, and eight of his 10 touchdowns in three games. The concentration of production into three games has given Lockett the misguided title of "boom-or-bust" wide receiver. In this article, I'll address the concerns surrounding Lockett's perceived volatility. I'll also highlight how Seattle's upgrades on offense will provide more opportunities for Lockett to maintain top-24 fantasy value. Lockett is entering his age-29 season, tied to one of the best quarterbacks in football, playing in an improved offense, and showing no signs of slowing down. He's an easy buy at his current draft cost.
Lockett's Perceived Volatility
Since most fantasy football players prefer season-long leagues with adjustable lineups instead of best ball formats, Lockett's concentration of production was frustrating over the course of the season. However, Lockett's skill-set isn't volatile—this is a slot receiver who can make plays downfield and in the intermediate passing game. He's not purely a deep threat like a Marquise Brown in Baltimore. When taking a closer look at Lockett's distribution of production, you'll find that his 2021 season was merely coincidental.
In 2019, Lockett put up at least 50 yards in 9 of 16 games, including four 100-yard games. If we look back to 2018, Lockett totaled 50+ yards in 11 of 16 games along with one 100-yard game. His touchdown output was spread out in each of these two seasons, with only one multi-TD game combined. Compare that to 2020, where Lockett put up 80% of his touchdowns in three games. We also need to remember that wide receiver is a high-variance position. Accept the fact that you will get some duds, even from your best players, but don't discount proven performers with misguided labels like "boom-or-bust."
Seattle's New Offense
The Seahawks replaced Brian Schottenheimer with Shane Waldron as offensive coordinator. Waldron worked under Sean McVay as passing game coordinator for the last three seasons. Michael-Shawn Dugar, a Seahawks reporter for The Athletic, outlined how Waldron can impact this offense in a June article, stating that Waldron really wants to emphasize tempo. Last season, Seattle ranked 22nd in neutral pace—an increase in pace would be huge for this offense.
In The Athletic article, Lockett mentions how teams forced the Seahawks to go with short passes, but they didn't take what was given to them, preferring to take shots downfield. With Waldron, the Seahawks are expected to emphasize more passes in the short-to-intermediate passing game, which means more opportunities for yards after the catch for Seahawks receivers. This could be huge for a slot receiver like Lockett and definitely help prevent any volatile production as we saw in 2020. The team also used their second-rounder on wide receiver D'Wayne Eskridge, an explosive player with 4.4 speed. Eskridge's speed could open up more opportunities underneath for a player like Lockett.

Red Zone Threat
You wouldn't expect a 5-foot-10, 182-pound slot receiver to be such a threat in the red zone, but that's exactly what Lockett is, having scored 28 touchdowns over his last three seasons. Lockett has posted red zone target shares of 20.25% and 28.75% in 2019 and 2020, establishing himself as Wilson's favorite option in the red zone. We can project this to continue heading into the 2021 season, as the Seahawks should remain one of the more efficient offenses in the NFL with Wilson continuing to function at a high level.
Bottom Line
Lockett is a high-floor pick with the ability to finish as a top-15 wide receiver. The Seahawks will play at a faster pace this season with more targets underneath, giving Lockett more opportunities to make big plays after the catch. We can expect Wilson to continue to target Lockett in the red zone given his success there throughout his career. While DK Metcalf has supplanted Lockett as the team's WR1, the target share should remain concentrated between these two players. We saw this last year when both Metcalf (24.02%) and Lockett (24.58%) dominated the target share. It's always a good idea to target players on teams with a narrow distribution of targets and Lockett fits the bill here. Target him with confidence as your WR2.