James Robinson: Back from the Dead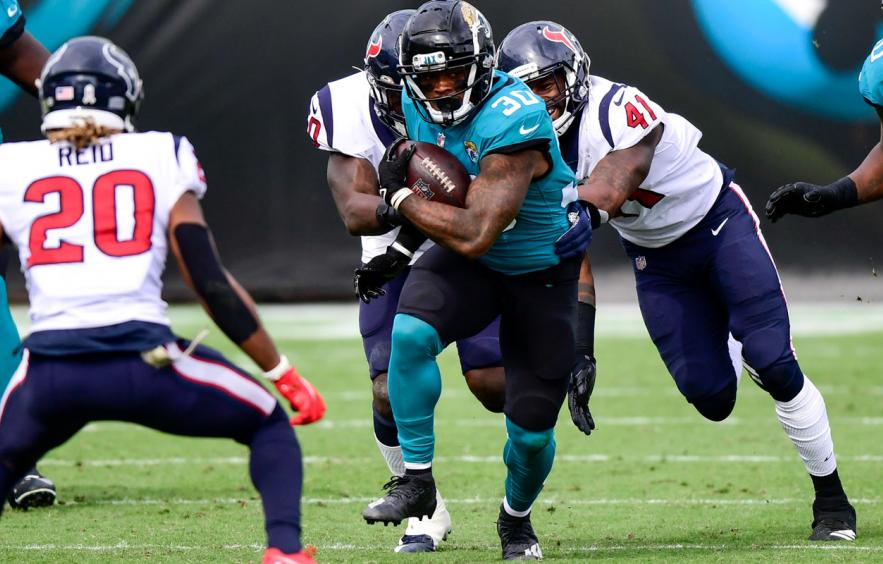 Douglas P. DeFelice/Getty Images
Fantasy managers likely went into panic mode on Tuesday morning when it was announced that Jaguars rookie running back Travis Etienne would miss the 2021 NFL Season with a Lisfranc injury. With Etienne out for the year, it means that the jewel of the fantasy football community's heart, James "RB1SZN" Robinson, will presumably become the top running back in the Jacksonville offense. Robinson has shot up rankings and ADP charts in the days since the Etienne news broke, which might create confusion amongst fantasy managers regarding where exactly to take Robinson in drafts this year. In this article, I'll try to break down the situation surrounding Robinson this season, and assess where you should feel comfortable taking him in your draft.
2020 Season Review
Let's first take a look back at how Robinson performed last season. After going undrafted, J-Rob shocked the world when he became the Jaguars' Week 1 starter at running back (after Leonard Fournette was cut and Ryquell Armstead injured). Robinson capitalized on this opportunity, rushing for over 1,000 yards en route to finishing as the overall RB7 on the season. He was a waiver wire addition for most managers, making him one the most valuable fantasy players in the league–Robinson was the most commonly owned player on playoff teams last year, with the Robinson-owner making the playoffs in a whopping 67% of ESPN fantasy leagues.
You've probably heard it a thousand times by now, but it deserves repeating–in fantasy football, volume is king. The primary reason Robinson was able to perform so well last year was because of the volume he saw. There was quite literally zero competition in the Jacksonville backfield, leading to him getting a huge chunk of the carries. In fact, Robinson was second in the NFL behind just Derrick Henry in the percentage of his team's total carries that he saw (in other words, what percent of the rushing pie was given to him).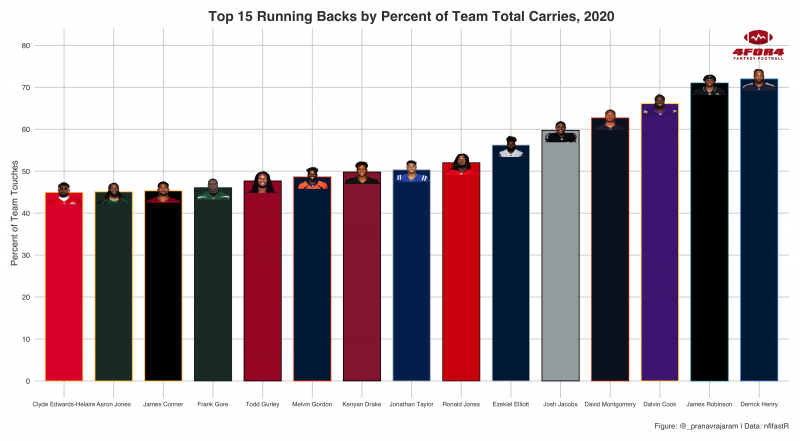 As you can see, Robinson saw over 70% of the work in the Jaguars backfield last year, which was a large factor in his fantasy excellence.
Translating to 2021
It'll be important to figure out whether or not Robinson will be able to maintain such a commanding hold on the Jacksonville backfield this season. Unfortunately, he'll likely not be able to reach such a high carry volume in 2021, mostly due to the signing of veteran running back Carlos Hyde. In 10 games with Seattle last year, Hyde ran for 356 yards and four touchdowns, averaging around 10 touches a game. If he sees a similar level of volume with the Jaguars this year, it will likely prevent Robinson from monopolizing the carries in the backfield.
Another important factor to consider is Robinson's pass-catching work. Before his injury, it was widely expected that Travis Etienne would function as the receiving specialist for the Jaguars–Etienne had over 1,000 receiving yards in his final two seasons at Clemson. Last year, Robinson was a solid pass-catcher, finishing the year with 49 receptions, good for 10th among all running backs. Carlos Hyde likely won't be a major threat through the air (just one career season with over 30 receptions), so if Robinson puts up similar receiving numbers like 2020, he will offer a solid floor for fantasy.
An Offensive Boost
Usually, productive fantasy running backs are attached to good offenses. This makes intuitive sense, as better offenses score more points, leading to better fantasy numbers. However, for Robinson last season, this was not the case. The Jaguars had one of the worst offenses in the league in 2020, finishing bottom-5 in yards per game, points scored per game, and offensive EPA per play. Their quarterbacks were a revolving door of subpar options, with Gardner Minshew, Mike Glennon, and Jake Luton all getting starts under center. As a result, the Jaguars finished 1-15, landing the first overall pick in the draft.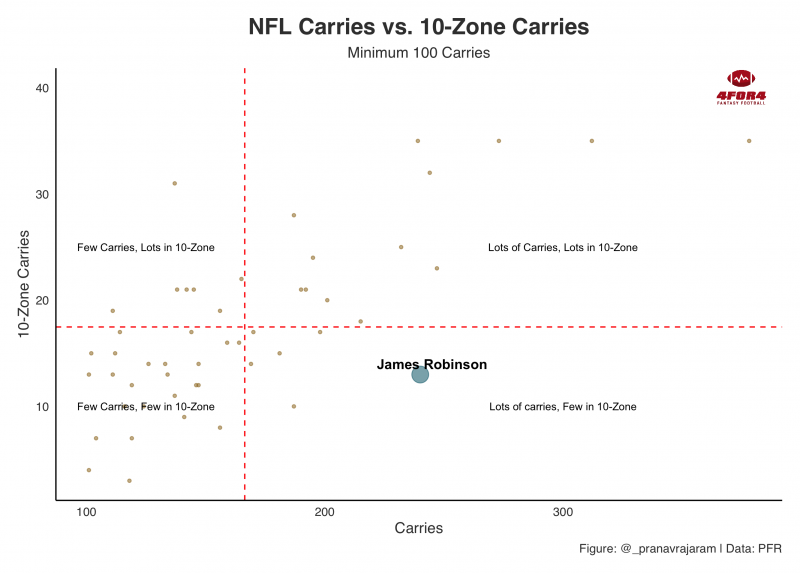 In this graph, we can see that Robinson was one of the few players last season who saw an above-average amount of carries, but very little opportunity within the 10-yard line, which is where the most valuable touches are.
Fortunately for Robinson, the Jaguars' offense should be much better this season. They selected a generational talent, quarterback Trevor Lawrence, with the 1st pick of the draft, and also added receiver Marvin Jones in free agency. Combining these two additions with the existing talent in Jacksonville–namely receivers D.J. Chark and Laviska Shenault–and things should be a lot better for the Jags' offense in 2021. This means that Robinson will be put in a lot more scoring positions this season, leading to more dependable fantasy production.
The Bottom Line