D'Wayne Eskridge: Ideal Complement to the Seattle Offense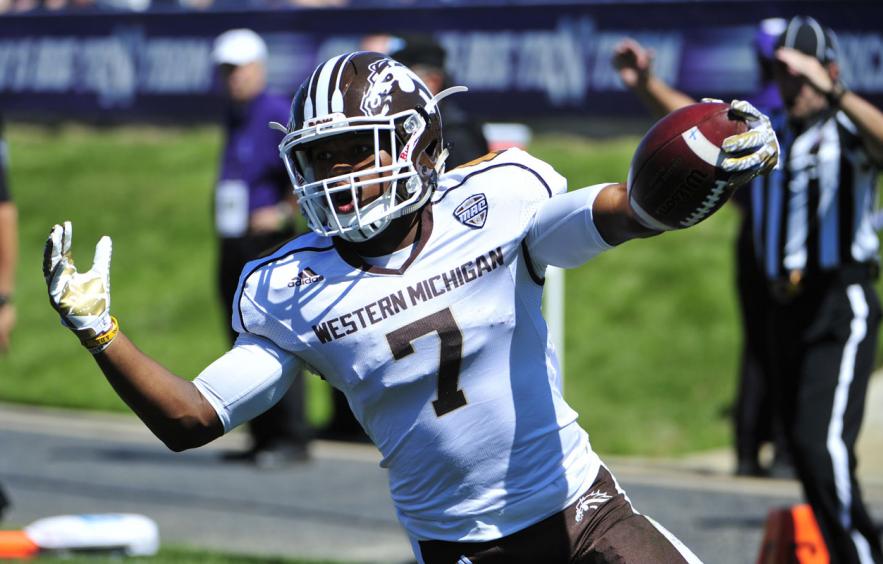 David Banks/Getty Images
With the 56th overall pick of the NFL Draft, the Seattle Seahawks selected Western Michigan's D'Wayne Eskridge, the eighth wide receiver off the board. He will slot in immediately as the team's third wide receiver behind Tyler Lockett and DK Metcalf's dynamic duo, adding copious speed and an extra underneath option for quarterback Russell Wilson. In addition to adding an explosive weapon in three-receiver sets, Eskridge could spell Lockett in the return game if the team wanted to cut down on the wear and tear as the seven-year vet heads into his age-29 season.
---
Editor's Note: Read more player profiles from the rest of the 4for4 staff!
---
Below we will examine Eskridge's collegiate production, how that can transfer at the next level, and finally, how he will fit in and impact the Seattle Seahawks offense.
Eskridge and His Five Seasons as a Western Michigan Bronco
D'Wayne Eskridge had a wild ride to becoming a second-round pick of the Seattle Seahawks on Friday, April 30th. Coming out of high school as a two-star running back recruit, he accepted an offer to Western Michigan (one of only two offers to FBS schools) and immediately switched positions. In his freshman season, he shared the field with Corey Davis, who would eventually be selected fifth-overall by the Tennessee Titans in 2017. With the departure of Davis, Eskridge began seeing more work as a receiver but over those next two seasons, he was also transitioning back and forth between the offense and the defensive-back position due to injuries on the roster and players transferring out of the program.
After breaking his collarbone, Eskridge returned fully healthy in 2020, and he now had an entire year to settle into his role as a receiver. Though he was dealing with an injury and being flipped across both sides of the ball through his years, the WMU Bronco exhibits a fleshed-out route tree. His most effective routes seem to be quick-hitting slants and various other underneath concepts that allow him to use his open-field vision and explosiveness to accrue yards after the catch.
Western Michigan played six games in a COVID-shortened season and at 768 receiving yards and eight touchdowns, Eskridge would have been on pace for an enormous full-slate season. He was nearly unstoppable with the ball in his hands, earning more yards after the catch (14.4 per reception) and more yards per route run (4.94) than any other receiver in the 2021 draft class. On top of that, his 27.5 yards per kick return slotted him 10th in the entire nation (minimum 10 returns).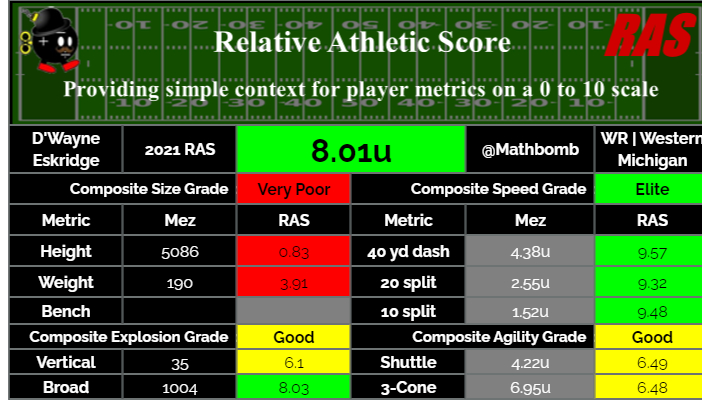 Eskridge does have the dreaded size issue that seems to be more prominent this year than in years past, but he uses strong hands and footwork to beat press at the line and elusiveness in the open field to overcome what would otherwise be perceived as a negative.
Once again, this is a player who is practically just getting his feet wet at the position, which is sort of terrifying for defenses on the next level. In a recent interview with the Draft Network Eskridge was asked about his route running, and how he can continue to improve with head fakes and body motion;
"...The thing about me that's kinda different from a lot of the other receivers in this draft is that I feel like I have so much more potential. There's so much that I still have to learn. I came to college as a running back. I was recruited as a running back. I moved to receiver the day that I got there. I learned a lot there and, as you know, I got moved to cornerback and moved back to receiver. I never had a consistent amount of time to just play wide receiver like I do now. That makes me feel like there's so much that I can still get better at.

I'm already explosive and can create separation, but imagine when I learn how to create more separation with the head fakes and things that you were just talking about. My potential is sky-high."
How he Fits With the
Seahawks
Though most NFL draft pundits had D'Wayne Eskridge as a third or fourth-round talent, the Seattle Seahawks clearly didn't agree. They saw the speed element they could add to the already scary Tyler Lockett and DK Metcalf duo, not to mention Eskridge's intensity as a run blocker that presumably made Pete Carroll's white hair stand on end. The rookie will have an immediate impact in 11-personnel sets, creating havoc in the defense to free up the two veterans or add an element that has been lacking with previous third receiver options.
Though I am very excited to see this motivated young man catch passes from Russell Wilson for the foreseeable future, there is a glaring issue with market share in Seattle, and it's been trending this way for a couple of seasons.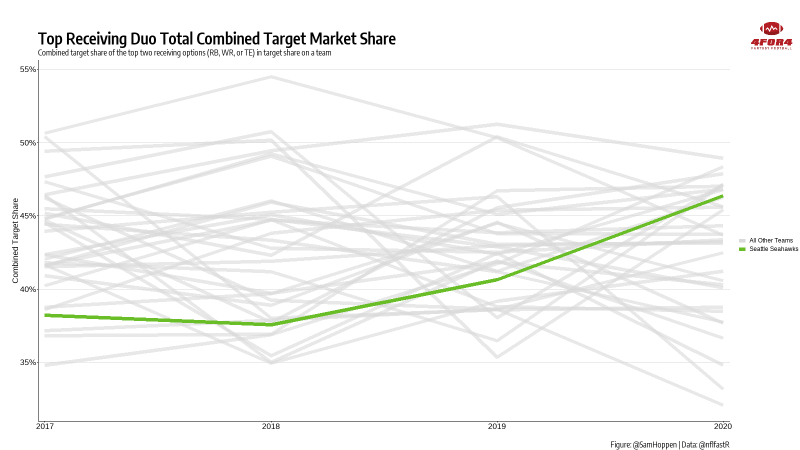 As DK Metcalf continues to polish his game and leave the idea of being a "specialty" receiver in the dust, he commands more of the offense to run through him. Ever since Tyler Lockett left the shadow of Doug Baldwin, he also rightfully needs a heightened target load. That leaves the Seahawks as one of the most top-heavy passing attacks in the league, with crumbs remaining for the rest of the offense. Particularly when they run the offense through their ground game.
Seahawks

Neutral Pass Rate History

| Year | Neutral Passing Rate | NFL Rank |
| --- | --- | --- |
| 2020 | 60.70% | 7th |
| 2019 | 53.60% | 30th |
| 2018 | 47% | 32nd |
| 2017 | 58.10% | 9th |
| 2016 | 59.40% | 11th |
| 2015 | 49.30% | 31st |
| 2014 | 48.50% | 30th |
D'Wayne Eskridge's college years gave us insight as to how much he can create, even with minimal opportunity, but for fantasy purposes, we could be in for some rough weeks during his rookie season. Tyler Lockett's career-high in targets before Doug Baldwin retired was only 71, and that's going to be the ceiling for today's subject in 2021, even if they truly let Russ cook all season —which is always up for debate given their history. Eskridge will get his usage; jet sweeps, underneath routes, full-fledged posts, and likely opportunities in the return game, but there are sure to be downright unusable weeks for fantasy purposes as long as the duo of Metcalf and Lockett is still around to rule the air.
Nonetheless, this is an exciting player who is sure to boost Wilson's already phenomenal floor. It just may take him a year or two to truly perform on a consistent level.
Bottom Line
Eskridge is already 24-years-old but he has already shown excellent football I.Q. by playing multiple positions, indicating that he will have a speedy adaption to the next level.
As can be expected while playing behind the top-heavy approach of the passing offense, Eskridge is currently going undrafted in Underdog ADP. I wouldn't argue with someone if they wanted to take a last-round flier on him but I think he is best reserved as a mega-stack for Russell Wilson
Because of his unique game-breaking abilities, I believe he is both a real-life boon to the Seattle offense and a player we should be targeting in dynasty leagues in case he really does continue ascending as a fleshed-out wide receiver.