Chris Godwin is a Steal in Fantasy in 2021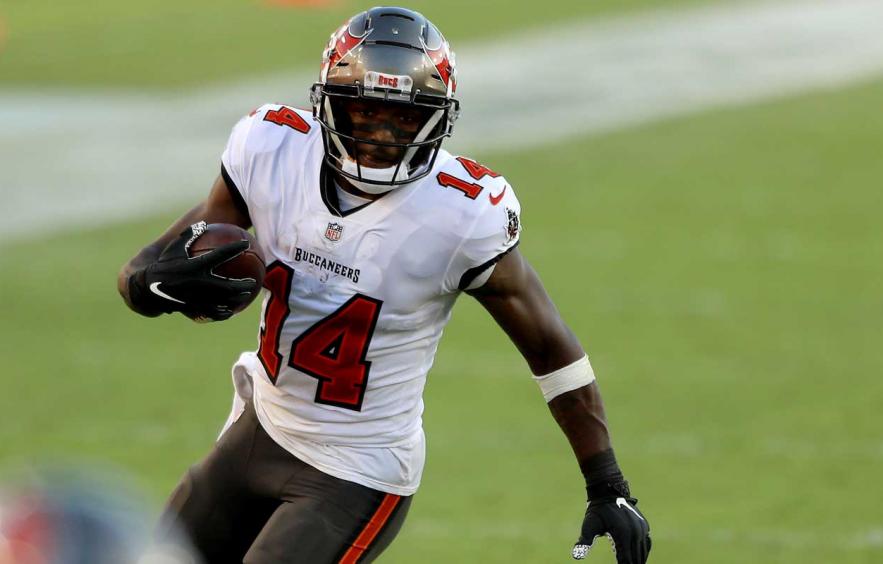 Mike Ehrmann/Getty Images
Generally, players on offenses known for putting points on the board are prized commodities in fantasy football. Leading members of such high-flying offenses are greedily snapped in drafts and become vital cogs on fantasy rosters. What if a player is one of the most physically dominant and efficient players at his position? Then wouldn't it be reasonable to assume the player was one of the first to go off the draft boards?
In the case of Chris Godwin, the above does not seem to be happening. So are fantasy managers picking up a bargain at his present ADP?
---
Editor's Note: Read more player profiles from the rest of the 4for4 staff!
---
A Down Year in a Great Year
The 2020 season ended in ultimate victory for Godwin and the Bucs with a win in Super Bowl LV. But from a statistical point of view, the season was something of a letdown for Godwin. Godwin was named First-Team All-Pro after the 2019 season after catching 86 passes for 1,333 yards and nine touchdowns. On their way to their championship win the next season, the Buccaneers finished third in the regular season in points scored and were second in passing yards. However, Godwin missed four games, and in the 12 contests he suited up for, saw his numbers fall to 65 catches for 840 yards. He still managed seven touchdowns. His per-game target share fell from 22.2% to 18.9%. A result of this was that Godwin was something of a disappointment on fantasy terms, finishing as the WR32 in half-PPR formats. It is worth mentioning that he averaged 13.2 fantasy points per game, a tally exceeded by just 14 wide receivers.
A Picture of Efficiency
While Godwin's production dropped, he was still a picture of efficiency. He caught a career-high 77.4% of his targets and earned his quarterback Tom Brady a 131.1 QB Rating whenever he looked Godwin's way—only four wide receivers claimed a higher mark in 2020. Brady also averaged 11.4 adjusted yards per attempt when targeting Godwin in 2020. 11.4 is the highest mark of any player Brady has targeted at least 50 times in his entire career. Godwin was an elite performer when it came to beating man coverage according to Reception Perception creator Matt Harmon. Facing the 10th most snaps in man coverage among all wide receivers with 155, Godwin's Success Rate of 78.1% was good for the sixth-best.
The Bucs didn't force-feed Godwin targets. But they trusted him to get open, and they trusted him to produce when the ball went his way. He did not abuse this trust.

Primed for a Bounceback
Godwin is currently being taken as the WR18 over at Underdog, which appears to be slightly generous if our rankings are anything to go by. We have 22 wide receivers ranked higher in half-PPR formats. So is there any reason to get excited about him? What possible ceiling does Godwin have in an offense in which he must fight for opportunities with players like Mike Evans, Antonio Brown and Rob Gronkowski? Well, I'm glad you asked.
There are factors in play that could easily bolster Godwin's case to finish much higher than he is currently being drafted or ranked. While he may not see all the targets for the Bucs, the pass-happy nature of the team should stand him in good stead. The Bucs neutral pass rate in 2020 was 63%, the third-highest in the entire NFL. Now the defending champions may find themselves armed with favorable game script throughout the coming season. According to Sharp Football Stats, the Buccaneers will be facing the fifth-easiest schedule in the league. So maybe they won't take to the air quite as often as we like? Well, not if last season was anything to go by. When playing with a lead in 2020, the Bucs passed on 54% of their offensive plays. Only six teams passed more with a lead.
There is also the idea that the Buccaneers offense took its time to truly find its feet in 2020. Tom Brady and his boys seemed to finally hit their straps following the team's Week 13 bye. In the final four games of the season, Godwin averaged 14.9 fantasy points per game (half-PPR) compared to the 12.3 he averaged in Weeks 1–12. That per-game pace throughout the season would have been enough for WR6. Part of this getting-to-know-you phase hopefully led to the Bucs and Brady realizing that Godwin is a beast when operating out of the slot.
Doug Farrar ranked Godwin as one of the 11 best slot receivers in the NFL recently, and in 2020 Godwin justified Doug's faith. He caught 47 passes out of the slot for 566 yards and four touchdowns, per SportsInfoSolutions. No wide receiver with at least 40 slot targets had a better catch rate than Godwin's 85.7%. Only five averaged more yards per reception when playing inside. 59% of Godwin's total targets on the year came when he was playing out of the slot. As Doug writes "Godwin's slot target share could increase in 2021, as could his overall productivity." An increase in workload, allied to an already efficient player, is bound to be great news for fantasy managers. Godwin is a player I like as a high-end WR2, with occasional visits into WR1 airspace. He could be one of the bargains of this fantasy draft season.
Bottom Line
Godwin has shown himself to a highly efficient member of the Bucs passing game, even if he is not going to command a truly epic workload.
The Bucs like to pass the ball, even when winning, meaning the football stays in the air more than on most teams.
Godwin is one of the best slot receivers in the NFL and has shown that he can excel when targeted inside. Slot receivers can be fantasy studs as well as outside clashers.
Despite 4for4 being slightly lower than an ADP on Godwin, there is enough upside in this offense for a high ceiling, especially with his efficiency.