Can Elijah Moore Emerge as New York's Top Receiver?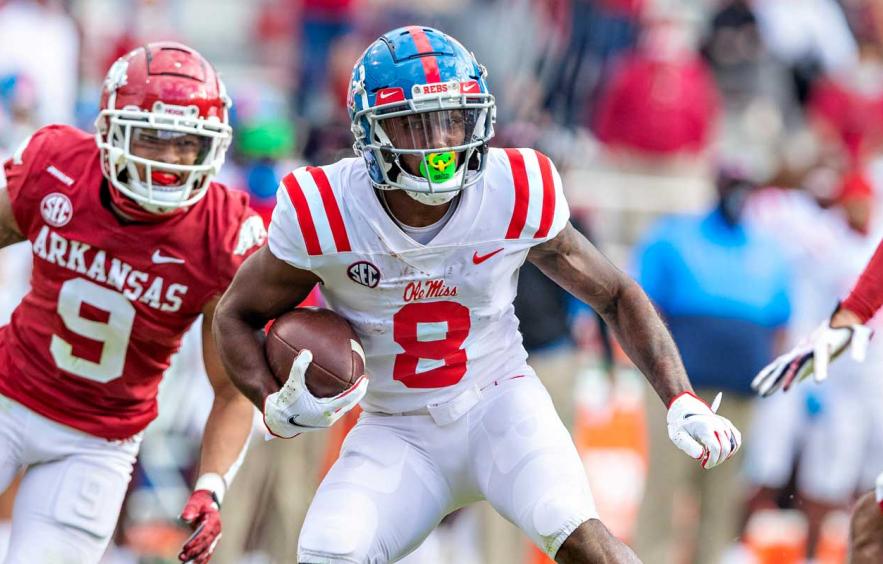 Wesley Hitt/Getty Images
After a pair of tumultuous seasons with Adam Gase running the show, the New York Jets have embraced a full rebuild under new head coach Robert Saleh and new general manager Joe Douglas. On top of drafting expected franchise quarterback Zach Wilson, the Jets added an explosive playmaker in Elijah Moore with the 34th overall pick. While playing in a semi-crowded depth chart, Moore still boasts an exciting prospect profile. With the chance to contribute immediately, Moore has become a hot topic across fantasy circles.
This piece will first examine Moore's collegiate production and what might to expect at the NFL level. Second, this piece will analyze Moore's fit with the New York Jets and how this influences the entire offense.
Elijah Moore

Slot Plus

Barely 21-years old, Moore left Ole Miss with two massively productive seasons in the SEC. Moore stands 5-foot-9, 185 pounds with a 4.35 40-yard dash. With a slighter build than most, many believe Moore will find success in the slot at the NFL level. However, with similar prospect profiles to T.Y. Hilton and Tyler Lockett, the Jets likely view Moore as a slot-plus wide receiver.

Coming out of Ole Miss, Moore initially entered a ridiculously productive Rebel's wide receiver room. Already competing with D.K. Metcalf, A.J. Brown, Damarkus Lodge, and Dawson Knox, Moore didn't register a true freshman breakout. However, Ole Miss utilized Moore on special teams and eventually played him down the stretch following an injury to Metcalf. In the final four games, Moore played at least 85% of the snaps in each contest. Moore also registered 24 catches for 232 yards in that span.

Moving forward to 2019, Metcalf, Brown, Lodge, and Knox all entered the NFL Draft, leaving Moore to rise as Ole Miss's alpha receiver. In 12 games, Moore notched 67 catches for 850 yards and six scores, while manning the slot. After showing his first glimpses of dominance, Moore doubled down in 2020. Playing just eight games (opt-out), Moore still recorded 86 catches, 1,193 yards and eight scores. This gave Moore an elite 45.5% College Dominator, 40.4% target share, and 19.5 Breakout Age—College Dominator refers to the total percentage of receiving yardage and touchdown production a player accounted for in their final season, while Breakout Age refers to the age of a player during their first season accounting for 20% of receiving yards and touchdowns in their offense.

More importantly, Moore registered some of this production against the SEC's finest. Playing 78% of his snaps from the slot, Moore notched 11 catches for 143 yards against Alabama. Moore finished the 2020 season with six games over 100 yards receiving and three games over 200 yards. He also posted 505 of his receiving yards after the catch, mirroring the special teams ability displayed earlier in his career. Unlike other slot specialists in this class, Moore showed an ability to win downfield. Moore registered 490 yards on receptions beyond 20 yards while finishing with 11 contested catches (fifth-most). As far as production is concerned, Moore produced at every level in a variety of ways for Ole Miss
2020 Game Logs

| Opponent | Targets | Receptions | Yards | TDs |
| --- | --- | --- | --- | --- |
| Florida | 12 | 10 | 227 | 0 |
| Kentucky | 11 | 10 | 92 | 1 |
| Alabama | 11 | 11 | 143 | 0 |
| Arkansas | 15 | 11 | 113 | 1 |
| Auburn | 9 | 5 | 16 | 1 |
| Vanderbilt | 15 | 14 | 238 | 3 |
| South Carolina | 13 | 13 | 225 | 2 |
| Mississippi State | 15 | 12 | 139 | 0 |

Offensive Fit in New York
With so many moving parts, fit looks a little tough to discern in New York. On top of the new head coach and general manager, New York brought in Mike LaFleur to coordinate the offense. Formerly the passing game coordinator in San Francisco, LaFleur's transition to New York will be interesting. In recent years, San Francisco has implemented one of the most unique offenses in the league. Often featuring 12-personnel and utilizing Kyle Juszczyk's unique skill set at fullback, the Jets simply do not have the personnel to mirror the 49ers.
Outside of schematics, New York also made considerable investments at wide receiver. With Jamison Crowder already on the roster, the Jets spent a second-round pick on Denzel Mims in 2020 and signed Cory Davis in free agency. This creates a murky depth chart for Moore immediately, but he still possesses multiple paths to playing time.
Moore primarily played the slot at Ole Miss and would likely play there without Crowder. The Jets can cut Crowder with only $1 million in dead cap. Already inefficient last year, Crowder becomes a free agent in 2022 at the worst. Crowder's 1.7 yards per route run in the slot ranked 29th among receivers with at least 20 targets. If the Jets decide to keep Crowder, Moore could still move outside at the expense of Mims or Davis. Mims only recorded 23 receptions for 357 yard in an injury-riddled rookie season, while Davis has never lived up to his status as a former top-five pick.
Jamison Crowder

Slot Production

| Year | Targets | Receptions | Yards | TD | Yards/Route |
| --- | --- | --- | --- | --- | --- |
| 2020 | 58 | 40 | 479 | 3 | 1.7 |
| 2019 | 88 | 58 | 648 | 5 | 1.6 |
Either way, Moore still possesses multiple paths to playing time in an offense expected to take a step forward in this season. With Zach Wilson at the helm, a fresh play-caller, and increased depth on the offensive line with Alijah Vera-Tucker, the Jets have a good shot at improved offensive production this season. While Moore likely doesn't see a full-time role immediately with the current depth chart, he still comes off the board in double-digit rounds of season-long fantasy leagues. With little capital invested, taking a shot on talent makes sense here.
While somewhat risky in redraft, Moore looks like a solid long-term asset in dynasty leagues. While some continue to discount the landing spot, 4for4's George Kritkos still has Moore as his WR5 in rookie rankings, WR42 in dynasty startups, and 76th overall player in all of dynasty. Mirroring sentiments laid out above, Davis, Moore, and Mims find themselves ranked between 67 and 76 for Kritkos. An emerging offense with capable playmakers, taking a piece at a cheap price could pay dividends in the future.
Bottom Line
While the Jets' reputation and lack of continuity still raise concerns, New York's offense looks improved following an offseason of investments. On Underdog Fantasy, all of the Jets wide receivers come off the board outside the top 100. Corey Davis holds the highest ADP of 113.1, while Moore, Mims, and Crowder sit at 140.1, 144.2, and 165.2. With little certainty among this group, taking a shot on players with higher ADPs makes sense here. Crowder can still be cut, so Moore and Mims look like the superior picks in the late rounds in early best- all leagues. Also undervalued in redraft and dynasty, Mims and Moore both remain high upside fliers in the double-digit rounds.