A.J. Dillon Has Been Left for Dead in Dynasty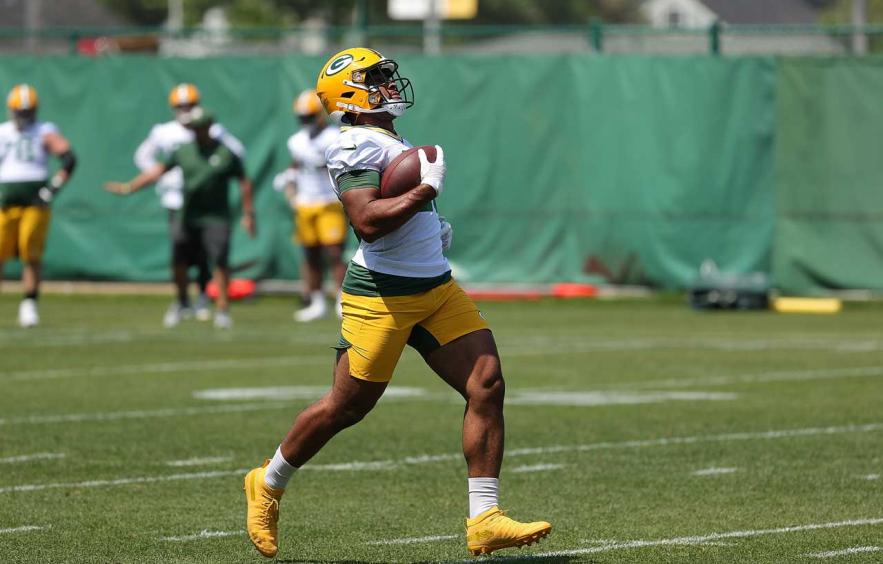 Stacy Revere/Getty Images
With all the turmoil currently going on in Green Bay, it may feel like a fool's errand to project fantasy pieces in that offense. Nonetheless, that's what we do here; dig into the nitty-gritty while others are too afraid to approach the Packers' fantasy assets as Aaron Rodgers continues his game of chicken with the front office. Luckily, our topic today isn't one of the pass-catchers more focused on who will be throwing him the ball, it is a running back more focused on showing out when given the opportunity; A.J. Dillon.
The offense will undoubtedly be better if Rodgers is behind center (and we will presume he's there for the rest of this article), but more important to Dillon is how often he'll be on the field as the thunder to Aaron Jones's lightning. Should we make him a priority on running back-hungry dynasty squads? What's the likelihood his value increases in future seasons due to the running back environment in Green Bay and his own play on the field? We'll tackle all of that below.
---
More Dynasty Resources: Top 200 Rankings | How to Optimize Your Dynasty Draft | Undervalued Dynasty Players | 16 Sleepers
---
A Rookie Season We Could Have Predicted
2020 Raw Stats: 11 Games, 46-252-2 rushing, 2-21-0 receiving (on two targets)
2020 Half-PPR Fantasy Finish: RB80, RB89 in points per game (4.4)
A punishing workhorse running back through three seasons at Boston College, the Eagles rode Dillon from the onset of his freshmen year, allowing him to pile up 845 attempts, 4,382 yards and 40 total touchdowns in his collegiate career. Across his nearly 900 college touches, Dillon exhibited the sort of punishing running style you would expect from someone who clocked in at 6-foot-0 and 247 pounds, and who nearly flew out of the stadium with his vertical and broad jumps. His contact balance and ability to fight for the extra yard made him nearly impossible to bring down at the line of scrimmage.
The red flags arise when we look into one of the most important parts of a fantasy running back's game; his usefulness—or otherwise—in the passing game. Dillon looked uncomfortable as a receiver where he was a less-than-stellar route runner and doesn't exactly have the game-breaking acceleration you want from a back who finds himself with the ball in the open area of the field. His shortcomings and strengths all presented themselves in his first season with the Packers.
2020 Green Bay

Packers

RB Production

| Player | Rush Attempts | Y/A | Yards After Contact/Att | Brkn Tkl% | Targets | Y/Target |
| --- | --- | --- | --- | --- | --- | --- |
| Aaron Jones | 201 | 5.4 | 3.3 | 13.4% | 62 | 5.7 |
| Jamaal Williams* | 119 | 4.2 | 2.6 | 6.7% | 35 | 6.7 |
| A.J. Dillon | 46 | 5.3 | 3.5 | 19.6% | 2 | 10.5 |
*Now in Detroit
Dillon ran a measly 19 routes in his rookie season, receiving a target on only two of them. He instead made his hay as a north-south runner, averaging 6.9 yards per attempt through the A-Gap (the area on either side of the center between him and the guard), while Aaron Jones (5.5) and Jamaal Williams (4.4) each offered diminishing returns while pounding the ball up the middle.
On the whole, A.J. Dillon was a tackle-breaking machine, far outpacing each of his main running mates and finishing first in the league (min. 25 rush attempts) by avoiding a tackle on 19.6% of his runs. It's fair to attribute some of that to his physical, contact-seeking running style but we probably shouldn't make it a habit of criticizing a running back for being able to run over linebackers. Inviting contact may add risk to his long-term appeal, but if anybody has the frame to do it, it's this man.

Ready to Make a Lambeau Leap?
The short answer is yes, yes he is.
Now that we know he is ready to make the leap, is Matt LaFleur, the offensive scheme, and, more importantly, Aaron Jones ready for him to make a leap? That question is a little harder to answer. Let's begin with Jamaal Williams, who vacates a crisp 154 touches from this backfield by signing with Detroit earlier this offseason. It would come as a surprise to few if Dillon usurped nearly all of Williams's 119 rush attempts from a season ago, but those 35 targets? Not so much.
We have already touched on Dillon's less-than-skilled route running and to make matters worse, the Packers drafted Kylin Hill, a pure-runner who morphed into a kind of wide receiver by the time he left Mississippi State. In Hill's 2020 mini-season with Mike Leach's air raid offense (opted out after three games to focus on the NFL Draft), he was targeted 27 times while rushing only 15 times. With Hill still sitting there in the seventh round, the Packers gobbled him up, pairing him back up with former Mississippi State offensive coordinator (2018) and current passing-game coordinator, Luke Getsy.
In my opinion, the third running back slot is Kylin Hill's to lose. That would mean Dillon will get squeezed out of some third-down opportunities by the rookie, and matching that with Aaron Jones's 12.8% target share with Aaron Rodgers over the last two seasons, we're not looking at much more than an early-down, goal-line back in the near future for Dillon.
It is worth noting, though, while likely impossible to quantify, Dillon did miss five games last season while recovering from a positive COVID-19 diagnosis, and we have heard from other athletes that it can be demanding to get back to comfortability physically. There's no question he would have gotten a bigger piece of the pie if he didn't miss so much time, and there's no saying he wouldn't have been able to work on his pass-game chops with more reps. It's going to be interesting evaluating the rookies that had to deal with a pandemic during the first year of their pro career, and the range of outcomes could be wide for the "Quad Father".
Making An Offer They Can't Refuse
As everybody knows, Twitter is where you need to go to find reasonable, unbiased opinions on football, and all other walks of life. As such, I polled the Interwebz to find out what dynasty players thought a good price for acquiring a share in A.J. Dillon would be. Here are the results:
What would you pay for A.J. Dillon in Dynasty right now?

— Justin Edwards (@Justin_Redwards) June 30, 2021
Judging by these results, a mid-second would probably be the overwhelming favorite if I had made these options more granular. Aaron Jones and Dillon's lack of receiving work (at least for now) appropriately scare away the dynasty market, and it's hard to blame them. Nonetheless, we have a dynasty running back who has some stand-alone value and an unfathomable upside if Jones were to miss any time. For teams starving for running backs (and I know I have a few), this is the type of player we should probably be looking for without breaking the bank.
4for4 Dynasty Lead George Kritikos has Dillon ranked as the 110th-most valuable dynasty asset (RB32). That puts his value somewhere around the 2.03 rookie pick.
Bottom Line
The path to passing game usage is a long and winding one, leaving A.J. Dillon's ceiling capped.
There is long-term value with any running back associated with an Aaron Rodgers-led offensive attack and Dillon has a very real shot at 150+ touches a year as the thunder to Aaron Jones's lightning.
With Rodgers's status still up in the air ahead of Packers training camp, running back needy dynasty teams could make a run at Dillon owners looking to get out from under Green Bay's offense.