Top DFS Stacks on FanDuel and DraftKings: Week 3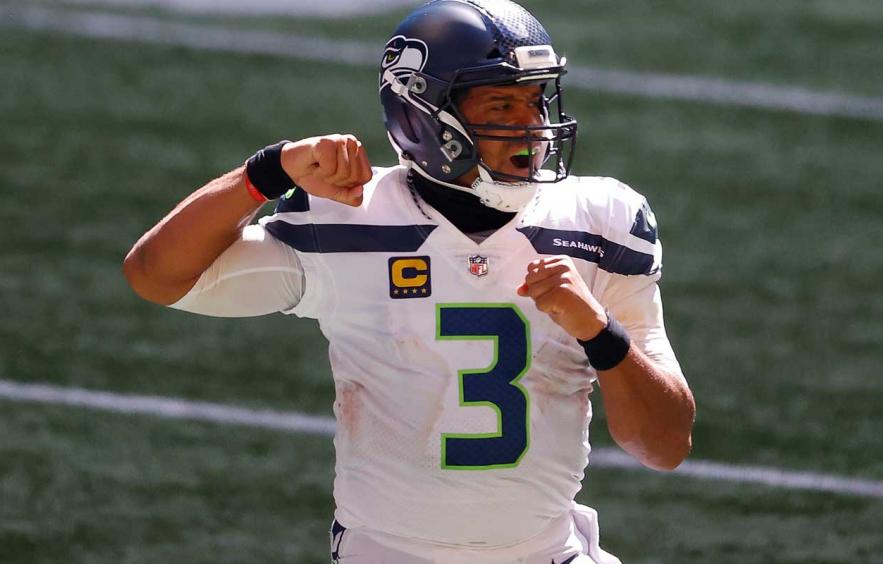 Kevin C. Cox/Getty Images
Stacking players is a stairway to the top of daily fantasy tournaments, maximizing upside by creating the sort of volatility that can help your roster post a crooked score—one way or another.
Below are some of the most intriguing stacking plays I found while sifting through the week's matchups. Most of these options will leave room for high-ceiling studs. The goal, naturally, is to get a lot for a little. So let's get into it.
Dallas
Cowboys

(+5) @ Seattle

Seahawks

- O/U 55
QB
Russell Wilson

,

Seahawks

($8,700 FD/$7,300 DK)

WR

DK Metcalf

,

Seahawks

($6,500 FD/$6,500 DK)

WR

CeeDee Lamb

,

Cowboys

($5,600 FD/$5,400 DK)

You could stack this game 420 different ways with various machinations of which players could benefit from certain types of game script. We could very well see another hard-charging Dallas comeback here as the Cowboys come in as road underdogs against another offense primed to shred their defense. We could see a standard back-and-forth contest.

This correlation stack is one to deploy if you lean toward the latter scenario. A metric ton of negative script for Dallas would likely require a couple Cowboys pass-catchers in any Seahawks-Cowboys stack.

DK Metcalf and Tyler Lockett have the same projected Week 3 ceiling, per the 4for4 Floor & Ceiling tool. Metcalf is slightly cheaper on FanDuel and $100 pricier than Lockett on DraftKings, and his yards per target is outstanding through two weeks (13.4 compared to Lockett's 9.9) so I sided with him. Lockett would be fine too. With the Seahawks sporting an implied total of 30.25 points—the highest of the week—it's hard to imagine a scenario in which Wilson doesn't continue his torrid pace against the Cowboys. Since 2017, he's averaged 2.2 passing touchdowns in games where the Seahawks are favored by at least five points. Wilson should have plenty of time to operate in the pocket this week: Dallas has the league's sixth-lowest sack rate (2.86%), having pressured Matt Ryan last week on a lowly 26.8% of his drop backs.

Running it back with Lamb has two-fold appeal: he's almost laughably cheap on both sites this week (with a 23.6 point ceiling on DraftKings) and Seattle's secondary has been ripped by opposing slot receivers. Russell Gage in Week 1 caught nine of 12 targets for 114 yards against the Cowboys and Julian Edelman went nuclear with 179 yards on eight grabs in Week 2. Lamb, meanwhile, has the third most targets from the slot through Week 2, behind only … Gage and Edelman. Only Gage and Edelman have more yardage from the slot than Lamb. The Seahawks probably don't have an answer for the shifty rookie.
Carolina Panther (-6.5) @ LA
Chargers

- O/U 44.0
QB
Justin Herbert

,

Chargers

($7,200 FD/$5,900 DK)

RB

Austin Ekeler

,

Chargers

($7,500 FD/$6,800 DK)

RB

Mike Davis

,

Panthers

($6,000 FD/$5,100 DK)

A weird stack, to be sure. But in a game with a heavy home favorite and a quarterback who proved ready and willing to check down to his explosive pass-catching backfield specialist and a target-gobbling running back on the opposing team, it's a sensible correlation for DFS players in tournaments.

Justin Herbert likely won't be pressed into the pass-heavy script we saw him in last week against Kansas City, when he totaled 311 yards, a touchdown, and a pick. He could still provide some pop against a leaky Carolina secondary though. Herbert in his NFL debut targeted Austin Ekeler four times —Ekeler caught all four for 55 yards. Daniel Popper, who covers the Chargers for The Athletic, said the Week 1 panic around Ekeler getting a measly one target against the Bengals was unwarranted. Pooper said it "was clear Cincinnati was keying on Ekeler, especially when he motioned from the backfield to the outside." Offensive coordinator Shane Steichen, Popper said, "found ways to get Ekeler the ball in the passing game with motion, particularly motion at the snap" in Week 2. Expect more of the same this week agains the Panthers, who have allowed more running back receptions (19) than any team in the NFL.

Mike Davis serves as an ideal run-back option alongside this LA stack after he absorbed all of Christian McCaffrey's passing down work after CMC left the team's Week 2 game with an ankle injury. McCaffrey is out this week, leaving Davis to vacuum up a bunch of touches even if (when) game script turns against Carolina. Davis—with a projected PPR ceiling of 20.7 points—is a steal on DraftKings, where he's the 26th most expensive running back.
New York
Jets

(+10.5) @ Indianapolis

Colts

- O/U 44
QB
Philip Rivers

,

Colts

($7,000 FD/$6,000 DK)

WR

T.Y. Hilton

,

Colts

($6,200 FD/$5,600 DK)

RB

Jonathan Taylor

,

Colts

($6,700 FD/$7,000 DK)



Colts

Defense ($4,800 FD/$4,100 DK)

Forget the run back option. This is Adam Gase's Jets we're talking about. Unless you want to roll with Braxton Barrios—who drew eight targets last week against the 49ers—there's no reason to force a Jet into this stack. We're all in on an all-out Indy blitz here.

Jonathan Taylor, after seeing 26 rushes and a couple of targets in last week's blowout over Minnesota, has been established as a workhorse who probably won't be sensitive to game flow. Not that game flow would matter here, with the Colts as 10.5 point favorites over the lifeless Jets. Taylor should easily see 20 touches this week against a Gang Green defense that has given up the eighth-most rushing yardage and the sixth-most running back receptions. I'd be more concerned about the Colts being so far ahead in the fourth quarter that they rest their stud rookie than Taylor struggling against the Jets.

Stacking running backs with their team's defense has pretty decent correlation. It depends on game script going absolutely haywire, which, ya know, could happen in this game and no one would proverbially blink a proverbial eye. Sam Darnold has been under pressure on 37 percent of his drop backs; only seven QBs have been pressured more than poor Sam this season. The Colts have gotten after the passer at the start of this season, as Indy's 13.2% sack rate is the highest in the league. Darnold should be running for his life all day. We have sack and turnover upside for the Colts defense. Hopefully, DFS players are hesitant to pay (almost) all the way up for a defense in a large-field tournament, making the Colts defense—which has the highest projected ceiling of the week—a unique Week 3 play outside of cash contests.

Parris Campbell missing the rest of the season is big for Hilton. Campbell out-snapped Hilton and tied him for the team lead in targets in Week 1. One could see Campbell emerging as the Colts' WR1 if one looked closely enough. All that's over now. Hilton should see an uptick in target share against the Jets. And let's not forget he was one egregious Week 2 44-yard touchdown drop away from being priced far higher than he is today. On DraftKings, Hilton is priced around other team's WR2s and WR3s; he's a value play with touchdown upside as the No. 1 wideout for a team with an implied total of 27.25 points. The downside, as you may have guessed, is an early blowout in which Hilton doesn't run many routes and the Colts hammer away on the ground. I'm OK taking that chance. The price is right.
Kansas City
Chiefs

(+3) @ Baltimore

Ravens

- O/U 53.5 (Multi-Day Slates)
QB
Lamar Jackson

,

Ravens

($9,400 FD/$7,800 DK)

WR

Miles Boykin

,

Ravens

($4,700 FD/$3,900 DK)

RB

Clyde Edwards-Helaire

,

Chiefs

($7,600 FD/$6,500 DK)

TE

Travis Kelce

,

Chiefs

($7,800 FD/$7,000 DK)

I can confirm this stack will blow a gaping hole in your Week 3 salary cap, consuming 49.1% of your allocation on FanDuel and 50.4% on DraftKings. You'll have to go low—real low—elsewhere. But I think it'll be worth it.

The Baltimore-KC game has an over-under of 53.5 points, the second-highest of the week. When these teams clashed last season, they combined for 61 points, with Lamar Jackson going for more than 300 total yards and Patrick Mahomes throwing for 374 yards and a trio of touchdowns. There's not a whole lot of reason to expect anything drastically different this time around.

The Jackson-Boykin stack is a cheap way of benefiting from the potential scoring in this game. Boykin, far cheaper than Marquise Brown on both sites, has played more offensive snaps than Brown through two weeks, and has just three fewer targets than Brown. It hasn't (yet) resulted in fat stat lines—Boykin has seven receptions for 75 yards—but that could be coming, and soon. Wide receivers have seen 39 targets through two weeks against KC, as 61.3% of the targets against the Chiefs have gone to wideouts. That's a top-10 rate. You could try stacking Jackson with Brown, though that will force you into a tough spot in filling out your roster outside of these KC-Baltimore plays.

Teams are going after the Ravens defense via the tight end. Through Week 2, 27.5% of the targets against Baltimore have gone to tight ends—the fourth-highest mark in the NFL. Last week we saw Houston tight ends targeted 11 times, resulting in 78 yards and a touchdown. Travis Kelce commands a dominant target share in one of the league's most productive offenses, and in a back-and-forth game, he should have an outrageous ceiling. He has, in case you were wondering, the highest projected Week 3 ceiling among all tight ends on both sites. On DraftKings, no one is even close.

Clyde Edwards-Helaire last week made it clear he'll be game script proof this season. With KC down and chasing points late, the rookie got 10 targets, catching six for 32 yards against the Chargers. We should fixate less on the low yardage total and more on the targets. If this game is going to shoot out (it will) CEH is going to see plenty of opportunity, along with high-value goal line work for the Chiefs. He has the seventh-highest projected ceiling of the week on DraftKings, as proof of his PPR upside coming out of Mahomes' backfield. CEH's FanDuel price is reasonable; it's on DraftKings that he's priced as the RB12. That's too low. Take advantage.