Super Bowl NFL Betting Picks: Game and Team Totals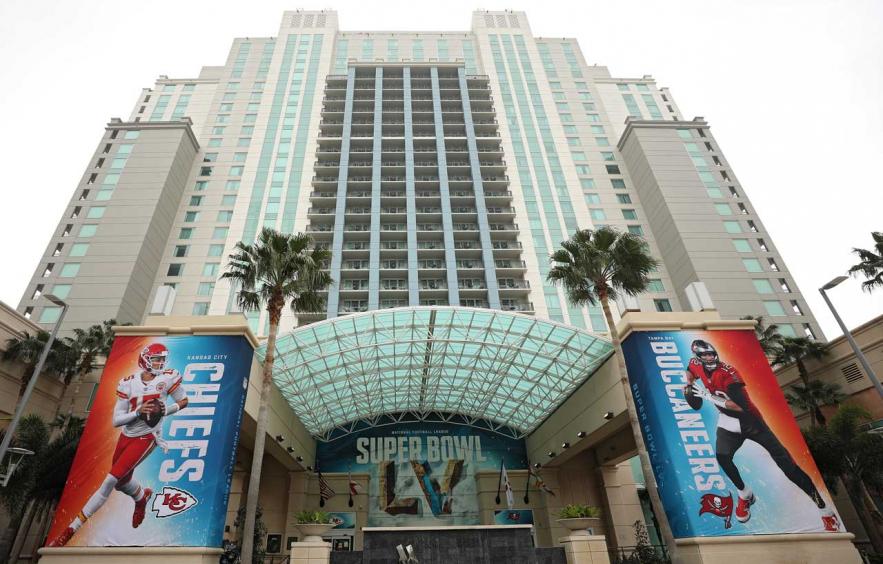 Patrick Smith/Getty Image
Super Bowl week is upon us, and by this point, you've likely consumed copious amounts of content breaking down 'The Big Game'. I'll spare you yet another game breakdown and instead will point you towards this terrific piece by my Move The Line cohort, Connor Allen, which breaks down all facets of the game and how to exploit those thoughts in the betting market. Connor and I have discussed the game daily since the Conference Championship games ended, and we're aligned on how we expect the game to play out.
So why the hell are you here, Noonan?
That's a great question.
I'm here to talk totals, specifically the exotic total offerings that don't get discussed on a typical NFL weekend. When applicable, I'll give you the best number I can find for both sides of the play and my current lean on it. Let's dig in.
SIGNUP BEFORE THE SUPER BOWL and receive a 100% instant deposit match up to $100 from PrizePicks. PrizePicks is the simplest fantasy game on the market! Just pick 2-5 players and you can win up to 10x on any entry. Learn More →
Game Total
Over 55.5 (-115) — FanDuel SportsBook

Under 56.5 (1.91) — BetMGM
The total opened at 57.5, which is the largest opening total in Super Bowl history. It quickly settled around 56.5 but has seen a bit of steam towards the under in recent days. It's the third-highest Super Bowl over/under ever, behind Super Bowl XLIV (Drew Brees and the Saints vs. Peyton Manning and the Colts) that had an over/under of 56.5 and the 57.0 over/under from Super Bowl LI (the infamous 28-3 Patriots comeback over the Falcons game). The first matchup between these two clubs back in Week 12 had a 56.0-point over/under, and it came in at 51. During the regular season, eight Chiefs games and seven Buccaneers games went over 56 points.
Lean: Over
Kansas City
Chiefs

Total
Over 29.5 (-118) — DraftKings SportsBook

Under 30 (-110) — FanDuel SportsBook
Tampa Bay
Buccaneers

Total
Over 26.5 (-124) — DraftKings SportsBook

Under 27 (-110) — FanDuel SportsBook
Clearly, your lean here is dictated by your thoughts on the game total. The key is to think through how the game plays out and parse through which scenarios are most likely for each outcome.
If you like Tampa Bay, you're likely thinking the Buccaneers can outshoot Mahomes and the Chiefs. I don't envision many scenarios where this becomes a defensive struggle, due to the high level of offensive efficiency with both passing games. That would likely put you on the game total over and the Buccaneers team total over.
Chiefs games are 9-9 on the total this season, while Kansas City has topped their 29.5-point team total in 11-of-17 Patrick Mahomes starts. In the initial matchup between these two clubs in Week 12, they combined for nearly 1,000 total yards from scrimmage, but a couple of stalled drives in the second half kept the game under the total. That's certainly in the range of outcomes again, but I'd rather bank on both teams approaching their baseline efficiency levels in the red zone versus a Week 12 repeat.
Lean: Over on both teams
First Half Total
Over 28.5 (+120) — FanDuel SportsBook

Under 28.5 (-121) — DraftKings SportsBook
A pretty drastic discrepancy in the price for this one, making it clear which book to select if you have a lean on the first-half total. Dating back to 2001, the average first-half point total has been around 20 points per game. Now, that's clearly more descriptive than predictive so proceed with caution when it comes to trends.
Lean: Under
First Quarter Total
Over 10.5 (+114) — FanDuel SportsBook

Under 10.5 (-140) — FanDuel SportsBook
A 10.5-point first-quarter total when the first-half total is 28.5 shows you that the books buy into the slow start narrative when it comes to the Super Bowl. Why do teams start slow in the Super Bowl? Will Tom Brady's experience trickle down to the rest of the roster as it relates to the unique cadence of the pre-game and halftime festivities? Will the Chiefs benefit from last year's experience? Will both teams benefit from more rest and a gameplan-centric focus instead of the typical hoopla that surrounds the event each year? Since 1999, the average first-quarter total is 8.9 points. The average points scored in the first quarter of Super Bowls during that time frame is 6.4 points. Only three of the past 23 Super Bowls have topped 10.5 points.
Lean: Under