Divisional Round NFL Betting Picks: Game and Team Totals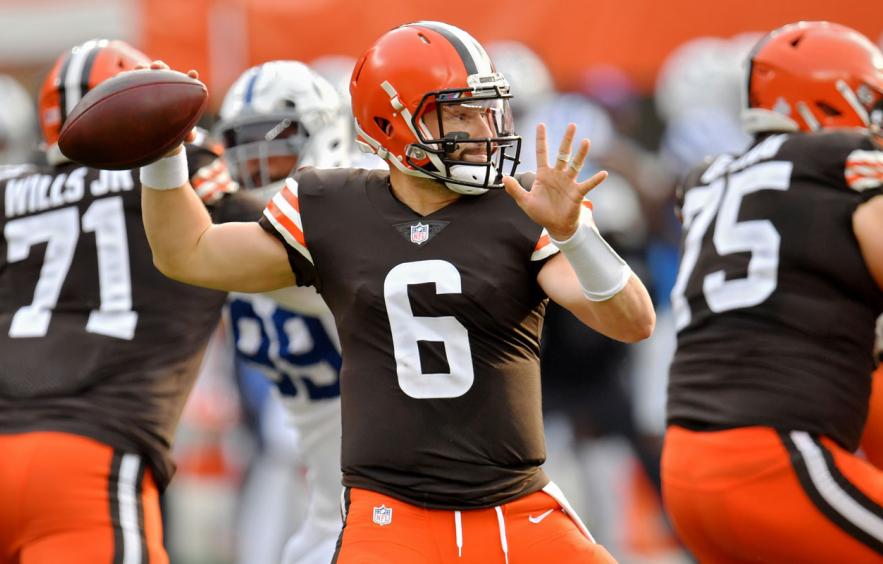 Jason Miller/Getty Images
We have another lovely football-filled weekend, with two games on Saturday and two on Sunday. Let's be real here, last week's picks didn't go so well let's just leave it at that. Thankfully, this piece went up only a few hours before the first game kicked off, so hopefully, you didn't see it in time, and you avoided the bloodbath that ensued.
I'm 43-34-1 here on the season, hovering around the 55% mark. Here are the plays that I'm confident about this week.
Los Angeles
Rams

@ Green Bay

Packers

- Under 45.5

Currently, 45.5 is the number across the market. I considered highlighting the Rams team total in this spot, and I'll be looking to take a position on under 20 if it's posted in the coming days, likely on FanDuel.

I thought it was extremely telling that last week, Sean McVay started John Wolford at quarterback and made Jered Goff the backup. If Goff's injury was so severe that he couldn't play, he likely would've been either inactive or just active as the emergency quarterback. I believe that McVay thought his team's best chance to win last week in Seattle was with Wolford under center, and I'm not sure that he was wrong, results be damned. The Wolford injury forces McVay's hand this week, as it'll be Goff under center this week in Green Bay.

Since Week 12, the Rams' offense is 31st in EPA per play. Goff continues to be exposed as a robotic system-quarterback that fails to make quick decisions or accurate throws when he's moved off his spot or when his throwing window changes. In a limited sample, he's also shriveled up when the temperature hovers around freezing, as it will on Saturday afternoon in Green Bay. He's yet to throw a touchdown pass in cold weather but has managed to throw five interceptions, averaging just 5.3 yards per attempt.

I believe the Packers will have success moving the ball, but a stout Rams defense will keep them from a ceiling outcome, which will hold this one under 45.5.
Baltimore
Ravens

@ Buffalo

Bills

- Over 49 (Rivers Sportsbook)

This number continues to drop due to what I presumed to be concerns around the weather on Saturday night. If you like the over, I suggest holding off and watching this closely over the next 24 hours because I believe it could dip even lower.

Since Week 10, these offenses are third and fourth in EPA per play and have found another gear over the season's last month. Much has been made about the improvements we've seen from Josh Allen as a passer, and rightfully so. His year-over-year gains in EPA per dropback and completion rate over expectation (CPOE%) is a massive reason why the Bills have won 10 of 11 heading into this week's matchup. The strides we've seen from Lamar Jackson as a passer hasn't gotten as much attention.

After a slow start to the season, the Ravens' late-season success coincides with Lamar's spike in CPOE. Over the first 10 weeks, the defending MVP was slightly below average, at -0.3, 28th out of 39 qualifying quarterbacks. From Week 11 until now, Jackson's CPOE is 4.1, ranking sixth out of 31 quarterbacks over that same time frame. We've also seen Jackson be a more aggressive runner, with multiple big plays similar to his unforgettable 2019 highlight reel runs that led Baltimore to be the Super Bowl favorites heading into last year's Divisional Round.

Kudos to Connor Allen for this nugget on Move The Line, he noted that the Bills have played against five teams in the top-10 of defensive efficiency this season, and they scored 27, 26, 34, 30, and 35 in those contests. The Baltimore defense will blitz early and often, but Allen ranks 4th in EPA per dropback under pressure this season. If they don't get there quickly, I expect Allen will pick them apart. I'd take this up to 50.5, but I believe this is staying in the upper-40's.
Cleveland
Browns

- Over 22.5 (DraftKings Sportsbook)

I like the over for this game as well, but I wanted to highlight the Browns at 22.5. This recently dropped to 22.5 from 23.5, which is still in play at other books.

Any of the key metrics such as EPA, DVOA, Drive Success rate, etc., will show the Browns as a top-10 offensive unit this season. Even so, I believe their season-long numbers are skewed. Cleveland had a scheduling gift from the god's mid-season, with three straight home games with a bye in the middle of it all, from Weeks 8-11. On top of that, those games were against three of the league's worst defensive units, Las Vegas, Houston, and Philadelphia. Unfortunately, the weather in Cleveland was not so kind. All three of those contests were plagued by 20+ mph wind gusts and accompanied by a torrential downpour. What I'm trying to say is, I think this Browns' offense is even better than the key metrics indicate.

The Chiefs' defense ranks 24th in success rate allowed on the season, 27th in success rate against the run, and while I expect the Chiefs to win this game, perhaps even covering the double-digit spread, I believe Baker Mayfield and company can score and keep this one close.