Week 15 NFL Betting Picks: Game and Team Totals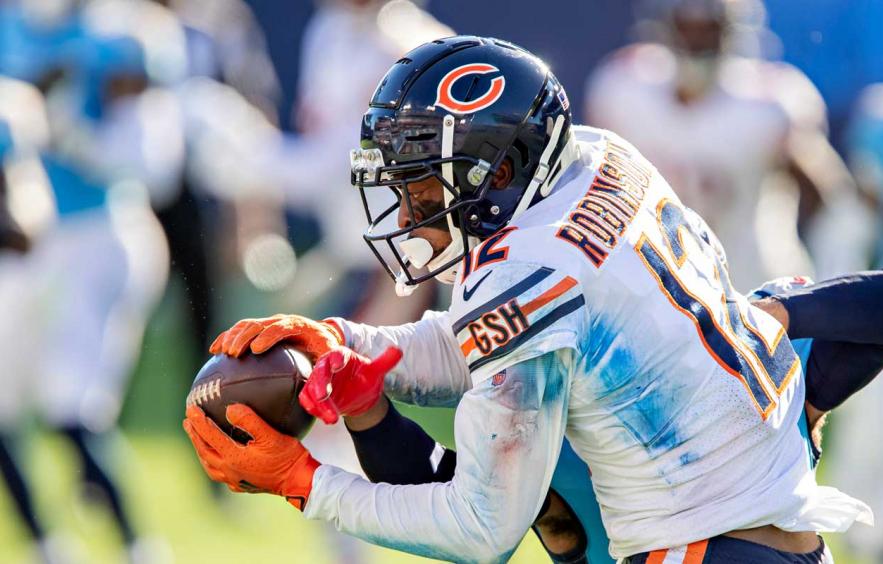 Wesley Hitt/Getty Images
We're always forced to deal with small samples when analyzing the NFL. It's the nature of the game. A 17-week season doesn't reach even the lowest benchmark to determine if something's true if you were modeling a standard distribution of events, so we have to adjust. We have to make the most of the data we do have. With that said, in Week 15, the 'numbers' are as good as they'll ever be.
After a 2-2 Week 14, I'm 36-26-1 here on the season, good for a profitable 58% clip. Let's build on that this week.
Also, please make sure to join our discord if you haven't yet. Our 4for4 community is a smart and engaging group, and there's something for everyone in there. I'm sharing plays there throughout the week if I think the line is going to drastically change. My podcast partner, Connor Allen, is in there often as well, discussing props along with the best way to approach that market as it emerges each week.
Let's dig into this week's picks.
Chicago
Bears

@ Minnesota

Vikings

- Over 46.5 (DraftKings Sportsbook)

There's a sizable, mostly actionable trend that shows unders in the second matchup in the division as a profitable blind bet. Most trends aren't worth your time, but even this one, which has its merits, fails to account for any context beyond the fact that the two clubs have played previously in the season. In this instance, Nick Foles was under center for the first meeting, a 19-13 barnburner that I'm sure you've struggled to forget. No?

Going back to Mitch Trubisky has paid dividends for the Bears offense, which ranks fifth in EPA per play over the past three weeks. The opposing defenses have been far from elite, but it's encouraging to see that they've taken advantage of their easy schedule. Allen Robinson continues to thrive, while David Montgomery is playing the best football of his young career. The ancillary pieces like Cole Kmet, Anthony Miller, and Darnell Mooney have been enough to support Trubisky during his recent run of adequacy. The Vikings' defense, which will be without All-Pro LB Eric Kendricks for the second straight week, has allowed the third-highest rushing success rate on the season. They're equally generous to passing offenses as well, allowing the fourth-highest explosive pass rate in the league.

The Vikings should find a pathway to success when they have the ball as well. Only the Chiefs have more explosive plays than the Vikings do on the year, and they're even more electric at home in the dome. The Bears defense has predictably spiraled since their early-season success, ranking 25th in EPA per dropback over the past six weeks. Their run defense is perceived as stout, but they've allowed the sixth-highest rate of explosive runs on the season, which is music to your ears if Dalvin Cook's lead you to the fantasy playoffs. This has oscillated between 46 and 47 over the past few days, but I'd take it anywhere under 48.
Kansas City
Chiefs

- Over 27.5 (FanDuel Sportsbook)

The Chiefs are almost an auto-play any time their team total is under 30 but under 28? Yes, please.

On this week's Move The Line, I compared these Chiefs to the early Shaq/Kobe Lakers and the recent Golden State Warriors teams. Those clubs had a unique ability to turn on the proverbial switch, taking their play to another level whenever they want. We saw it with the Chiefs earlier this season in the highly-anticipated matchup against the Ravens, and that game was over at the half.

Last week in Miami we saw Patrick Mahomes turn the ball over three times, once in the red zone, and they still managed to score 33 points against one of the league's top defensive units. They'll face another elite defense this week, but the Chiefs have shown that good offense always beats good defense, all things being equal. Or even when they're not equal, like last week's loss in the turnover margin.

The feather in the cap here comes courtesy of Sharp Football. The Saints play man coverage 24% more than a league-average team. Patrick Mahomes averages 10 yards per attempt against man, up from his 8.7 YPA versus zone coverage. His EPA per dropback is also 0.05 better against man, a larger edge than it seems when written out like that. I love this at 27.5, but I'd feel confident up to 30.5.
Cincinnati
Bengals

- Under 14 (PointsBet)

The current state of the Bengals is depressing. This was such a fun, promising offense with Joe Burrow under center but it has slipped into the league's worst unit, even worse than the Jets. They're 32nd in EPA per play and EPA per dropback over the past six weeks, ranking dead-last in explosive play rate on the season. There's nothing good happening here. They'll likely be forced to start Ryan Finley at quarterback this week due to Brandon Allen's knee injury, but does it really matter?

The Steelers, having lost two straight after daydreaming of a 16-0 regular season, will be highly motivated to get in the win column this week. The Bengals need three scoring drives to get over this number, and I just don't see how that happens. I prefer 14 if you can find one, but I'd take 13.5 as well because two Cincinnati touchdowns' feels like a stretch.
Tennessee
Titans

- Over 30.5 (Rivers Sportsbook)

The Jaguars could make a case for the throne, but I believe the Lions have the worst defense in the league right now. Even when they're a healthy unit, they do nothing well, but they're far from healthy right now. Starting corners Desmond Trufant and Jeffrey Okudah will be out again this week, Trufant is on IR, so Darryl Roberts and Amani Oruwariye will be tasked with slowing down one of the league's top-three offenses. The front seven will see a heavy dose of the league's leading rusher Derrick Henry, who's aiming for a 2,000-yard season and a second-consecutive rushing title.

A dome team on the road in December with their back up quarterback is unlikely to give the defense many sustained breaks here, setting up the Lions for a very long Sunday.