TJ's #Taek: Week 11 NFL DFS Recap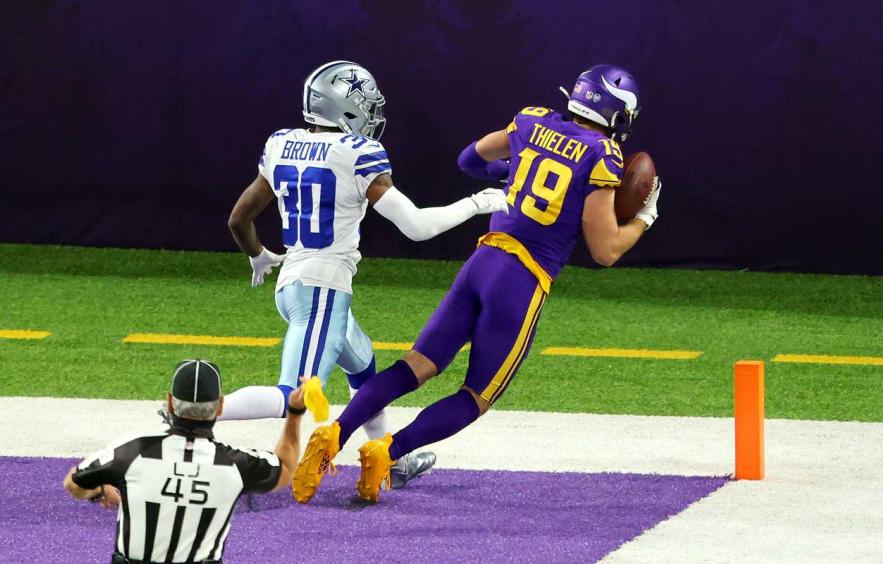 Adam Bettcher/Getty Images
Week 11's winning lineups from the biggest contests on FanDuel and DraftKings can be used to tease out lineup-building strategies and offer clues on how you could have landed on a similar team. Reviewing your hits and misses each week is imperative if you want to be a profitable DFS player but examining winning lineups is also a useful exercise in cultivating a winning approach.
DraftKings Week 11 Millionaire Winning Lineup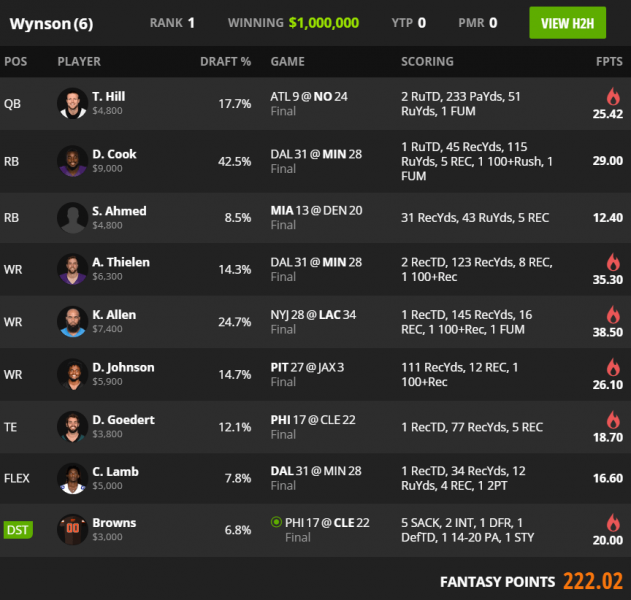 This week's winner was the first to use a "naked" quarterback strategy, or a lineup that doesn't pair the quarterback with at least one of his pass-catchers. The technique is most effective when rostering a mobile quarterback who has multi-touchdown upside on the ground. Implementing this lineup build works even better when the quarterback is dirt cheap. Because most GPP lineups feature some kind of stack, a "naked" quarterback will naturally lead to a unique lineup structure. While this isn't a strategy that should be overused in tournaments, it does help to separate from the field in a week when the chalk hits—the 16.6% average ownership of Wynson's lineup was the highest from a Millionaire winner in 2020.
What Were the Indicators for the Low-Owned Plays?
There wasn't a ton of surprise here with six non-DST players rostered in 10% or more of Millionaire lineups, tied for the most of any winner this season. As a stand-alone play, Salvon Ahmed proved to be the main differentiator. The Dolphins back was coming off of a week where he saw 22 touches and Miami was favored over a Broncos team that had just been gashed by the Raiders on the ground. Matt Breida's return likely kept Ahmed's ownership in check and while he didn't have a monster game, Ahmed's sub-$5,000 salary allowed Wynson to pay for studs Dalvin Cook and Keenan Allen.
In order to offset Cook's high ownership, Wynson used a non-traditional stack, pairing the Vikings running back with Minnesota's second-most popular receiver—Justin Jefferson was in 23% of lineups—and bringing it back with an opposing wide receiver. The 48-point over/under was relatively high in a week without any massive game totals and the Vikings went into the week ranked 26th in schedule-adjusted fantasy points allowed to wide receivers. Going into Week 11, CeeDee Lamb hadn't played two-thirds of the snaps since Andy Dalton's last full game, which was also the last time that Lamb saw double-digit targets in a game.
FanDuel Week 11 Sunday Million Winning Lineup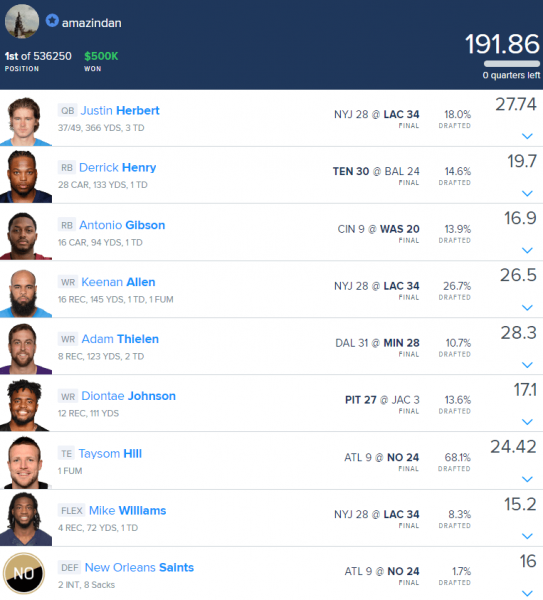 FanDuel presented one of the most unique situations we've ever seen in NFL DFS with Taysom Hill designated as a tight end but announced as the Saints starting quarterback. There was no good reason to roster any other players at tight end but over 30% of the field still tried to get cute. In some high stakes contest, Hill was over 95% owned.
With Hill in 68% of lineups, the average ownership of this week's winner was 19.5% but that wasn't even the highest average ownership from a winner this year. amazindan did have seven non-DEF roster spots with double-digit ownership, the most of any winner this season.
Pairing Hill with the Saints defense separated this lineup from the field. While Hill wouldn't necessarily benefit from positive game script like a running back might—which is why many lineups use an RB-DEF pairing—it did stand to reason that if Hill had a big game that the Saints might mount a large lead which obviously helps a defense's fantasy upside.
TJ's Final #Taek
One of the most important rules in DFS is to have no hard-and-fast rules. Consider the flex position, especially in cash games. The generally accepted philosophy is that running backs have more predictable volume—and therefore higher floors—than wide receivers and tight ends, making running back the preferred position to use in the flex in cash games. Even on full-PPR sites, this is usually going to be a winning strategy but not a strategy to follow blindly.
Week 11 was a great example. Four of 4for4's five best running back values on DraftKings had frighteningly low floors—Adrian Peterson and Antonio Gibson were in potential timeshares, Duke Johnson was likely to get the full workload but for a team that had struggled to generate running back production, and James Robinson was a massive underdog against one of the best defenses in the league. While there were good floor options such as Kalen Ballage and Mike Davis available, the running back pool was thin while the wide receiver pool was quite deep.
There's certainly some selection bias here, but note that 41 of the top 50 lineups in the $25 Massive Single-Entry Double Up on DraftKings used a non-running back in the flex. Because FanDuel is half-PPR scoring, it's rarely wise to not flex a running back in cash games but the Sunday Million winner did flex a ride receiver for just the fourth time this season.
Being able to read a slate—whether it's position depth to make flex decisions, how tight or loose salaries are to make game selection decisions, or properly analyzing ownership—is a key skill in becoming a profitable DFS player, and one that goes far beyond projections and player analysis