Will Joe Burrow Boost A.J. Green's Fantasy Value?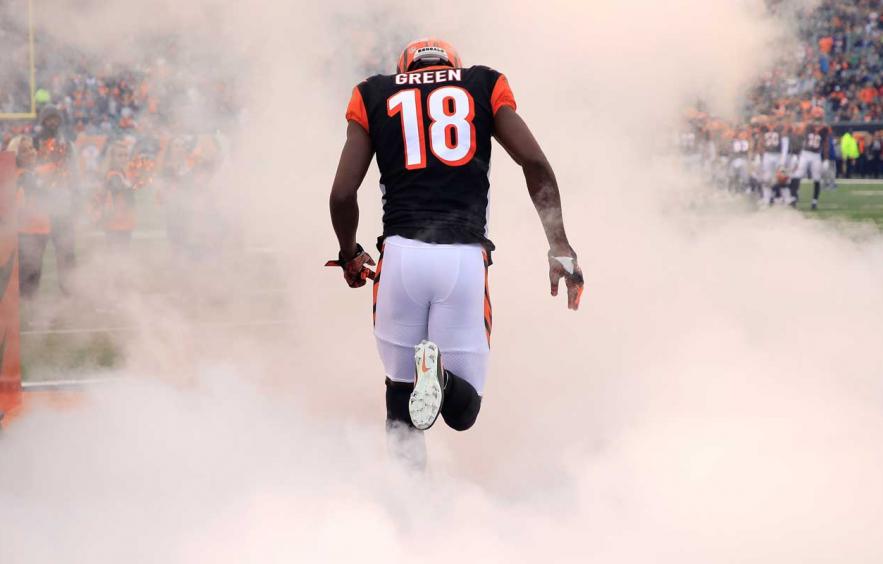 Andy Lyons/Getty Images
In an expected move, the Cincinnati Bengals placed the franchise tag on WR A.J. Green on March 15th. He is expected to sign his tender and play out the one-year $18 million deal.
A.J. Green

's History

A.J. Green was franchised tagged by the Bengals after missing all of 2019 with an ankle injury. He had wanted a long term extension, but the 31-year-old receiver is expected to sign his tender and play out 2019 as Joe Burrow's WR1, assuming the Bengals take Burrow first overall. Health is and has always been the biggest concern for Green who has missed 23 of the last 32 games, but prior to that he has just one season playing less than 13 games. Green has been tied to subpar QB play in his career with Andy Dalton, but has managed to average over 70 receiving yards per game and 14 or more yards per catch in all but one season of his career. In his first five seasons, he finished as PPR WR17, WR3, WR4, WR24, and WR8. According to recent FFPC ADP data here at 4for4, Green is WR34 and the 84th overall player off the board and if he stays healthy, is sure to smash that price tag.
Quarterback Upgrade
Andy Dalton has been Green's quarterback every single year of his career and Dalton has been a picture of mediocrity his entire career. Green wins down the field and Dalton struggles to throw the ball accurately on passes 20+ yards down the field. Last season, Dalton finished 25th in accuracy rate downfield with 48.7% of his attempts being deemed on-target, according to SportsInfoSolution. Overall, Dalton fared no better with just 71.4% of his total passes (32nd) and 74.4% of his passes within 10 yards (37th) being on-target. Not only was accuracy a concern, but so were his total attempts, with just 52 total deep passes on the season, 23rd most in all of football in 2019 and just 45 deep ball attempts in 2018. While you could describe Dalton's play as both timid and inaccurate, presumptive number one overall pick Burrow is anything but that.
Burrow is the real deal. The only question people are able to come up with is that he did it for only one year, but what a year that year was. It is arguably the greatest season in college football history, and I am not one for hyperbole. He led LSU to a perfect season, winning the national championship, and quite frankly made it look easy. On the season, he completed 76.3% of his passes, averaging 10.8 yards per attempt, finishing with 5671 yards and 60 total touchdowns in 15 games. He is Bleacher Report's Matt Miller's second highest-graded quarterback ever and in my film evaluation of him, I struggle to find weaknesses in his game.
How exactly does he help Green though? I mentioned Dalton and the Bengals' struggling downfield last year—the team ranked 26th with a 7% explosive pass rate per Sharp Football. Burrow, per PFF, finished with the highest passing grade in the country on passes 20 or more yards downfield with a 99.3 grade, on a 0-100 scale. I mentioned Dalton's accuracy concerns—you can throw that away with Burrow who completed 76.3% of his passes which is the best in the history of college football. Ok, Burrow can't possibly help more than deep shots and accuracy right? Nope, there is still more. Green wins down the field and often with downfield plays, the home runs can come when plays go off script, quarterbacks buy time and receivers break off their routes. Burrow completed 71.4% of his throws on plays that took over 2.5 seconds, 8 percentage points higher than the next closest draft-eligible QB (Jalen Hurts), and the highest in the nation.
The Bottom Line
If you aren't able to tell, I am very high on Joe Burrow and I am very high on A.J. Green who will be his Jamar Chase (Biletnikoff Winner). PFF has published multiple pieces on how yards per route run is one of the stickiest stats for WR production year to year. In his last two healthy seasons, Green finished 12th and 11th respectively in yards per route run. Now he gets a massive QB upgrade and if healthy will be a league-winner. His injury risk is built into his cost as WR34 and no receiver in his range has his top-five overall WR ceiling. Even if he misses time, when he is on the field he is a bonafide top-10 WR and has the league-winning upside at his current cost. Go get him.