How to Value the Rams Backfield in 2020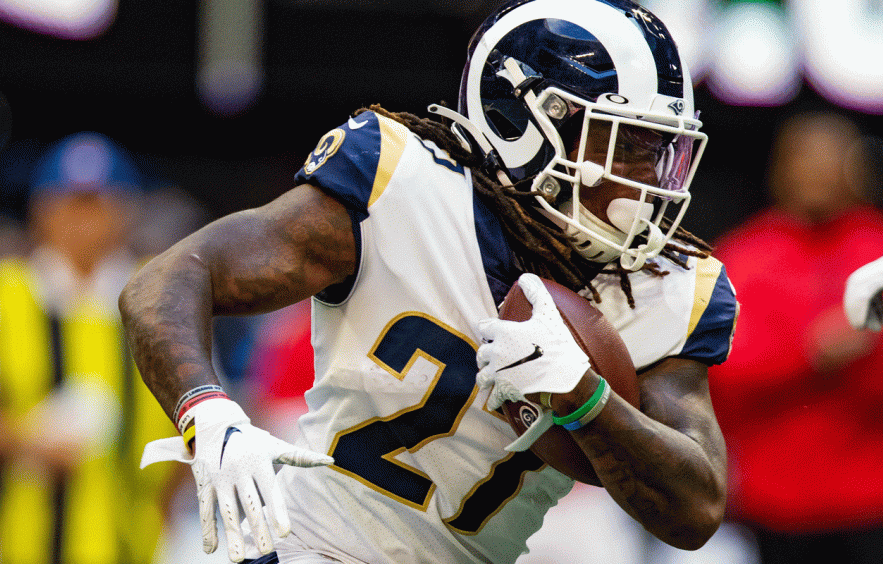 Carmen Mandato/Getty Images
On March 19th, the Rams announced the release of star running back Todd Gurley leaving Malcom Brown, Darrell Henderson and John Kelly as the only remaining running backs on the Rams roster. The following will analyze how to approach this backfield for fantasy purposes in 2020.
Getting to Know the
Rams

Backfield

How the mighty have fallen. Todd Gurley went from fantasy superstar to injured, to cut in such a short period of time. With Gurley gone, getting the running back right for the Rams could pay massive dividends for fantasy owners. Last season, Rams backs had 401 carries and in three years with Sean McVay as head coach, running backs have averaged 21.3 touchdowns per season For the sake of this piece, we are going to forget about John Kelly as he is currently an afterthought for playing time.

The Rams have former undrafted Texas running back Malcolm Brown and last year's 70th overall pick from Memphis, Darrell Henderson left in the backfield. While Henderson garnered a lot of preseason hype as Gurley's backup, Brown out-snapped Henderson 226–99 in 2019, and in the one game that Gurley missed last year, Brown played 68% of the snaps to Henderson's 32%. In fact, despite being ineffective and carrying no draft capital, games where both players dressed, Brown out-snapped Henderson in every single game, with Henderson failing to play more than nine snaps in any game that both Gurley and Brown played.
Who is
Darrell Henderson

?

If Darrell Henderson sounds familiar it is probably because he was discussed heavily all offseason in 2019. Henderson was talked up as if he could be the Alvin Kamara of the rookie RBs with his big-play ability both on the ground and in the air. At Memphis in his final season, he averaged a ridiculous 8.9 yards per carry and 15.5 yards per catch while going for over 2,200 total yards and scoring 25 touchdowns.

He topped his explosive junior season by running a 4.49 40-yard dash at the combine, while measuring in at 5'8" and 208lbs. That profile, combined with third-round draft capital had fantasy players excited headed into last season, only for Henderson to struggle to see the field, none the less make an impact. Since the Gurley news, Henderson's FFPC ADP has climbed from 133 to 77 as players are buying him as the lead back for the Rams with the worst case being that he takes a majority of the passing game role.
Who is
Malcolm Brown

?

While Henderson is the bigger name, Brown ran ahead of him last year. He finished 2019 with a pedestrian 69-225-5 line and while everything about his profile screams JAG (just another guy), this will be his sixth season with the Rams and they are fans of his game. While Brown adds as much to the passing game as ice cream adds to a healthy diet, where he has an opportunity to carve out a valuable nitch is in the red zone. As mentioned above, Rams backs have averaged 21.3 touchdowns on the ground over the last three seasons.

Todd Gurley leaves behind 61 red zone opportunities in 2019, and Brown had 16 of the 18 other red zone running back opportunities. While Henderson should control the passing game role, Brown has more touchdown equity in the offense as things stand today. Drafters are taking notice as Brown's ADP has soared from 285th to 180th overall on FFPC since March 18th, but he is still going 103 picks behind Henderson.
What Could Go Wrong
While Henderson has the draft capital, he has yet to prove anything in his NFL career and could not get on the field in year one, while Brown has been subpar his entire career. The good news for drafters is the Rams are unlikely to add a back via free agency as according to spotrac.com they have $-1,523,155 in cap space. The Rams also lack draft capital with just three selections in the first 104 picks of the NFL draft. They own picks 52, 84, and 104 to be precise. While it may not make sense to the analytics crowd for the Rams to add a back with such little capital and multiple other needs it is not out of the realm of possibility that the Rams lead back is currently waiting for his name to be called and not on the roster currently.
The Bottom Line
If no back is added in the draft, frankly both backs are reasonable buys, though players like Zach Moss, Antonio Gibson, Eno Benjamin, and Anthony McFarland could throw a wrench in things and have this backfield crowded in a hurry. I am willing to buy Henderson at cost because without any more additions his passing game upside gives him an RB3 projection with an RB2, upside. If I had to pick one of the two at cost right now, though, it would be Brown. If he dominates a Sean McVay lead offense in red zone touches, he has double-digit touchdown upside and at an ADP of 180, you won't find that anywhere else. When there is so much unknown, often going with the cheapest option is the best bang for your buck.