Fantasy Debate: Kenny Golladay vs. Amari Cooper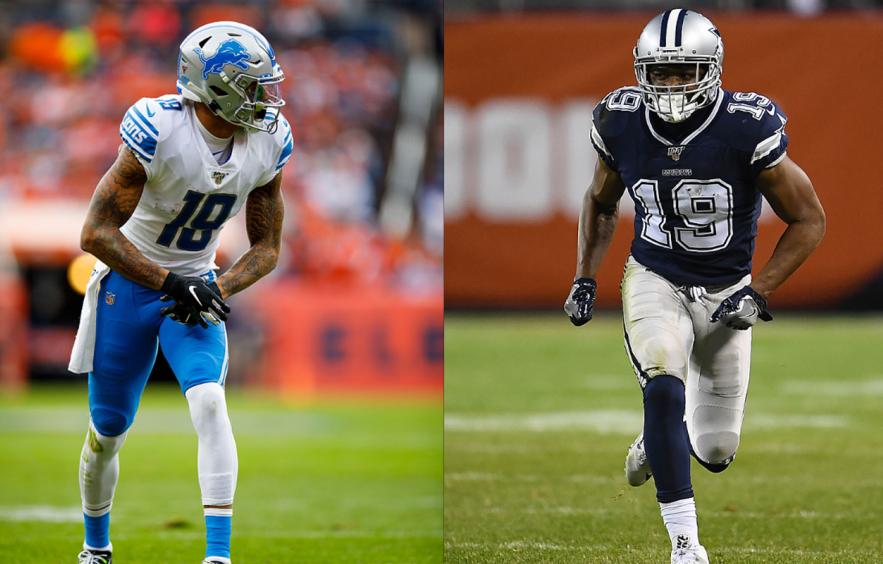 Justin Edmonds/Stacy Revere/Getty Images
Kenny Golladay and Amari Cooper are being drafted as the 28th and 29th picks, respectively, across all platforms. In this debate, Brandon Niles will argue for Golladay while Alex Gelhar takes the Cooper side.
The Case for
Kenny Golladay
Brandon: We've all been there. Third round. Just went RB-RB to start the draft. The elite quarterbacks and tight ends are off the board. Everything points to taking a wide receiver. ADP says you're not going to like what makes it back to you if you forego the position again.
I understand the compulsion to take Amari Cooper. The Dallas Cowboys look like an offensive powerhouse this year with Dak Prescott coming off his best season. Cooper has averaged 5.3 receptions, 76.6 yards and 0.56 touchdowns per game since arriving in Dallas in 2018.
Contrast that to Kenny Golladay, coming off what some would call his breakout season (though he did have 1,063 yards in 2018). He plays for the lowly Detroit Lions and had some brutal games last year, including just three catches for 44 yards in Week 15, the semi-finals in most leagues. He's also pegged for touchdown regression by T.J. Hernandez in his Studs and Duds series. So I get the reservation.
However, make no mistake, Golladay is the better player to hinge your WR1 hopes on in the third round. He's more consistent, has more upside and is the bonafide best option in the Lions' passing game. He was slightly better than Cooper in production a season ago, and with a little further progression, he could easily wind up one of the top-five players at his position. Not just in fantasy.
Despite having the same quarterback, in the midst of a breakout year, Cooper had six games of single-digit fantasy production last year. This includes three games with less than 20 yards and a big goose egg against New England in late November. Golladay had only four such games, and they came with three different quarterbacks at the helm. Cooper had four in just nine games with Dallas in 2018, while Golladay had five that year. With the Raiders, Cooper was even less consistent, with four out of six games with single digits in 2018 and nine the previous year. Cooper tends to explode in some games and disappear in others. He can win or lose a week for you. Golladay has been, and should continue to be, more consistent.
Golladay is actually about seven months older than Cooper, despite being in the league for two fewer seasons. Still, he's gotten better every year and has an offense around him with room to improve. Cooper seems like he is who he is, and Golladay might already be better. While some of the advanced metrics favor Cooper, taking into consideration the quarterback play is important. I'll say it again, Prescott had a career year, and Golladay was still better than Cooper. According to Sports Info Solutions, of the 119 targets Cooper had, 95 were catchable, compared to just 80 out of 116 for Golladay. So while Cooper's total catch rate was 66% compared to 56% for Golladay, their percentage of catchable balls was 83% to 81%. And the quarterback play should be better in Detroit than last year. Even if Matthew Stafford misses time again, Chase Daniel is a better backup than Jeff Driskel, and third-stringer David Blough showed some promise filling in for Stafford last season.
The offense in general has room to improve. With upgrades at the running back position and better health at quarterback, the Lions should be able to improve upon their 16th-ranked offense in points per game, while the Cowboys will be hard-pressed to improve over their sixth-ranked 27.1 points per game. If Detroit gets better, that should benefit Golladay. Dallas doesn't have nearly as much room to improve.
Golladay has accounted for over 20% of the team's total targets in each of his past two seasons. Cooper was right on par with that last year at 19.9%. The Lions, however, didn't add much to their receiving corps. They signed Geronimo Allison to a small deal and used a fifth-round pick on Quintez Cephus (who I actually like to replace Marvin Jones after next year). While second-round running back D'Andre Swift should make an impact in the passing game, there is no reason to think Golladay won't be the alpha, with Jones the legit WR2 and Danny Amendola in the slot. Perhaps second-year tight end T.J. Hockenson will get enough looks to siphon away targets, but Golladay's competition is largely unchanged from last season. Meanwhile, Dallas added first-round pick CeeDee Lamb to their receiving corps and third-year receiver Michael Gallup is coming off a breakout season. It's possible Cooper doesn't even finish first on his own team in 2020.
Both players should put up quality numbers, but if I'm choosing between the two, I want the 6'4" monster who can make plays downfield. Even if he doesn't lead the league with 11 touchdown receptions again, Golladay should put up consistent points and continue his ascension into elite status. I'm buying all the Golladay stock I can for the second year in a row, and I'm fading Cooper.
The Case for
Amari Cooper
Alex: A mere 1.5 points separated Kenny Golladay and Amari Cooper in the final fantasy standings last season (PPR scoring), so it is no surprise to see these two stud young wideouts hovering around each other in summer ADP rankings. While there's a case to be made for drafting either, the savvier choice is Cooper. Here's why.
The appeal for Golladay is obvious: he's a big, fast, young playmaker on an offense with a solid quarterback and more roleplayers than playmakers around him. Golladay's 11 touchdowns in 2019 speak to the offense's reliance on dynamic abilities. However, the Lions offense as a whole isn't great, and with a defensive-minded, ground-and-pound head coach in Matt Patricia, it's not hard to foresee a Golladay struggling to put up those same touchdown totals.
On the other hand, Cooper is an established veteran and the clear-cut No. 1 wideout on a high-flying offense with a pass-first coordinator (Kellen Moore) and new pass-first head coach (Mike McCarthy). Last season Dallas ranked sixth in offensive plays, first in yards per play, and sixth in points, while Detroit ranked 12th, 17th, and 18th in those same categories, respectively.
Dallas' offense is built to run through Dak Prescott's right arm, and Cooper has been Dak's favorite target since the Cowboys traded for Cooper midway through the 2018 season. Over the last two years in Dallas, Cooper averages 7.8 targets, 5.3 receptions, 76.7 yards, and .6 touchdowns per game. Golladay has similar, but not quite as strong of numbers in that same span, averaging 7.6 targets, 4.4 receptions, 72.3 yards, and .52 touchdowns per game. One difference to note, though, is that Cooper posted these averages on a loaded offense with Ezekiel Elliott, Michael Gallup, and Randall Cobb (among others) siphoning away targets and opportunities. Golladay's totals have come in an offense where aside from Marvin Jones and occasionally Kerryon Johnson, there isn't much competition. This lends credence to the notion that Cooper's workload and range of projections is a bit more secure than Golladay's, even with the addition of CeeDee Lamb in the 2020 draft.
Since joining the Cowboys in 2018, Cooper has seen a little over 21% of the team targets. The Cowboys lucked into Lamb in the 2020 NFL Draft when the highly-regarded prospect fell to 17 where the Cowboys were picking, but the talented youngster figures to cut his professional teeth from the slot a fair amount as a rookie. According to NFL analyst Greg Cosell, 42% of Lamb's receptions last year came from the slot. Slot wideout happens to be a position of need for the Cowboys after Randall Cobb left in free agency. Those worried Lamb will eat into Cooper's target share or production shouldn't fret. Lamb will get his, but the Cowboys also watched 166 targets walk out the door this offseason with Cobb and Jason Witten. That means there are plenty of opportunities up for grabs to split between Lamb, Blake Jarwin, and others without Cooper's share taking a hit. Plus, as the established No. 1 wide receiver, Cooper should see the most playing time on the field and lead the team in targets.
Golladay's ceiling is certainly enticing in this range, as his 11 touchdowns last year are certainly a possibility again this season. However, Cooper's combination of security and attachment to one of the league's most potent offenses makes him the safer and smarter pick. Peak Mike McCarthy offenses frequently supported two to three startable fantasy wide receivers (Greg Jennings, Randall Cobb, Jordy Nelson, and James Jones ringing any bells?), with one to two of those wideouts finishing as WR1s. Cooper has security, and upside if the Dallas offense takes another step under McCarthy. He's the pick to make here.