Fantasy Debate: James Conner vs. David Johnson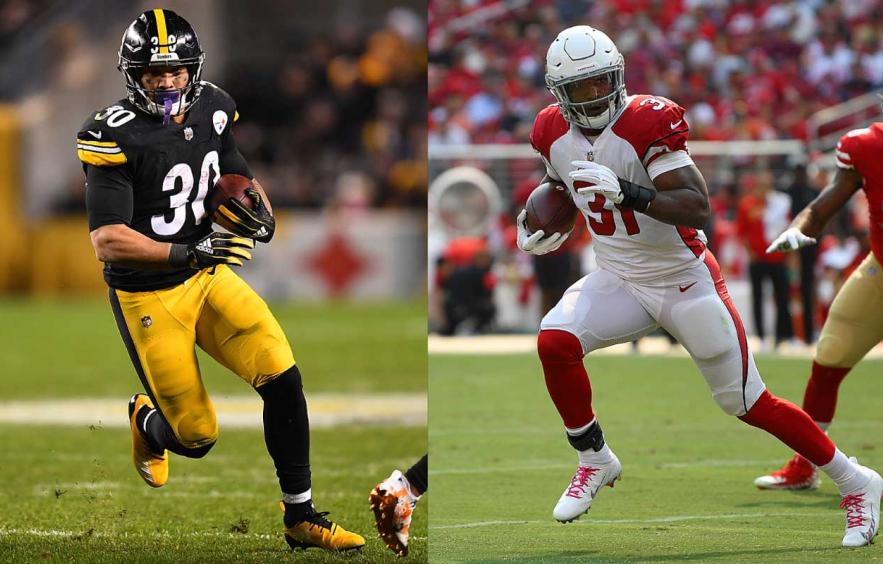 Joe Sargent/Thearon W. Henderson/Getty Images
James Conner and David Johnson are being drafted as the RB20 and RB21, respectively, across all sites. In this debate, Alex Gelhar explains why he prefers Pittsburgh's running back while Eric Moody argues for the new starter for the Texans.
Create or join a 2020 Yahoo Fantasy Football League for free today
The Case for
James Conner
James Conner was a highly coveted fantasy pick last season, as he was coming off of a season filling in for Le'Veon Bell in which Conner totaled 1,470 total yards and 13 total touchdowns. Unfortunately for Conner and the Steelers, just about everything went wrong. Ben Roethlisberger was injured. James Conner was injured. JuJu Smith-Schuster was injured. Basically, 2020 hit the Steelers offense … just in 2019.
Turning to 2020, there's a lot to like about Conner's outlook, especially against David Johnson. For starters, Johnson is also coming off of an injury-plagued season and joining a new team with a mobile quarterback in Deshaun Watson. With Watson under center the last two seasons, the Texans have devoted 14.8% and 13.3% of the passing targets to the running back position, and that jump in 2019 came thanks to Duke Johnson (who's still with the team) soaking up 62 targets (third-most on the team). Conversely, in Big Ben's last two healthy seasons in Pittsburgh, he doled out 16% and 19.1% to backs, the majority of those looks going to his primary back in each season (Conner and Bell). So not only will Johnson be fighting for fewer targets, but he'll also be fighting with a very capable and dangerous pass-catcher in Duke Johnson.
Rather than devote too much ink to Johnson, let's turn back to Conner. The 25-year-old back is entering the final year of his contract, and recently received an endorsement from head coach Mike Tomlin as a "featured guy and proven runner when healthy." The "when healthy" is key, as Conner only played in 10 games last season, and many of those were not even at full health. However, Conner is healthy now, and in the last year of his contract could receive a healthy workload. Teams have done this before, attempting to maximize the value of their back before having to pay them with a massive contract extension. The Steelers didn't invest heavily in the running back position this offseason, spending a fourth-round pick on 5-foot-8 Anthony McFarland. This could be a signal that, while they may limit Conner a bit, he'll still be the main man in 2019.
Also working in Conner's favor is the Steelers' defense, one of the most talent-rich and well-coached units in the league. A strong defense could put the Steelers into a clock-control, lead-securing mode more often, potentially leading to more carries for Conner to salt away wins. A talented defense can also create turnovers and short fields, aiding the offense in quick scoring opportunities, which also don't hurt pseudo-featured backs like Conner.
Conner's problems with staying healthy are a concern, but those same issues ail David Johnson as well. Conner has more recently put together a true RB1 season, though, and he seems in the best position to do so again. With a fully healthy Steelers offense around him, Conner could get back to the hard-charging, soft-handed featured back we loved rooting for in 2018. While it's a close call between Conner and Johnson, Conner's offensive situation and access to passing game volume tip the scales in his favor for me.
The Case for
David Johnson
The Texans head coach and general manager Bill O'Brien kicked off this year's free agency by leaving fantasy football players stunned by trading away four-time Pro Bowl wide receiver DeAndre Hopkins and a 2020 fourth-round draft pick to the Cardinals. Houston received running back David Johnson, a 2020 second-round pick and a 2021 fourth-round pick. It's easy to pile on O'Brien for his questionable decision making, but Johnson finds himself in a great situation. Let's briefly discuss his statistical body of work, how Johnson will fit with the Texans, and why you should prioritize him over James Conner in fantasy drafts.
Johnson's 2019 season is a jarring reminder of how things could change in an instant. He was touted as a great fit in Cardinals head coach Kliff Kingsbury offense heading into last season. Johnson slowly fell out of favor as the 2019 season progressed, had his number of opportunities per game decrease, snaps decrease, and dealt with injuries. He scored around 75% of his fantasy points during the first six games of the season. Johnson averaged 19.5 opportunities and 17.7 fantasy points per game during that time frame.
After that, Johnson lost the starting job to Chase Edmons only to later watch mid-year acquisition Kenyan Drake thrive. He became one of the biggest draft busts in recent memory considering Johnson's first-round average draft position last summer prior to the 2019 season. Recency bias won't allow the 28-year old running back to selected that high this year which makes Johnson such a value for savvy fantasy players. He may not be as explosive as he once was early in his career, but Johnson still has the skill set that made his 2016 so mesmerizing.
New Texans running back David Johnson is in outstanding shape, looked quick and fluid out of the backfield

— Aaron Wilson (@AaronWilson_NFL) August 14, 2020
Johnson finished as the RB1 and averaged 23 fantasy points per game that season. His ability as a receiver truly separates him from the pack. Johnson led the running back position in targets (120), receptions (80), receiving yards (879), and missed tackles forced according to Pro Football Focus. He has been a disappointment since then, averaging a dismal 12 fantasy points per game in only 30 active games. There is always opportunity in chaos and Johnson could rebound nicely in Houston.
Bill O'Brien: Texans RB David Johnson 'Probably In Best Shape On Team' https://t.co/mfYTaPsAci pic.twitter.com/zaO8SmgXxA

— SportsRadio 610 (@SportsRadio610) August 14, 2020
Johnson now finds himself as the starter in a Texans backfield that ranked 12th in rushing attempts and ninth in rushing yards per game last season. He is projected to see a steady number of opportunities in a Houston backfield that no longer has Carlos Hyde or Lamar Miller. The Texans' acquisition of Johnson is also another indicator that the team doesn't plan on providing Duke Johnson additional touches. Since Bill O'Brien has been Houston's head coach his offense has provided running backs 30.6 opportunities per game. Johnson is well-positioned to see a high percentage of those opportunities. O'Brien will provide him every chance to succeed in order to justify the Hopkins trade in the public's eye.
Conner is also a fascinating bounce-back candidate this season. He's averaged 19.2 opportunities per game over the last two seasons. Conner has also been productive with the volume. He's averaged 2.6 fantasy points per game more than expected over that time frame. The Steelers also have the second easiest running back schedule according to our very own signature strength of schedule metric, schedule-adjusted fantasy points allowed.
James Conner believes he can be a great NFL running back if he is able to stay healthy.https://t.co/mdod2rFEAD

— 93.7 The Fan (@937theFan) August 14, 2020
The perception is that Conner's 2019 injury-filled season was a fluke, but he's yet to play 16 games in a season. Conner is also entering a contract year with the goal of landing a career-defining payday. This is unlikely considering that he only has one Pro Bowl season under his belt and has yet to surpass 1,000 or more rushing yards in a single season. These aren't characteristics of a workhorse and I believe teams view Conner as a committee back. He's also competing against Jaylen Samuels, Benny Snell, and the Steelers fourth-round selection in this year's draft Anthony McFarland. The former Maryland running back is third in school history with 6.7 yards rushing attempt, ninth with six 100-yard games, and 21st in the University's history with 1,648 career rushing yards. All of these backs will cut into Conner's workload in 2020 as Pittsburgh will look to keep him as healthy for an entire season.
Johnson may not have as athletic as he once was back in 2016, but can still be fantasy relevant this season. He's projected to see enough volume to easily outperform his ADP. It's usually the less appealing picks that help you win leagues. Johnson could be that guy in 2020.