Fantasy Debate: D.J. Chark vs. Terry McLaurin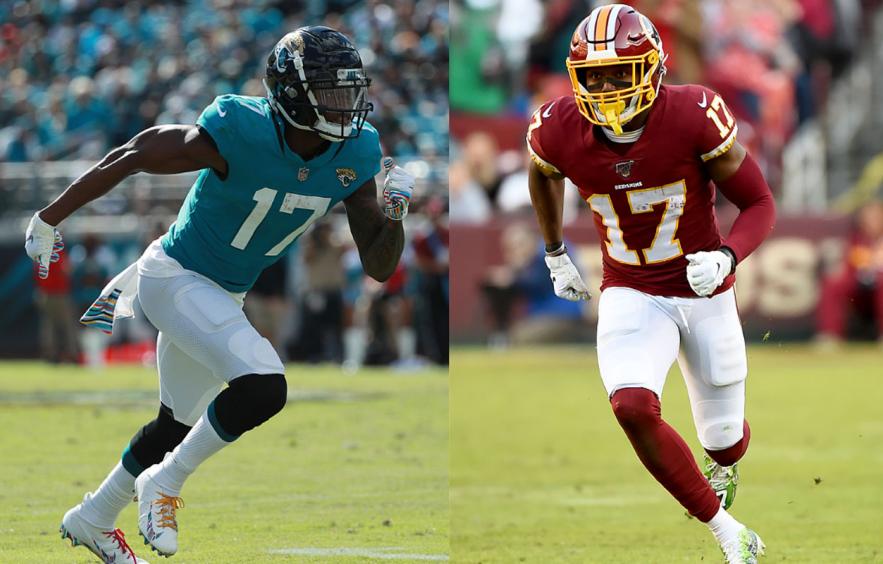 Scott Halleran/Will Newton/Getty Images
D.J. Chark and Terry McLaurin are being drafted as the WR23 and WR27, respectively, across all sites, but are as close as one pick apart in leagues such as FFPC. In this debate, Alex Gelhar will defend No. 17 for the Jaguars while Eric Moody argues for Washington's No. 17.
The Case for
D.J. Chark
Alex: D.J. Chark was one of the 2019 season's best fantasy surprises. He led the Jaguars in targets (118), receiving yards (1,008) and receiving touchdowns (eight), while finishing a close second in receptions behind Leonard Fournette (73 to 76). He finished as the WR16 in half-PPR scoring, lifting many fantasy managers into the playoffs as a late-round or free-agent steal.
However, can Chark repeat in 2020 under a new offensive coordinator with Gardner Minshew fully entrenched as his starting quarterback? Yes. And ... should you take him over rising superstar Terry McLaurin? I'd argue this is also a yes, but it's close. Let's dive into why.
McLaurin is the apple of the eye of countless fantasy analysts this season, including noted wide receiver whisperer Matt Harmon. McLaurin had a fantastic rookie season, notching 58 receptions, 919 yards, and seven touchdowns on just 93 targets. He should see an increased target share and workload in Scott Turner's offense in 2020. But McLaurin's potential rise is no reason to overlook a great sleeper like Chark waiting in the wings.
Chark is entering Year 3 of his professional career, but playing under offensive coordinator Jay Gruden for the first time. While Gruden's offenses aren't historically super pass-heavy (just one offense he's coached finished in the top 10 in pass attempts in a season – 2016 Washington), his offenses have put star wideouts into favorable fantasy positions (A.J. Green, Pierre Garcon, etc.). Chark compares more favorably to Green in stature and skillset, as the third-year player boasts 4.3 speed to go along with a 6-foot-4 frame. He is the clear No. 1 in an offense that could be forced to play from behind a fair amount, as the Jaguars defense has seen a lot of talent leave the lockerroom of late.
Chark established himself as an every-down player last season and should get moved around the offense a fair amount to find favorable matchups. While Chark did post better numbers with Nick Foles under center, the differences were largely marginal and come from a small sample size. In four games where Nick Foles played (including his Week 1 injury and Week 12 benching for Minshew), Chark averaged 17.62 PPR fantasy points per game versus 13.94 in the 11 games with just Minshew. However, that small sample size is skewed by one two-touchdown game by Chark in Week 11 against the Colts. Chark actually averaged slightly more targets and receptions under Minshew.
Minshew also favored Chark in the red zone, targeting the big receiver 13 times inside the 20, more than any other Jaguars player. They only scored three times on those targets, but it's a good sign that Minshew already has an eye for Chark when the Jaguars are looking to score. Furthermore, Chark led the Jaguars in air yards, with over 33% of the team's air yards, per NextGenStats. Heavy red-zone looks combined with a sizeable air yards share is a recipe for fantasy success.
Both Chark and McLaurin are coming off the board as low-end WR2s in fantasy drafts, making them great values given their success last season and promise in the season to come. You can't really go wrong adding either as a depth option, but if push comes to shove, I'm going to side with the size-speed freak by a hair.
The Case for
Terry McLaurin
Eric: McLaurin was one of the few bright spots last season in a dysfunctional Washington offense. Washington finished last season ranked 31st in total yards (274.7) per game and 32nd in points per game (16.6). McLaurin dealt with an inept offensive coordinator in Kevin O'Conner and multiple starting quarterbacks. In spite of this, he still averaged 6.6 targets, 4.1 receptions, 65.6 receiving yards, 93.1 air yards, and 0.5 touchdowns per game in 2019. McLaurin finished as a WR2 or better in 42% of the games in half-point PPR formats. Let's dive deeper into his rookie season by using advanced metrics.
McLaurin finished as Washington's No. 1 receiver. The situation was so dire that no other receiver had more than 365 receiving yards. McLaurin had a true catch rate of 78.4%. This was impressive considering the quality of Washington's quarterback play. This advanced metric from Player Profiler divides total receptions by total catchable targets. McLaurin had 94 targets last season of which 19 were contested. His success rate on contested targets was 68.4%. McLaurin finished 18th among receivers in yards per pass route (2.38). He was very productive on a high percentage of the different types of routes he ran in 2019.
Terry McLaurin had his defenders practicing social distancing all season long pic.twitter.com/9SLtlpcbjl

— Pete Hailey (@PeteHaileyNBCS) March 22, 2020
The great news is that Washington has an entirely new coaching staff heading into this season. Dwayne Haskins was selected in the first round of the 2019 NFL draft and fits the mold of a traditional pocket passer. He has very good arm strength, accuracy, and pocket presence. Haskins didn't have a good rookie season, but did show flashes late last season. He had a completion percentage higher than 65% while throwing two touchdowns passes and no interception in each of Washington's final two games. McLaurin is entrenched as the team's No. 1 receiver this season and will be leaned on heavily when you look at the other receivers on the roster.
D.J. Chark and quarterback Gardner Minshew had breakout seasons in 2019. Both had memorable moments, but the reality is that Jaguars were unsuccessful in getting consistent statistical production on a weekly basis. Jacksonville will turn to new offensive coordinator Jay Gruden to correct this. The biggest risk with prioritizing Chark over McLaurin is the target volume.
Chark will be competing with receivers Chris Conley, Dede Westbrook, running back Chris Thompson, and tight end Tyler Eifert for targets. Westbrook is someone that is being overlooked in fantasy drafts who finds himself in an excellent position to bounce back in 2020. Gruden has a fondness for slot receivers. As a gentle reminder, Jamison Crowder accumulated 221 receptions and 2,628 receiving yards in Gruden's offense from 2015 to 2018 in Washington. Westbrook is more explosive than Crowder, in my opinion. Chark only lined up in the slot 26% of the time last season while Westbrook lined up there 79% of the time.
McLaurin finished his rookie season with 93 targets, 58 receptions and 919 receiving yards. Julio Jones, JuJu Smith-Schuster, and T.Y. Hilton all had eerily similar rookie seasons. All three of these receivers averaged 144 targets, 90 receptions, and 1,221 receiving yards. It shouldn't come as a surprise to see McLaurin have similar results in 2020. You should prioritize him over Chark in fantasy football drafts this summer.