Don't Write Off Julian Edelman in 2020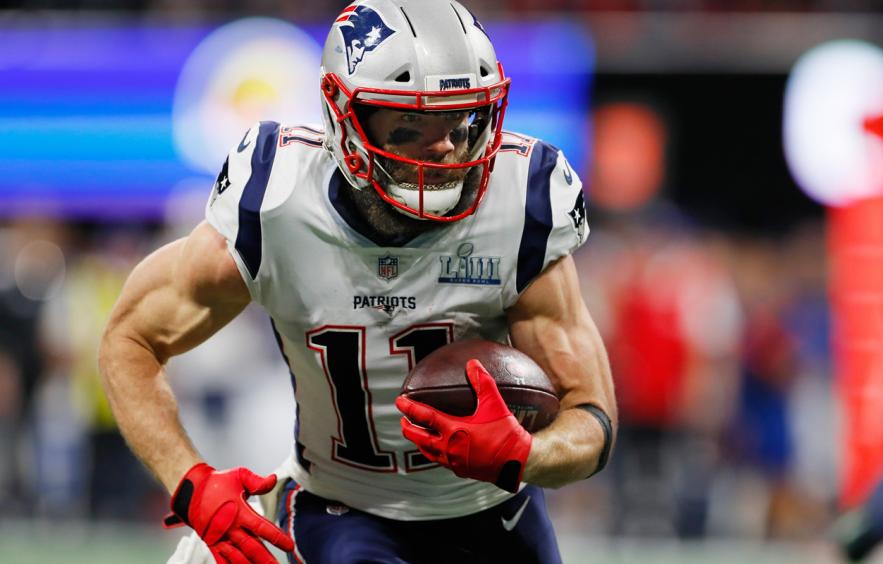 Kevin C. Cox/Getty Images
Like most NFL players once they cross the threshold into their third decade, Julian Edelman is being tossed aside this season akin to that Hatchimal your kids just had to have a few holidays ago.
As the clear WR1 in his offense with a healthy Cam Newton possibly tossing the rock, Edelman could be a steal at his current WR34 ADP as an eighth rounder.
Julian Edelman

Still Has It

Despite battling partially torn rib cartilage that he suffered in Week 3 against the Jets, left knee tendonosis and a separated AC joint in his left shoulder, Edelman played in all 16 regular-season games plus their playoff matchup in 2019.

Not only did he play, but it was one of the most productive seasons of his 10-year tenure with the Patriots, posting 100 catches for 1,117 yards and six touchdowns. That translated to WR10 in total half-PPR points and WR14 in half-PPR points per game.

Edelman continued to Edelman, making incredible catches in tight windows and elevating a not-so-great receiving corps to serviceable. His production came where it shouldn't have, as the New England offense struggled to move the ball downfield in 2019. Edelman had to overcome an injury-riddled offensive line that couldn't get the ground game going, the absence of Rob Gronkowski had left the tight end cupboard pretty dry, and the rest of the pass-catchers just couldn't make anything happen. Phillip Dorsett was the next-best Patriot in receiver production as WR75 on the season, averaging 6.2 half-PPR points per contest.
The
Cam Newton

Factor

With Jarret Stidham under center, there was reason to pass on Edelman, even at his low ADP. Stidham is still an unknown in what he can do, as he's only thrown four NFL passes in his one-year professional career. Despite all the praise he's received from Patriots' insiders, let's just assume that Newton will be their Week 1 starter, because it just makes too much sense.

People can argue that Edelman's appeal was his connection and chemistry with Brady, but the 34-year old is a professional football player. He's always been underestimated in size, stature, where he came from and ability, and has repeatedly continued to silence the doubters.

Enter Cam Newton, a big-bodied, dual-threat quarterback who makes Edelman a much more appealing fantasy option for the 2020 season. Newton is a guy who can stand in the pocket and connect with Edelman on a consistent basis, in particular on those option routes over the middle of the field that he specializes in—think Greg Olsen all those years in Carolina.

Although Newton is more known for his rushing ability than his arm, his last healthy season as a Panther was arguably his best year as a passer. During his 2018 campaign, Newton boasted a career-high 67.9% completion rate and a respectable 7.2 yards per attempt.

If a visual is what you're craving to fathom what a Newton-Edelman relationship will be like, have a look-see at this video posted by Newton on July 22nd.
Slim Competition for Targets
Last year, the run game did not take off as the fantasy community hoped it would, and instead we got a New England offense that was eighth in highest-passing volume, with Edelman leading the charge. Not that it was a surprise, as he's been the target leader in New England in all but two seasons since 2013, where he was second. If we bring it back to last year, we see that Edelman saw 26.2% of the team's target share, but even more exciting was his red-zone usage. The 34-year old had 14 receptions inside the 20-yard line, which was good enough for fourth in the league among pass-catchers.
There's no one else in this offense set to infringe upon Edelman's volume this year. In true New England fashion, they selected six defensive players in the 2020 NFL Draft, while the rest of the league clamored to scoop up members of this year's historically deep wide receiver class. They did grab a few rookie tight ends (Devin Asiasi and Dalton Keene), but we all know how difficult it is for newbies to be impactful at that position.
As far as the guys already on the roster, N'Keal Harry certainly has appeal late in drafts as his rookie campaign was cut short due to an ankle injury, and he does have the potential break out in Year 2. Harry could assume the win-at-the-catch role in Newton's offense similar to Kelvin Benjamin or Devin Funchess in Carolina. Mohammed Sanu is coming off a 26-catch, 207-yard season for New England in eight games before a high-ankle sprain, and I just don't see him having much if any of an impact on Edelman's production this year.
The Patriot's passing game has gone through Edelman first for almost a decade and there's no reason to think things will change too much in 2020. He held a snap share of 88.5% with 56.3% domination in the slot last season and if he's even close to that same volume again, it makes him a no-brainer to target at his current eighth-round ADP.
Bottom Line
Julian Edelman most likely won't be a top-10 wideout again in 2020, but there's a solid chance he bests his WR34 ADP.
His fantasy outlook, (especially in half and full-PPR formats) looks more promising with Cam Newton at the helm, but Edelman is still being drafted like there's a green QB under center.
Let others draft the rookies that are going near Edelman's ADP like Jerry Jeudy and CeeDee Lamb, while you grab a proven receiver who's the No. 1 option in a perennial productive offense.