D.J. Chark Will Be A Steal in 2020 Fantasy Leagues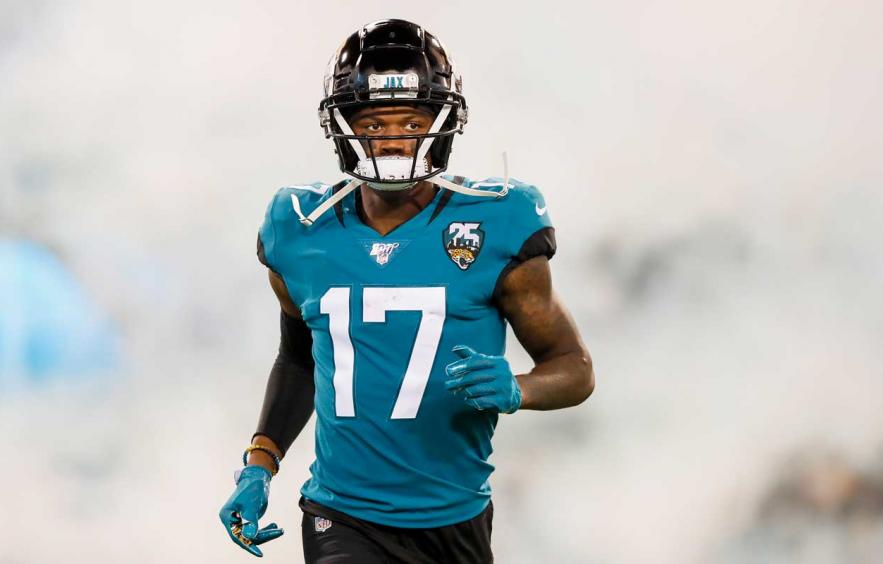 James Gilbert/Getty Images
DJ Chark is the WR1 in your fantasy football leagues that nobody is drafting high enough. The reason? He was a pleasant surprise in 2019 who carried you through the season and, unfortunately, crushed you when it counted. Don't let recency bias prevent you from rostering the cheapest stud in fantasy drafts in 2020.
---
---
The Jaguars selected Chark with the 61st pick in the 2018 NFL Draft. He stands 6'4" and 198 pounds with blazing 4.34 speed. He finished his rookie season with just 14 receptions for 174 yards; that was just few enough to place him out of sight and out of mind. Fantasy players know that expecting production from rookie wideouts is a dangerous game plan; how did we forget the sophomore wideout entering his second season? Chark had long been forgotten. Who needs him with Dede Westbrook at the helm, right?
Wrong. So wrong.
While Twitter was enamored with Westbrook for the second consecutive season, it seemed as though the only Chark believers left were among Jacksonville beat reporters. He showed flashes in training camp with Foles under center, making some true jaw-dropping catches in tight coverage and was discussed by many as having been the wideout to progress the most significantly in the offseason.
In the Jaguars' first game of the season versus Kansas City, Chark made a statement. He finished the game with 4/146/1, though against a soft secondary and powerhouse offense, so we were right to be skeptical. However, as the season continued on, he didn't stop producing, and we had to take notice. He finished the season with 73/1008/8 and became one of just 19 receivers since 2015 to eclipse 1,000 receiving yards in their rookie or sophomore seasons.
Jacksonville involved him in the offense often and early. He was clearly the focal point of the receiving game, and outside of Leonard Fournette led the team with 75 touches. Gardner Minshew trusted Chark to come up with big plays, which was demonstrated in his willingness to target him in the red zone. Among wideouts in 2019, Chark tied for seventh-most red-zone targets (34) and the ninth most end-zone targets (11).
Even outside of Jacksonville, Chark compared well with the upper echelon wide receivers we paid up for in the early rounds of fantasy drafts. While healthy in Weeks 1-14, Chark had managed to tie Michael Thomas, Mike Evans, and Amari Cooper's production of eight receiving touchdowns. Among the top-24 scoring wideouts in fantasy football, Chark boasted the fourth-lowest drop rate of just 1.75%.
For all of the fanfare, the fall came fast. After posting 9/75/0 versus the Los Angeles Chargers in Week 14, Chark was seen in a walking boot and using a motorized scooter to get around. He was inactive the following week, and upon returning to the active lineup in Week 16, he was a shell of his former self. He totaled just 3.8 fantasy points your league's Super Bowl week. Ouch. Though many of us were crushed, let's let bygones be bygones because there's a lot left in the tank for Chark in 2020.
Projecting Chark in 2020
When projecting Chark's ceiling in 2020, it seems most reasonable to analyze his production in Weeks 1-14. As he heads into his third NFL season presumably healthy, let's analyze what he was able to accomplish prior to the foot injury that held him out of Week 15 and hampered his performance to end the season.
Prior to the injury, Chark had been on pace for nearly 1,200 receiving yards and 10 touchdowns. He averaged 8.2 targets per game, performing as fantasy football's WR8 overall and in fantasy points per game. Though their new offensive coordinator, Jay Gruden, may not shine in the win-loss column, there still stands to be plenty of opportunity in the receiving game. In his time as a head coach or offensive coordinator, Gruden's offenses have ranked top-15 in passing yards in five of nine seasons and top-15 in passing TDs in six of nine seasons. Who better to be on the receiving end of those yards and touchdowns than the Jags' former second-rounder?
Outside of the Jaguars drafting Laviska Shenault in the 2020 NFL Draft, they haven't made many moves to boost their receiving corps. They remain barren at tight end, while Dede Westbrook and Chris Conley continue their ancillary roles in the receiving game. Though the Jaguars drafted Shenault as a wide receiver, Doug Marrone and Gruden seem to have plans to utilize him everywhere. Rather than being a threat to Chark, Shenault's versatility has the potential to open up things up downfield, in conjunction with the strong run game led by Fournette. Six games with 10 or more fantasy football points is nothing to sneeze at. Even more impressive for the sophomore wideout is that this was all accomplished without a true WR1 opposite him to divert coverage in the secondary.
Not much has changed in the Jaguars offense since the end of 2019. Entering his third season, Chark returns to the same team, with the same quarterback, with the same head coach. The biggest change of pace here may be the addition of Gruden, who made his way down south after being fired as head coach of the Washington Redskins. These static factors may seem insignificant, but maintaining consistency in team dynamics can help to bolster the floor of any fantasy asset. This is especially true in 2020, given the modified offseason program the NFL has employed in the setting of COVID-19.
D.J. Chark has been criminally undervalued moving towards the 2020 NFL season, in both redraft and dynasty league formats. He stands to be one of the best mid-draft values of the year…as long as the secret doesn't get out.
The Bottom Line
Chark has the raw athleticism, speed and draft capital that would preclude anyone to expect the third-year breakout…if he hadn't already accomplished that breakout in year two.
Chark has demonstrated WR1 upside in 2019 while healthy, though his current ADP prices him as a late-WR2 or early-WR3 in redraft leagues. There may not be a better value in 2020 fantasy football drafts.
Consistency in the Jacksonville offensive personnel could play a huge role in Chark's continued development as a wide receiver.
About Author