Can Antonio Gibson Win the Starting Job for the Redskins?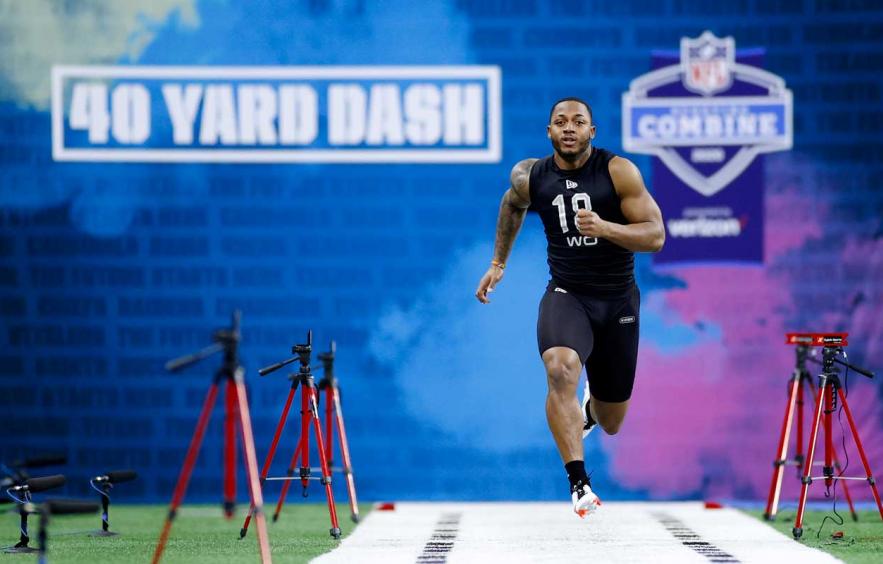 Joe Robbins/Getty Images
The Redskins surprised everyone by selecting the explosive RB-WR hybrid, Antonio Gibson, with the 66th pick in the NFL Draft. Gibson offers plenty of fantasy upside with his elite athleticism and explosive playmaking ability, however, he profiles as a boom-bust asset due to a limited production profile and late breakout age in college.
Antonio Gibson

's College Career

Gibson was a late bloomer. He started his collegiate career at East Central Community College in Decatur, Mississippi before transferring to Memphis to play for the Tigers two years later. After transferring, it took Gibson a year to acclimate to the Tigers' complex offense and found himself at the bottom of a talented RB depth chart which featured Darrell Henderson and Tony Pollard at the top, causing Gibson to switch to WR.

During his senior season, Gibson was finally able to flash his electric playmaking ability as a WR (19.3 yards per catch), RB (11.2 yards per carry), and KR (28 yards per return, 1 TD). He was just as efficient finding the endzone, scoring 14 TD's on only 71 offensive touches.
Antonio Gibson

College Stats

| Year | G | Rec | Yds | Avg | TD | Rush Att | Yds | Avg | TD |
| --- | --- | --- | --- | --- | --- | --- | --- | --- | --- |
| 2018 | 5 | 6 | 99 | 16.5 | 2 | 0 | 0 | | 0 |
| 2019 | 14 | 38 | 735 | 19.3 | 8 | 33 | 369 | 11.2 | 4 |
| Career | | 44 | 834 | 19 | 10 | 33 | 369 | 11.2 | 4 |
Gibson also flashed elusiveness and power on tape, evident by 33 broken tackles on just 77 career touches (42.8%).
Despite racking up 1,749 all-purpose yards, it's a wonder the Tigers didn't find a way to get the ball in Gibson's hands more often.
Jim Nagy, Senior Bowl executive director, noticed Gibson's underutilized playmaking ability and made him one of his last invites — as a RB. Gibson went on to lead his team with 68 rushing yards and parlayed a strong Senior Bowl week to an NFL Combine invitation. While Gibson's draft stock was trending up, it took off after the NFL Combine.
Gibson boosted his draft stock even more by blazing a 4.39 40-yard dash at 6' 228 pounds at the Combine, tying All-American Jonathan Taylor. However, he was listed as a WR, which likely caused his performance to be overshadowed. Matching Taylor's athleticism at the Combine was exciting enough—a better overall comparison for Gibson is Joe Mixon, due to his body type and pass-catching profile. While Gibson's production profile leaves us with questions, his athletic profile highlights his bell-cow potential.
Antonio Gibson

's Fit with the Redskins

At first glance, Gibson enters what appears to be a crowded depth chart in Washington which includes Adrian Peterson, Derrius Guice, Peyton Barber, Bryce Love, and J.D. McKissic. However, after closer examination things look a bit more optimistic for Gibson's immediate future. Peterson is a 35-year-old, two-down grinder. Guice is an uber-talented back but cannot seem to stay healthy and wasn't drafted by new Redskins head coach, Ron Rivera. Barber was signed to a one-year deal and profiles as a plodder with a similar role to Peterson, likely leaving only one of the two on the roster to start the season. Bryce Love is still rehabbing devastating injuries he suffered in college with no clear timetable of a return. McKissic is a pass-catching specialist that is likely on the bubble with Gibson now locked in as the pass-catching back. *Update* Derrius Guice and Adrian Peterson were both released — leaving only Barber, McKissic, and Love (who is expected to be inactive on most game days early in the season while he continues to rehab). Gibson now has a clear path to a bell-cow workload in an offense designed to utilize his explosive speed and pass-catching ability.

New Redskins Offensive Coordinator, Scott Turner, has a vision for how he wants to utilize Gibson. He values versatility in his Air Coryell offense and the Redskins' staff envision him as a swiss army knife with a unique skill set.
.@redskins @MemphisFB @AntonioGibson14 is simply a "playmaker" It's up to Scott Turner; OC, to find creative ways to utilize his skills. Has a chance to leave his mark quickly. #tigers #BaldysBreakdowns pic.twitter.com/uLZxt2C4MB

— Brian Baldinger (@BaldyNFL) April 25, 2020
Turner has discussed using Gibson in empty-sets as a slot receiver and then motioning Gibson back into the backfield and vice versa depending on the defensive matchups. We know that targets are more valuable than carries in fantasy, so that type of versatility and usage in the passing game is exciting.
Antonio Gibson

's Rookie Season Range of Outcomes

Gibson is a raw, explosive playmaker who possesses the prototypical size for a bell cow fantasy RB. While the Redskins depth chart appears crowded there is a path to immediate production due to his unique skillset. If he learns the offense quickly, Gibson can solidify himself as a movable chess piece for the Redskins offense.
Bottom Line
Antonio Gibson has raw talent with an RB1 ceiling due to his unique combination of size, speed, and pass-catching ability.
This is an exciting scheme fit for Scott Turner's Air Coryell offense. Targets are more valuable than carries.
Washington's RB depth chart is crowded at first glance but Gibson offers a unique skill set and should immediately carve out a role with plenty of more room to grow.
A rising ADP (154.8 FFPC) coupled with late-breakout, extremely small sample of college production would normally lead to a boom-bust result. However, Gibson's pass-catching profile should elevate his floor while he learns the offense.
*Update* Derrius Guice and Adrian Peterson were both released — Gibson has a clear path to a bell-cow workload in an offense designed to utilize his explosive speed and pass-catching ability. Target Gibson aggressively in drafts and thank me later.