6 Standout Picks from the FFPC Main Event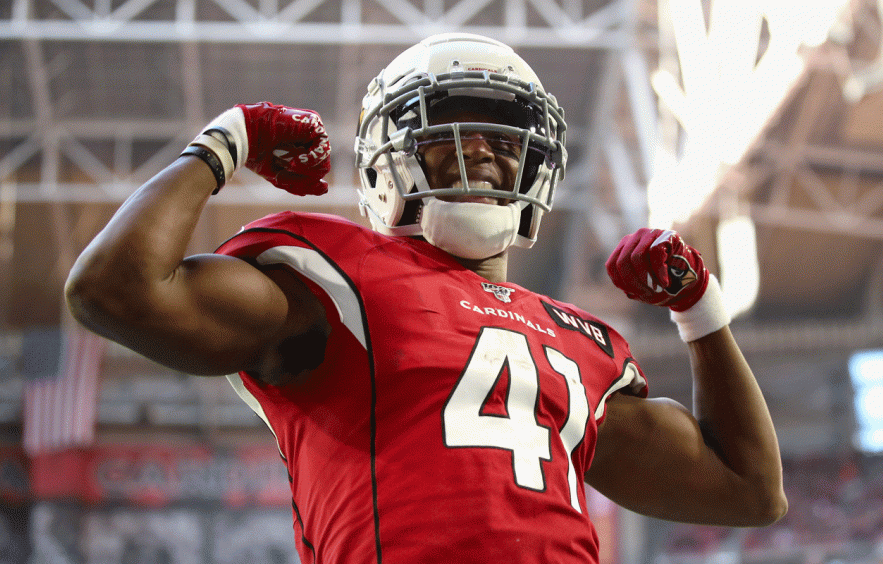 Christian Petersen/Getty Images
Joe Paeno and I had planned on doing eight $350 FFPC drafts along with two live main events in Vegas as a team. After lots of negotiation and MUCH consideration, we agreed to do at least one more Main Event team with ETR Co-founder Evan Silva and fellow 4for4 writer Ryan Noonan. Thus, the quad-owned fantasy team "JERC" was born.
Having four well-informed opinions working together is a double-edged sword and has been quite the experience. With so much of draft season left, I don't want to reveal all of our strategies and will mostly be going through picks that were notable in terms of ADP. I understand the Main Event is another animal and will likely shift it's little brother's ADP (the $350 FBG draft) but for now, comparing the two is a good barometer of how people who are putting in nearly $2,000 per entry value players.
RB
Kenyan Drake

,

Cardinals

- Pick 1.08

According to Fantasy Mojo, Drake was selected in the first round of all four Main Event slow drafts that started on July 6. His FBG ADP is 12.5 but has been creeping up all offseason. Drake flashed immense upside after getting traded to the Cardinals. He was utilized as their feature back and racked up 814 yards from scrimmage and eight touchdowns in just eight games. Small-sample extrapolation is normally a trap but that eight-game stretch is the only relevant sample size we have to work with. It's a bit scary that Drake has never been a feature back (even in college) but he looked more than capable of carrying the load last season. Expect him to be a late-first round pick going forward.
RB
Jonathan Taylor

, Colt - Pick 4.08

People were triggered when I suggested that Jonathan Taylor's early third-round ADP in May and June wouldn't hold as the offseason progressed. As we roll into mid-July and the heart of draft season in August, I expect Taylor to routinely go in the mid-fourth round. Everyone rightfully salivates over the immense upside of Taylor behind the Colts' offensive line but the issue is his floor is dangerously low. HC Frank Reich has noted that all three of Nyheim Hines, Marlon Mack, and Taylor will all be involved. With little time to prepare in what will likely be a shortened offseason, it's tough to imagine him being the lead back from the get-go. Realistically, I think Hines handles nearly all of the passing work while Mack and Taylor split early-down carries. Taylor's declining ADP is certainly worth taking advantage of though depending on your team build.
TE
Tyler Higbee

,

Rams

- Pick 4.10

This pick was really surprising. Higbee's ADP in FBG drafts is 67.8 overall and he's going as the TE7. In this draft, he was taken as the TE6 at pick No. 46. He's an incredibly divisive player in the fantasy community after going for over 100 yards in 4-of-5 games to end the season. Higbee racked up 522 yards in that five-game span after posting just 672 yards in his past three seasons combined. His explosion also happened to coincide with Rams TE Gerald Everett's injury and an offensive philosophy change by the Rams to more 12 personnel. Higbee is a tough buy at a rising cost for me even though I do like grabbing tight ends early and often.
QB
Kyler Murray

,

Cardinals

- Pick 7.03

The Kyler Murray hype train has been chugging along for a couple of months now and in my opinion, is moving too fast to hop on board. Murray went behind only Patrick Mahomes and Lamar Jackson in this draft and was selected ahead of Dak Prescott, Russell Wilson, and Deshaun Watson. Last year, Kyler Murray was the QB14 in PPG and QB9 overall. Murray only had two games with more than 30 points and another two above 25 points. His final point accumulation looks strong but in reality, he was a much better floor option than ceiling option. The addition of alpha WR Deandre Hopkins should improve Murray's passing efficiency and touchdown output so there are definitely reasons for optimism about a step forward. The issue is his ADP. At QB3, I prefer any of the other three quarterbacks I listed above over Kyler.
RBs
Raheem Mostert

and

Tevin Coleman

,

49ers

- Picks 7.06 and 7.11

It sounds disingenuous because Mostert was a part of my "early-round fades article" but we were really hoping he would make it to us at 7.11. His FBG ADP over the past two weeks Is 54.8, RB25. This was a massive discount due to a trade request made a couple of days prior. As I noted in the article, I think he would be a legitimate pick in the sixth round, but certainly not the early fifth or even fourth round due to Shanahan's affinity for running back committees. I'm not really sure what the 49ers decide to do with his contract request as it isn't for much money, but as I noted before, they don't really seem to mind having a full running back room of cheaper guys. There just aren't many—or any—teams with a vacancy for a lead running back and the trade market on Mostert is surely minuscule even after a strong 2019 season.

At this point, it seems unlikely he gets traded. It wouldn't be surprising to see the 49ers wait and see how Mckinnon's health progresses and make a decision from there. Either way, we grabbed Coleman at 7.11. It's well above ADP but based on our team needs and the running back-heavy draft we thought it was worth the investment. Coleman will likely start to go around this range going forward until the uncertainty surrounding Mostert is settled. If Mostert does wind up being traded I think we see Coleman start to go in the sixth round and Jerick Mckinnon creep his way into 10th round.

Here's the link to the full board from this draft.

Team "JERC" has kicked off another Main Event Slow Draft and I'll be doing a similar article at some point after we get a few rounds in. Thanks for reading and if you have any questions about the main event or FFPC feel free to shoot me a message on twitter @ConnorAllenNFL