49ers Running Backs: Best Ball Heaven, Redraft Hell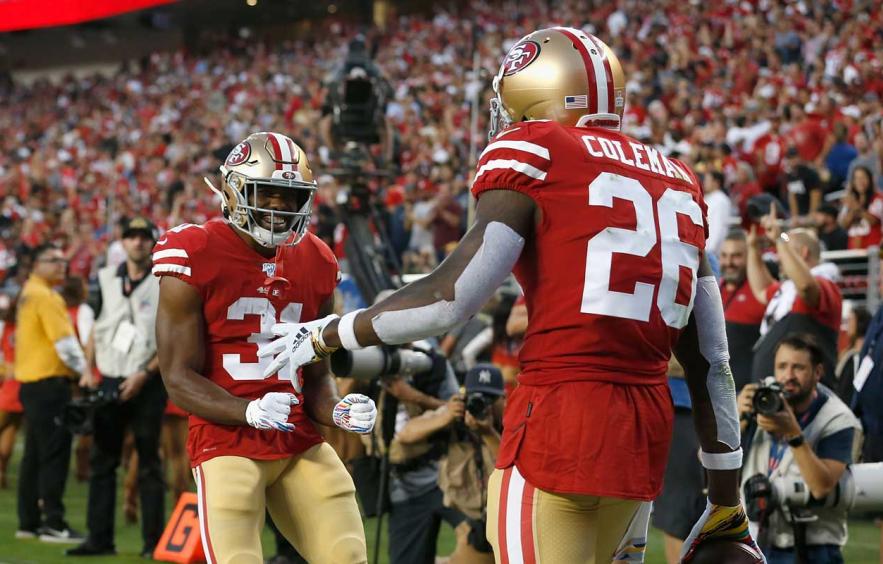 Lachlan Cunningham/Getty Images
Over the final five weeks of 2019, Raheem Mostert finished as the RB9 in half-PPR leagues, then closed out the NFC playoff bracket with a 220-yard game where he scored four touchdowns. What many football fans forget is that even with Mostert's strong finish to the regular season, San Francisco opened the playoffs by giving Tevin Coleman 22 touches to Mostert's 12. After trading Matt Breida to Miami in March, this backfield situation may seem cut-and-dry but it could prove to be a tumultuous situation for fantasy purposes.
Kyle Shanahan is a Coaching Outlier
After doing deep dives on coaches for years here at 4for4, it has become increasingly obvious that player talent usually drives target and touch shares more so than play-calling. Finding coaches on the extremes, however, can provide actionable insight and there is evidence that Kyle Shanahan's teams stand out in two areas—running back touches and running back committees.
Last season, San Francisco ranked third in running back touches and ninth in percentage of touches given to their backs, despite finishing 20th in running back targets. While game flow certainly contributed to these numbers—the 49ers won 13 games—Shanahan has consistently fed his backs since taking over as the head coach in the Bay Area. In 2018, San Francisco ranked 10th in running back touches with a 4–12 record; the year before, they gave their running backs the 12th-most touches in the league with just six wins. A big touch pie is good for the prospects of any fantasy backfield but Shanahan rarely cuts big enough slices for reliable, consistent production.
Two-thirds of backfield touches is a number that is often referenced as a rough cutoff for workhorse backs. In 2019, Shanahan gave a running back at least 67% of the running back work just once—there were 257 such games by 51 individual backs across the league last year. Over his three-year tenure as the head coach in San Francisco, Shanahan has only had 15 games in the regular season where a running back saw at least two-thirds of backfield touches. If we extend that number out to a 75% backfield share, the 49ers only had one occurrence last year and six over the last three—there were 182 instances league-wide in 2019.
The
49ers

Running Back Depth Chart
Raheem Mostert
After an electrifying finish to last season, Mostert is the favorite to lead the 49ers backfield in touches and his ADP reflects that as the 26th running back off the board, according to May ADP. While this may seem like a modest price for a potential starting running back, the position is in especially high demand this season, making the opportunity cost of a running back in this range quite high. Consider the players at other positions that are available around Mostert's ADP of 53rd overall:
This list is full of pass-catchers with more reliable roles in their respective offenses than Mostert's role in his.
Despite Mostert's monster finish to the 2019 season, it took Matt Brieda being out for two weeks for Mostert to finally break a 40% backfield touch share for the first time in Week 13. Even then, he only averaged 57.9% of the work over the final five weeks of the season. Should he preserve the workload that he saw down the stretch for the 49ers, though, he's unlikely to maintain the 6.1 yards per carry that he posted over the 49ers' final eight regular season and playoff games—running back efficiency is among the most unstable year-to-year stats. His work in the passing game is even more concerning. Mostert only saw 22 targets all season, which tied for third among backs on his own team. Even after he took over as the starter, Mostert still averaged fewer than two targets per game.
Tevin Coleman
Coleman struggled last season compared to Brieda and Mostert but it was Coleman who led the team in running back touch share (31.3%) and targets (30). While these are modest season-long numbers and Mostert clearly emerged as the lead back down the stretch, early offseason speculation is that "Coleman and Mostert are likely to share the load on base downs."
Assuming anywhere close to an even workload with Mostert, one of two things must be true: either Mostert is overpriced or Coleman is underpriced. May ADP shows Coleman going off the board as the 40th running back, 46 picks after Mostert. Early 4for4 projections give Coleman 149 touches, which would have ranked 36th among all backs last year—Mostert is projected for 186 touches, a number that would have been 28th in 2019 between Ronald Jones and Latavius Murray.
The Remaining Running Backs
The best-case scenario for anyone drafting Mostert or Coleman would be for them to absorb most of Breida's 142 vacated touches. No back in San Francisco last season was able to establish themselves as a consistent pass-catcher. That's where Jerick McKinnon could carve out a role. In McKinnon's final two seasons in Minnesota, he averaged nearly four targets per game, roughly double that of any 49ers running back last season.
Although McKinnon hasn't played a regular-season snap since signing with San Francisco in 2018, he looks to be on track to start the 2020 season. Mostert, himself, expects McKinnon to "be a surprise for everyone". While McKinnon's pass-catching ability out of the backfield would fill a need for the 49ers offense, it would also push Shanahan toward another season of running back musical chairs.
If McKinnon can't regain his 2017 form, Jeff Wilson could still be a pest to fantasy owners—he led San Francisco in touchdowns from inside the 5-yard line last year—and Kyle Juszczyk will maintain a role in the passing game.
Redraft versus Best Ball
It's become cliché—even a cop-out—to write off players as "fine in best ball" but this situation warrants that designation. Regardless of record, Shanahan is going to feed his running backs. The fact that the 49ers are expected to be one of the best teams in the league means a lot of those touches will come in positive game script. As we saw with Mostert's run down the stretch in 2019, this backfield offers a ton of upside in that scenario. The concern is that Shanahan is one of the few coaches who has consistently rotated his running backs, especially since coming to San Francisco. There is a longer track record of Mostert not being able to beat out competition for touches than handling a large workload on his own.
The most likely scenario is that Shanahan continues his hot-hand approach, which means that Mostert and Coleman will probably be weekly start-sit decisions in redraft, and tough ones at that. Rather than playing the guessing game in weekly-management leagues, best ball owners can secure the upside in this backfield by balancing shares of Mostert and Coleman. Since Coleman is being drafted well below his ceiling, relatively high exposure is warranted. Mostert's price tag doesn't leave as much room for upside so fewer shares make sense. Because Shanahan uses his backs so heavily but has yet to find a premier pass-catcher, it's worth sprinkling in shares of McKinnon in the last round or two of best ball drafts.
The Bottom Line
Kyle Shanahan uses his running backs as much as almost any coach in the league, regardless of game flow, but rarely has a true featured back, even on the weekly level.
Raheem Mostert is due for regression in efficiency and scoring while he is more likely to share work with Tevin Coleman than emerge as a workhorse.
Early 4for4 projections suggest that Mostert is being drafted around his median projection. Coleman is projected for a similar workload but is available roughly four rounds later, on average.
This backfield is one to avoid in redraft leagues but could offer huge spike weeks in best ball.