NFL Week 1 Betting Picks & Preview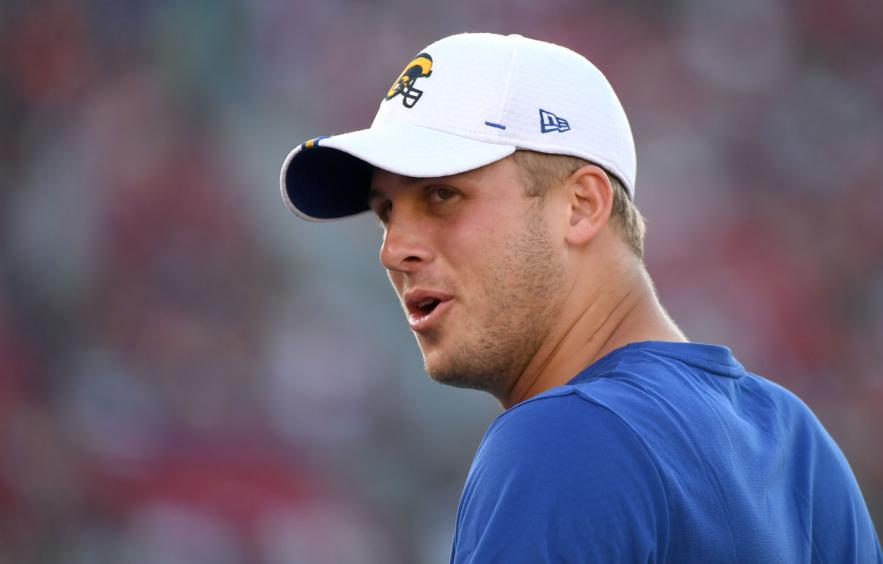 Harry How/Getty Images
When 4for4 asked if I would write betting predictions for the 2018 NFL season, I was ecstatic. I have been enthralled with the sports betting world since I was in grade school and as I have watched the industry go from taboo to mainstream, I was thrilled to have a platform that wanted to feature my picks.
Of course, it doesn't matter how enthralled you are with the sports betting world if you're not any good at picking games. Fortunately, I concluded the regular season with a 53-29-3 (65%) record against the spread. Each week, I felt like readership grew and my interactions on social media increased, which made the experience that much more enjoyable.
But that was last year. The record gets re-set to 0-0 for 2019. While it will be difficult to hit 65% again this year (my goal last year was to hit 58%, which is still very profitable), that doesn't mean it's not possible.
Limit your plays, don't chase and stay patient. It's a long season. Let's have some fun.
467 L.A.
Rams

at 468 Carolina

Panthers
Spread: Rams -1.5
O/U: 50
Time: 1:00 p.m. ET, Sunday, Charlotte, NC
The line movement in this game suggests sharp action on the Panthers, but I don't get the love for Carolina in this spot. Granted, the Rams laid an egg in the Super Bowl, Todd Gurley's health has been a mystery since the playoffs last year and we do have a West Coast team traveling East.
That said, the Panthers arguably have more questions than the Rams do entering Sunday. Cam Newton's shoulder injury limited him down the stretch last season but even when he's fully healthy, he's always been an inconsistent passer. Strong arm? Yes. Tough? No question. Running threat? Absolutely. Accurate passer with sound mechanics and good field vision? Not so much.
Christian McCaffrey will be a headache for defensive coordinators all season, but it's not as if Wade Phillips won't be up for the challenge. Eric Weddle gives the Rams an added dimension that they didn't have a year ago, specifically the ability to disguise coverages and mix looks between man and zone. Aaron Donald also remains a one-man wrecking crew.
Meanwhile, it could be difficult for Gurley and the Rams' running game to get going against Carolina's stacked front seven, but where I see L.A. winning on Sunday is through the air. The Rams missed Cooper Kupp as much as a healthy Gurley. Now that he's back and the Rams' passing game is operating at full strength, Jared Goff should pick apart a Carolina secondary that remains a weakness.
NFL Week 1 Prediction: Rams -1.5
---
DraftKings Sportsbook Deposit Bonus: Available to Current & New Users! Create an account, deposit and DraftKings will match 50% of the deposit amount up to $500. Additionally, new users will get their first bet matched with up to a $200 risk-free bet.
---
455 Washington Redskins at 456 Philadelphia
Eagles
Spread: Eagles -10
O/U: 45
Time: 1:00 p.m. ET, Sunday, Philadelphia, PA
I think the bottom falls out for Washington this season and it'll likely cost Jay Gruden his job. The team is probably taking the right approach with first-rounder Dwayne Haskins, who shouldn't be subjected to the beating Case Keenum is about to be subjected to playing behind Washington's offensive line. Even if LT Trent Williams miraculously ended his holdout and was ready to play by Sunday, the Redskins' offensive line is still in terrible shape.
Swinging back to Keenum, he had a nice season two years ago in Minnesota while playing in Pat Shurmur's offense, but he hasn't done much out of that system. He stunk last year in Denver and is only a placeholder for Haskins. The Redskins don't have much on the perimeter and tight end Jordan Reed is questionable with a concussion. I'm intrigued by former LSU running back Derrius Guice and Chris Thompson is excellent as a pass-catcher, but the cupboard is mostly bare.
What the Redskins do have, however, is a capable defense. They signed Landon Collins in free agency and drafted Montez Sweat in the first round. Ryan Kerrigan is a star and recent first-rounders Jonathan Allen and Da'Ron Payne form one of the better interior defensive lines in football. While the offense will hang the unit out to dry most weekends, the Redskins are underrated defensively.
On the other side, the Eagles are legitimate Super Bowl contenders, but they have offensive line questions of their own. Jason Peters missed a lot of time due to injuries in 2018 and first-round rookie Andre Dillard needs time to develop. Lane Johnson is still one of the most athletic right tackles in football, but right guard Brandon Brooks is coming off an Achilles tear in January. Left guard, meanwhile, has always been a sore spot.
I'm a big believer in Carson Wentz and the Eagles have surrounded him with more than enough talent to have success, especially after adding DeSean Jackson. Still, if I'm right about the offensive line, the talent the offense does posses at the skill positions could be derailed.
All of this is to say I like the under. The defenses could be the best units on the field on Sunday and I don't expect the Redskins to sniff the 20s. Assuming Washington's defensive line can win in the trenches, then the over/under line of 45 points is too high for this matchup.
NFL Week 1 Prediction: Redskins/Eagles UNDER 45
---
Looking for more picks? Check out Sharp Angle Sports for access to Anthony's CFB selections and exclusive NFL selections from SuperContest Winner James Salinas, who is a documented 63% ATS over 320 NFL selections since 2015.
---
461 San Francisco
49ers

at 462 Tampa Bay

Buccaneers
Spread: Bucs -1
O/U: 50.5
Time: 4:25 p.m. ET, Sunday, Tampa, FL
I like me some Bucs this year. Not as a playoff team, mind you, but as a team that should be better than it was a year ago and potentially surprise some people this season.
Bruce Arians isn't going to solve the Jameis Winston riddle but this potentially short-term marriage does make a lot of sense. Winston has always had a good arm, a high football IQ and reads coverages quickly. Arians' system calls for a lot of downfield route combinations that will allow Winston to make the big play. He'll still throw plenty of interceptions and make stupid mistakes believing he can make every throw, but the big plays will be there.
Winston also has a ton of talent around him thanks to Mike Evans, Chris Godwin and O.J. Howard. The Bucs didn't do anything to improve a running game ranked 31st in yards per attempt a year ago, but at least opposing defenses have to account for Evans and Co.
On the other side, the 49ers were a chic pick to make a playoff run a year ago, but their season crated as soon as Jimmy Garoppolo tore his ACL in Week 3. While he's on track to play Week 1 and has a great matchup against a Tampa secondary that struggled mightily a year ago, Garoppolo was just 15-of-26 for 188 yards with one touchdown and a pick in preseason play. While that doesn't mean he'll struggle during the regular season, the practice reports on Garoppolo haven't been glowing either.
The Niners did revamp their defense, which included adding Dee Ford and selecting Nick Bosa No. 2 overall back in April. It's also likely to take a few weeks for the unit to gel. In fact, I could see the 49ers being one of the more improved teams by the end of the season but I'm fading them early on, including on Sunday against a Bucs team that should have some new swagger playing for B.A.
NFL Week 1 Prediction: Tampa Bay Bucs -1