Third Year's a Charm for These 4 Tight Ends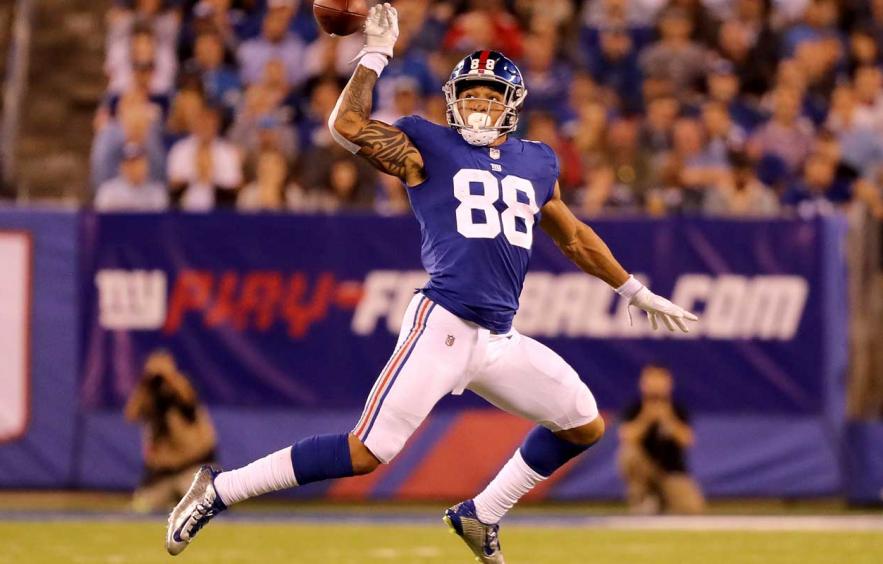 Abbie Parr/Getty Images
Last year was not ideal for the plight of the TE, but 2019 could turn it all around with the help of four third-year guys. Heading into the season, George Kittle, Evan Engram, David Njoku and O.J. Howard are all in really good spots to flourish and produce in their respective offenses.
Here's a look at each one of the relative members of the TE draft class of 2017 and why they are set for a solid fantasy season. But first, a table showing their accomplishments in years one and two.
Seasons One and Two Results

| Player | 2017 Fantasy Rank | 2017 PPR Points | 2017 PPR Pts/G | 2018 Fantasy Rank | 2018 PPR Points | 2018 PPR Pts/G |
| --- | --- | --- | --- | --- | --- | --- |
| George Kittle | TE19 | 106.5 | 7.1 | TE3 | 256.7 | 17.5 |
| David Njoku | TE24 | 94.7 | 5.9 | TE9 | 143.9 | 9 |
| Evan Engram | TE5 | 173.6 | 11.6 | TE13 | 124.3 | 11.3 |
| O.J. Howard | TE21 | 101.2 | 7.2 | TE14 | 120.5 | 12.1 |
George Kittle

,

49ers

The Iowa product's jump from TE19 in 2017 to TE3 last season was impressive, but can he produce at a high level again in 2019? He sure can and let me walk you through it. The guy is a physical presence at 6'4", 250 lbs, and coupled with his effective in-line blocking, he was on the field for an average of 88% of San Francisco's snaps per game in 2018.

Kittle was also the 49ers most targeted player (135) by more than double the number of balls thrown to the next guy, Kendrick Bourne (66). The depth chart has changed a bit and some players will return from injury, but no other pass-catchers come close to Kittle's size on the Niners current roster, allowing him to excel in any on-field matchup. The 25-year-old led the league at all positions in YAC in 2018 with 870 which broken down comes to 6.39 YAC/TGT. And we can't forget that all of his success came with a combination of Nick Mullens and C.J. Beathard throwing the ball for most of the season, along with Kittle playing with fractured cartilage in his ribs for half of the games.

2019 should be another monster year for Kittle, as with opportunity comes fantasy points. With golden boy Jimmy Garoppolo back in the fold, Kittles's numbers could even exceed those of last year, but he's proven it really doesn't matter who's tossing the rock. You will have to pay for his services though, as Kittle's ADP is currently sitting in the early-third round as TE3.
David Njoku

,

Browns

Cleveland's resident TE jumped up a whopping 15 spots from his rookie to sophomore year, but the Brown's offense as a whole had a major awakening. Njoku didn't have a huge breakout season as some had hoped, but the 22-year-old did improve across the board from his rookie campaign. Catching just 32-of-60 balls for 386 yards and four touchdowns in 2017, Njoku hauled in 56-of-88 targets for 639 yards and four scores last year.

Njoku was second in both total targets and targets per game behind Jarvis Landry in 2018, up from fifth on Cleveland's offense the year prior. With Baker Mayfield dialed in as the signal caller, this offense is primed to produce and the addition of Odell Beckham could actually be a good thing for Njoku. With all the focus on OBJ, Jarvis Landry in the slot and Antonio Callaway as their deep-threat guy, that leaves Njoku nice and open to make key plays.

He may not see a big jump from year two to three, but expect Njoku to produce this season in an efficient Browns' offense. He was TE9 in total PPR points at the end of 2018, and is currently being drafted as TE8, in the early-seventh round. Njoku makes a great value pick for those not planning on streaming at TE, but don't want to pay up for the top tier.
Evan Engram

,

Giants

The drop from year one to two for Engram can mostly be attributed to missing five contests due to an injured hamstring. In 2019 he is set up for increased volume, as similar to Kittle last season, he'll operate as the Giants' lead target with Beckham in a different uniform. Sure, Sterling Shepard got a contract extension and they added Golden Tate, but neither of those guys can do what Engram can on the outside.

The 24-year-old flourished without OBJ on the field for the final four games of last season, averaging 80 receiving yards and 15.7 PPR points per contest. For the 2018 season, Engram was third among TEs in YAC/TGT with 6.06 and his 6'3" 240lb frame is a perennial mismatch for secondaries that try to defend him in the slot. It's also worth mentioning that his catch rate jumped from 55.7% to 70.3%, which is always a good thing.

Having Eli Manning throwing the ball can certainly be a cause for concern, but Engram should still be just fine. He has the athleticism to make plays, even if Manning's accuracy and ability to throw downfield is not exactly up to snuff. The TE is usually the beneficiary when there's a weaker guy under center and Saquon Barkley can't be involved with every single ball. Engram is currently leaving draft boards as a late-fifth rounder and is the sixth player taken at his position.
O.J. Howard

,

Buccaneers

Injury has hindered this talented TE from a true breakout season thus far. In 24 combined games, Howard has been productive though, with 87 targets, 60 receptions, 997 yards and 11 scores. He was TE6 in total PPR points last year in Weeks 1–11 before being sidelined for the remainder of the season due to foot and ankle injuries.

At 6'6" 251 lbs., Howard is a beast and has shown the ability to be versatile, lining up in-line, off the line, as a detached TE and in the slot. While some see Bruce Arians as a negative thing for Howard in Tampa Bay, I see it as the opposite. He's proven to be a creative-minded coach, using interesting ways to get his best guys the football. Arians has already expressed his desire to work with the third-year TE this season and the outcome could be favorable for those who draft Howard.

The Bucs parted ways with both DeSean Jackson and Adam Humphries this offseason, who accounted for 179 total targets in 2018. Assuming Mike Evans and Chris Godwin occupy the first and second slots in terms of volume, Howard is due to for a major uptick in usage. Saying at the very least he takes over Jackson's 75 balls from 2018, that's close to the amount of volume Howard has seen in two seasons.

Both the floor and ceiling look very appealing for Howard in 2019, but of course, he needs to stay healthy and on the playing field. Similar to Engram and Njoku, if you don't want to pay up for Travis Kelce, Zach Ertz and Kittle, but also don't love the idea of streaming, Howard is a solid choice at his current mid-fifth round ADP.