Long Field Goals Don't Matter in Fantasy Football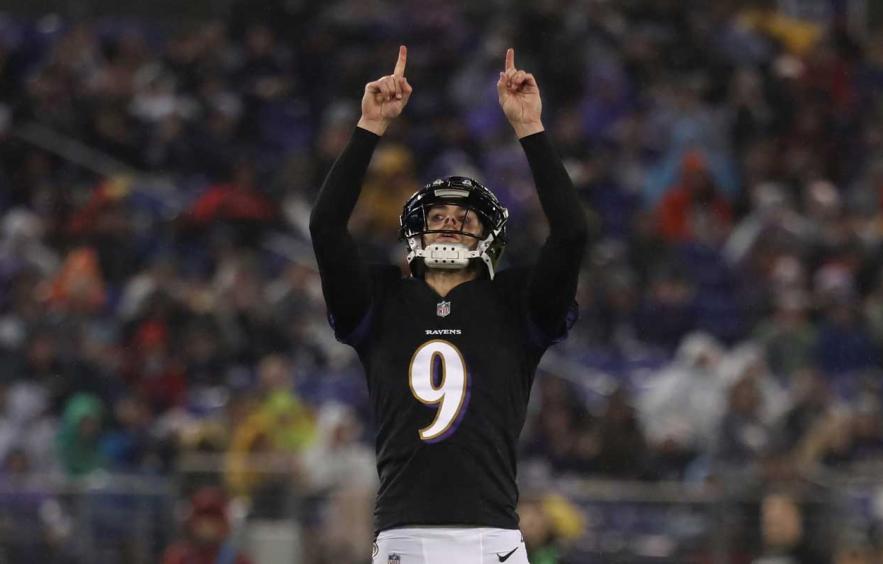 Rob Carr/Getty Images
I am a cyborg sent from the future to destroy popular narratives driving kicker selection in fantasy football.
And I can report that in the glorious future, every fantasy footballer is forced by law to have kickers in their league, the way it should be. Let freedom ring.
My maniacal streak—thanks to 4for4 powers that be for approving these pieces—is meant to dispel the myth that kicker scoring is random and unpredictable. There's a process to choosing kickers in fantasy, just as there's a process to drafting quarterbacks, receivers, running backs, and tight ends. I'm not so much interested in telling you which kickers may or may not turn into every-week fantasy starters—or which guys are solid for streaming purposes—but to show how one evaluates a good kicker option. Process over results, forever and always.
You'll hear fantasy players say they happily drafted a certain kicker because, you see, that kicker is accurate. That's bad process. You'll also hear them say they're rolling with a kicker because he has the proverbial big foot—not a medical condition, but the ability to put the ball through the uprights from long range. People want the bombers. They want the long drive champs who can crush it from 50 or 60 yards out.
This is a nice narrative. Of course we want kickers crushing long kicks, earning our fantasy squads five points with a single swing of the leg. It's almost as good as a one-yard plunge into the end zone. It's better than a short touchdown toss. It's equivalent to a 40 or 50-yard scamper on a bubble screen.
Alas, it's only a narrative, and like most narratives, it's wrong. Long kicks don't have a whole lot of correlation with kicker fantasy production.
Correlation of Kicking Stats to Fantasy Scoring

| Stat | Correlation |
| --- | --- |
| Field goals made | 0.94 |
| Field goal attempts | 0.90 |
| Extra points made | 0.58 |
| 50+ yard field goals made | 0.57 |
| Field goal percentage | 0.55 |
Sure, the 50-yard boots have a slightly stronger correlation than field goal percentage, but it's well below what really matters: volume. Field goal tries, as you can see in the above chart, are almost closely correlated to fantasy points as actually making a field goal. Now that's what I call process!
Check out last year's best long-range kickers and where they finished in fantasy football. You might notice their end-of-season ranks are all over the place—as if being among the league leaders in 50+ yard field goals doesn't really matter.
Naturally, some of these guys are going to finish as every-week fantasy starters; the more field goal tries a kicker has, the more likely he is to stumble into lengthy attempts. Kickers like Lambo and Hauschka were hardly useable in 12-team leagues, yet here they are, among the NFL leaders in long-distance makes. Rosas, meanwhile, was a fantasy football disaster until the final six weeks of the regular season. His four lengthy field goals likely didn't benefit many fantasy players, as deploying him in 10 and 12-team leagues would have qualified as bad process.
If you're still somehow skeptical about 50-yard field goals mattering—or being predictive of fantasy success—take a look at 2017's list of kickers who made at least four 50 yarders.
Again, we're going to see some top guys on a list like this one—they're the ones getting all the attempts, usually in good offenses that have the luxury of attempting field goals in the second half of a game. At least five of these kickers were, at best, spot starters in 2017 fantasy football leagues.
I don't want you to think I don't care about 50-yard field goals. I do. Rostering a kicker who blasts a long field goal down the middle is exhilarating, like witnessing the birth of your child or finding seltzer water on sale at the grocery store. But focusing on the guys who have been good from distance over their careers is results-oriented decision making. Stay laser-focused on opportunity and you'll find your kicker making 50 yarders once in a while. Maximize attempts and the rest will fall into place.