Kicker Accuracy Doesn't Matter for Fantasy Football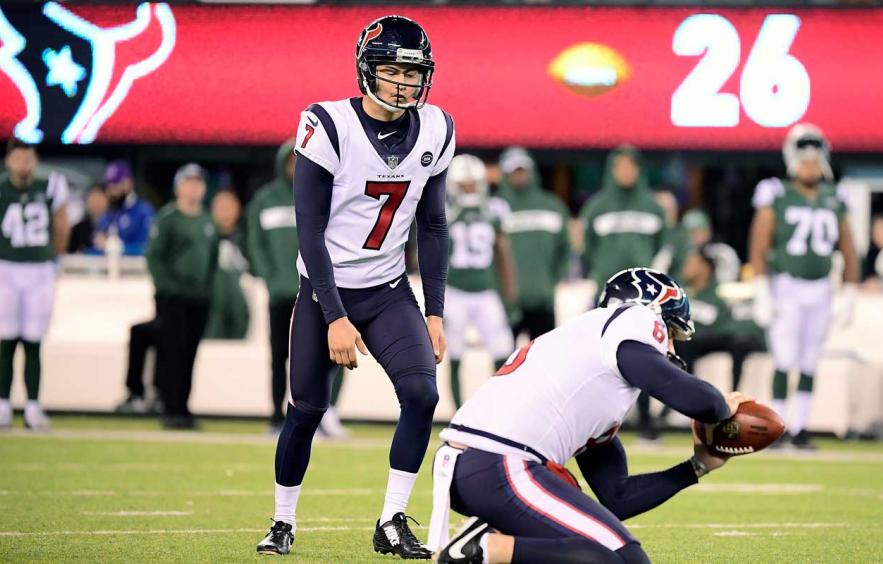 Steven Ryan/Getty Images
My Twitter mentions during the NFL season are, quite naturally, brimming with kicker questions, with follow-up tweets demanding I justify my advice or delete my account.
It's usually these replies that invoke accuracy as the ultimate measure of a kicker. I can't play this guy because he missed two field goals last week, they say. I have to play this guy because he hasn't missed all season, they say. On it goes, placing accuracy above all else.
What the invocation of accuracy (usually) ignores is that the kicker who missed two attempts a week ago is among the league leaders in field goal tries, while the guy who hasn't missed in the season's first six or eight weeks only has a couple of multi-attempt weeks because his team is bad and rarely in position to try field goals in the third and fourth quarter.
Volume is our guiding light in weekly—or seasonal—kicker selection, making the position no different than running back or receiver or tight end. I don't see fantasy footballers furiously chasing tight end points, confidently starting the guy who caught two touchdowns on three targets the previous week. Yet, folks get eternally hung up on kicker accuracy. It's strange to rant and rave online about a kickers' ability to put the pigskin between the goalposts not mattering, but the numbers bear it out: we know for certain that kicker opportunity is far more closely correlated with fantasy production than accuracy.
Extra points are better correlated with a kicker's fantasy production than his accuracy. Purge your mind of the lies spread by Big Kicker Accuracy and be free, dear fantasy footballer. Getting bogged down with kicker accuracy is a distinctly results-oriented approach to this little game. We want good process, and good process says chase field goal attempts.
This isn't to say fantasy football's best kickers are shanking kicks left and right and somehow posting big stat lines. They're not. In fact, they're making a lot of kicks. But there are plenty of kickers who rack up fantasy points without being deadly accurate. Because, see, they have a glut of opportunity.
Below is a look at 2018's highest-scoring kickers and their accuracy.
The average finish among these kickers was 10.7. Yes, the most accurate kickers made the top-10, as one might expect, but Gould's remarkable 97.1% accuracy was only good enough to net him 32 fewer fantasy points than the 2018 K1, Fairbairn. Not many kickers were worse than Mason Crosby in 2018 and he still finished as a top-six fantasy option; Green Bay happened to have the fourth-most field goal tries.
And now a look at the best fantasy football kickers from 2017.
Perhaps more important than the guys listed above—2017's most accurate NFL kickers—is what you don't see. Graham Gano, the most accurate kicker in the 2017 season—making 29 of his 30 attempts—didn't crack the top 10. He didn't even make the top-12 kickers, meaning, yes, the league's most accurate kicker was below replacement level for fantasy football purposes.
Gano in 2017 played seven games in which he attempted zero or one field goal. He finished 27 points behind Ryan Succop, who was in the bottom third of the league in accuracy. Gano was a case study in opportunity trumping efficiency.
I didn't write this to thump my chest and demand that you never enter my Twitter mentions with theories on a kicker's accuracy. There's a forward-looking application to these numbers and the understanding that accuracy matters far less than volume of opportunity. We can squeeze actionable information out of all this kicker talk.
I would hedge on drafting a kicker on a team pegged by Vegas to win fewer than half their games in 2019. While these kickers will surely provide some weekly usefulness, probably they won't turn into unquestioned every-week fantasy options (though there are exceptions, like Jason Myers on last year's Jets).
Robbie Gould, who defied expectations last season by posting a mind-blowing 34 field goal attempts on a four-win team, certainly doesn't fit the mold of a plug-and-play fantasy starter in a 10- or 12-team league. Vegas has set the Niners' win total at 7.5—not horrific by any means, but low enough to raise a red flag for Gould. We'll call it unlikely that Gould will average 1.95 field goal attempts in 49ers losses, as he did in 2018. The 49ers are also due for some touchdown scoring regression: they averaged 2.2 touchdowns per game in 2018 (the sixth fewest in the NFL) despite posting the 15th most offensive yards. If the Niners manage to find paydirt more often in 2019, it would chip away at Gould's opportunity.
I don't foresee Aldrick Rosas flying off the draft board in many leagues, though the Giant's red-hot second half of the 2018 season could fool some drafters into taking him in the final rounds. New York's win total over-under is set at 5.5 and Rosas had to make nearly every kick last year to finish as a top-seven option. He doesn't fit the mold of a reliable fantasy kicker in any aspect.
Give me kickers on good teams that will have game flow securely on their side for much of the season. Accuracy be damned.