D.J. Moore Can Be a Top-20 Fantasy Wide Receiver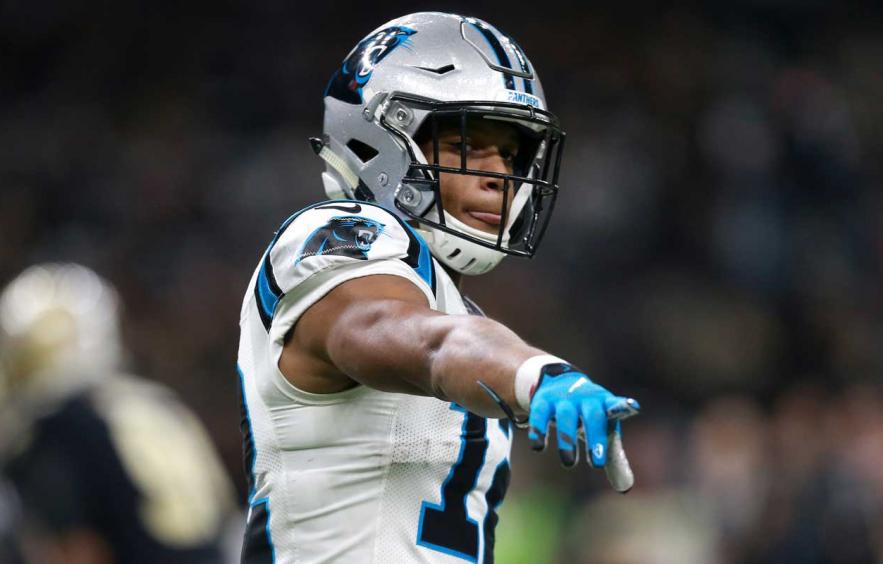 Sean Gardner/Getty Images
Last offseason, most analysts were caught in the middle on D.J. Moore. On one hand, his upside jumped off the screen when watching his highlights, and when reviewing his impressive combine numbers. On the other hand, he appeared raw. His route-running appeared unpolished compared to Calvin Ridley, another incoming rookie. Many wanted to believe that Moore's upside would translate to production, but felt unsure of whether he was just a great athlete or if he could become an elite NFL wide receiver.
That is still an open question, of course, but Moore did enough in his rookie year to at least confirm what evaluators had seen on his college tape: he is a phenomenal athlete. But he is more than that—he also has great vision and elusiveness once the ball is in his hands, above-average contact balance, and good hands. In addition, as the season wore on he showed improvement in his route-running skill.
Will Moore pop this season, or will he fail to live up to the high draft capital the Panthers invested in him? Let's dive in.
A Few 2018 Highlights
Let's take a look back at how Moore fared in his rookie year. Historically, wide receivers do not acclimate as quickly as running backs, and rarely do they become studs during their rookie seasons. In this way Odell Beckham and Mike Evans are anomalies.
But although receivers don't often blow up as rookies, good receivers usually show flashes. They make plays that raise the eyebrows of those paying attention, giving hints that this player may indeed become a dominant NFL playmaker.
As I reviewed Moore's 2018 tape, there were certainly flashes.
For example, here we see the first catch of his career. Watch how he finds an empty spot in the zone, and once he secures the catch he instantly assesses the field and changes directions toward open space. Then, although the approaching linebacker has an easy opportunity to tackle him, Moore stiff-arms him and uses that momentum to push him forward down the field. He then finds the angle to the end zone. This is a very impressive opening act.
Here is the same play again from another angle, in slow motion. This contact balance to push off # 42 & stay upright is remarkable. Then his awareness to find the angle to the end zone is also impressive. pic.twitter.com/dSj9NJXBiT

— Kevin Scott (@champofantasy) August 19, 2019
His ability in the open field was evident on that play, and that skill pops out repeatedly when reviewing his 2018 film. He is a good receiver in most areas, but his open-field ability could be among the best in the league and propel him to elite status.
Here is another play where he shows off his open-field prowess, an end-around versus the Bucs. Watch his quick processing, and his ability to change directions in an instant.
Watch it again in slow motion, and watch how he sees the two defenders closing in. He flips his hips to the outside, sees that defender get off his block, and quickly flips them back to the inside just in time to squeeze through - and gain a bunch more yards. pic.twitter.com/zQtTbXgwO4

— Kevin Scott (@champofantasy) August 19, 2019
Moore has a regular role in the Panthers' rushing attack, mainly because of his excellent open-field ability, vision, and decision-making. These skills help him every time he catches the ball as well, and as a result, he is a threat to take even short receptions a long way.
Watch how Moore quickly finds a way to turn a short reception into a long gain when his defender falls down.
@idjmoore uses his open-field ability on even short receptions, turning them into big gains if the opportunity presents itself. When his defender falls down here, Moore certainly takes advantage. pic.twitter.com/x6DFPGQDr0

— Kevin Scott (@champofantasy) August 19, 2019
Beyond this open-field skill, Moore also showed improvement in his route-running as the season went along. Two plays below show evidence of that improvement.
First, Moore is running a deep-in route. He wants the defender to be unsure of whether he is running a go route straight past him or he is stopping. He runs it perfectly, giving the defender no hint of his intentions. He keeps his pad level low and accelerates evenly, making the defender worry about a go-route. Then, at the last second, he cuts inside without losing much speed, for the easy catch. This is an excellent route, and with Moore's deep speed, this should occur regularly when defenses play him with off coverage.
D.J. Moore was a more precise route runner as the season progressed. He has the quick-twitch to be outstanding at it, but is still improving at this craft. On this deep in, he sells the go route by keeping his pad level low and his acceleration consistent. (at bottom of screen) pic.twitter.com/mXZIMVzRax

— Kevin Scott (@champofantasy) August 19, 2019
Second, on this touchdown reception Moore first explodes off the line and uses a little hand check to get the receiver into a trailing position, a difficult maneuver to accomplish in such a small space. Once the defender is in this "chase" position, Moore sells the in-cut and then breaks toward the corner. It is a nice route, which he finishes off by showing off his impressive vertical and then tapping his toes.
Moore accelerates quickly and jabs the defender, getting him in a trailing position.Then he sells the in-cut and loses the defender, streaking to the corner for the great catch and toe tap. His route-running showed signs of improvement each game during rookie year. pic.twitter.com/FdNfPjSErD

— Kevin Scott (@champofantasy) August 19, 2019
A Look at Moore's 2018 Numbers
It is difficult to assess the statistical output of rookies, since they are often so raw early in the season, growing in their role as the year moves along. Luckily in Moore's case, there is a somewhat clean break—he did not start the first six games but then started the final 10.
If we look primarily at those 10 games, Moore produced quite nicely in his rookie campaign. He received 64 targets, meaning he averaged 6.4 targets per game. He had 42 receptions in that span, for a 65% catch rate. He averaged 14.2 yards per catch, a healthy average, for a total of 597 yards. Touchdowns are often difficult to predict, but he only scored once during that span.
He also received 9 rushes in this span for 126 yards, equaling 14 yards per rush, a very impressive number.
If we extrapolate those numbers across an entire season, that would equal:
102 targets for 67 receptions, 945 yards, with 2 touchdowns
14 rushes for 196 yards
Those numbers would equal 193 PPR fantasy points, which is what the WR22 scored last season (Calvin Ridley, ironically).
It is interesting to compare Julio Jones's rookie season to Moore's. Jones was viewed as much more NFL-ready coming into the league and was taken sixth overall by the Falcons. He started from Week 1 of his rookie year, and had three games with over 10 targets (something Moore never did).
However, Jones's per-game target average was 7.3, less than a target per game more than Moore during his 10 starts. Julio's per-game reception average was 4.1, while Moore's sat at 4.2 in the games he started, due to Jones having only a 57% catch rate.
While I am not suggesting Moore is as good as Julio Jones, I say with confidence that Moore's rookie season was excellent statistically, and showed he has clear potential to be a No. 1 wide receiver.
What to Expect in 2019
Our 4for4 projections are very accurate, and a great resource to utilize during drafts. The 4for4 projections for D.J. Moore are fair and are certainly within his range of outcomes. 4for4 projects Moore for these stats in 2019:
71 receptions, 986 yards, and 3.3 touchdowns
12 rushes for 94 yards
While those numbers fall within his range of outcomes and fall very closely to the 2018 extrapolated numbers I listed above, remember that projections simply imply a median outcome. Moore's ceiling is even higher.
Moore already averaged 6.4 targets as a rookie in the games he started. Since many receivers see a significant jump in their second year, I would anticipate an improvement in his target share.
Second, the two touchdowns he scored as a rookie was an unsustainably low number. In the tape that I reviewed, he had two long catch-and-runs where he was tackled just before the goal line, and there may have been more of those I did not see. Becoming a factor in the red zone also tends to take time to develop. I would anticipate Moore moving to around a 7% touchdown-per-reception rate based on the role he plays in the offense (the league average in 2018 was a touchdown on 8.4% of wide receiver catches.)
With an increased role in his second season, Moore could easily see seven targets per game. If we keep his catch rate at 65% and his yards-per-catch at 14, and move his TD-per-reception average to 7%, that would equate to:
112 targets for 73 receptions, 1,022 yards, and 5 touchdowns
16 rushes for 165 yards
Those stats and our 4for4 projections are certainly not worlds apart. In the 4for4 projection, he would score 197 PPR points, and in this increased role scenario, Moore would score 221 PPR points, bumping him up to where the WR15 finished last season.
It is this high end of Moore's range of outcomes that should spur excitement. It is entirely possible that he increases his targets even more, particularly since Cam is back and healthy, and will not have to throw it short as often as he did last season with a bum shoulder. It is also possible that his per-catch average will bump up to 15—a number hit by 21 players with at least 50 targets last season—since he is a speedy deep threat. If those things occurred a 1200 yard, six-touchdown season is certainly possible.
This outcome does not seem likely, but it is at the very top of his range of outcomes, and would catapult him into the top-12 wide receivers.
Whether or not Moore finishes nearest to the low, medium, or high projections discussed above is most dependent on what cannot be charted—his improvement from last season to this season, his mental grasp of the game, and his desire to be great. I am betting on Moore to take a big jump into the top-20 wide receivers, making him worthy of a pick in the fifth or sixth round of fantasy drafts.