Dak Prescott is the Late Round QB You Deserve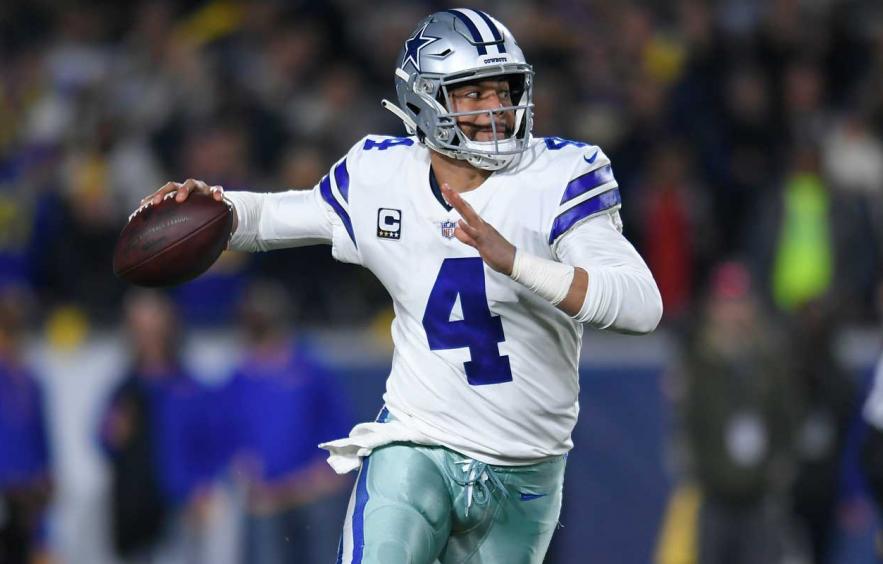 John McCoy/Getty Images
In this game within a game, we can sometimes get so wrapped up in parsing out players and dividing them into segments, or tiers, that we end up missing the forest for the trees. It's important to remember the big picture when looking at the quarterback position; the reason smart people have been preaching to wait on drafting the position is that the differences between the middle grounds of quarterbacks is so often negligible, and predicting who will finish the season as the overall QB1 is a fool's errand.
Today we're going to get into the weeds with one of the best late-round quarterback options—someone you can grab in the 12th round or later and stream confidently against less-than-stellar defenses with the possibility of landing a set-it-and-forget-it fantasy commodity: Dallas Cowboys Dak Prescott.
The Alpha Effect
We would be amiss if we didn't take a cogent dive into what happened to the Cowboys offense with the mid-season addition of wide receiver Amari Cooper. In the middle of October—after a 3-27 loss to Seattle in which Cooper caught zero balls and received one target—the Oakland Raiders decided to pull the trigger on sending the young wide receiver down to Dallas in return for a first-round pick. The trade was a breath of fresh air into a Cowboys wide receiver room that was gasping after failing to acquire Sammy Watkins during 2018's preseason. The depth chart was made up of underwhelming pieces: Allen Hurns, Terrance Williams, Cole Beasley, scatback Tavon Austin and rookie Michael Gallup. Dak Prescott needed a new toy.
By the numbers, Dallas had one of the worst passing games in the NFL through the first six weeks of the season, ranking 29th in the NFL. Much of this can be blamed on a receiver group that ranked in the bottom third in all basic statistics.
Cowboys

WR Totals, Weeks 1–6, 2018

| Stat | Rate | Rank |
| --- | --- | --- |
| Rec/G | 11.0 | 25th |
| Rec YPG | 135.6 | 26th |
| Rec TD | 6.0 | 22nd |
| Rec% | 61.6 | 21st |
By looking at Amari Cooper's in-season splits we can see what a change of scenery did for him and infer what type of positive difference he in turn made for his quarterback.
Amari Cooper

's Splits,

Raiders

vs

Cowboys

, 2018

| Player | Tm | G | 0.5 PPR/G | TGTs/G | TCHs | TCHs/G | Touch Rate | FFPts/TCH | PPRPts/TCH | Snaps | PPR/Snap |
| --- | --- | --- | --- | --- | --- | --- | --- | --- | --- | --- | --- |
| Wks 1-6 | OAK | 6 | 7.7 | 5.3 | 23 | 3.8 | 7.1% | 1.52 | 2.47 | 325 | 0.18 |
| Wks 8-ROS | DAL | 9 | 14.7 | 8.4 | 54 | 6.0 | 10.5% | 1.95 | 2.94 | 513 | 0.31 |
I grabbed some data using 4for4's Player Targets, Player Touches and Fantasy Points Apps and you can see how Dallas' utilization paid immediate dividends for Cooper across the board. For our purposes, of course, the most important is the increase in half-PPR points per game, which jumped from 7.7 (WR61) to 14.7 (WR13). Dak Prescott, the focus of this study, was the QB23 through his first seven games and the QB8 after the acquisition of Cooper. And this isn't the first time this has happened in the young quarterback's career.
The 2016 season was a curious one for the Dallas Cowboys. They had just watched their fourth-round rookie quarterback Wally Pipp veteran Tony Romo, all the while their once-star wide receiver Dez Bryant was on-and-off the field, unknowingly making his last hurrah of NFL greatness. Bryant was able to play one long healthy stretch of games in that '16 season and reminded us of his big-play potential, snagging seven touchdowns between Weeks 7–15, averaging 16.6 yards per reception and even throwing a touchdown himself. He scored 12.9 fantasy points a game and would be a WR1 (12th overall) over the stretch, marking the last time we'd be able to value him so highly. Prescott frolicked hand-in-hand through the field of elite fantasy relevance through that stretch—he was fantasy's fifth-highest scoring quarterback.
These two instances of an injection of a top-flight receiver have proven that with some help on the outside, Prescott can weave some fantastic fantasy fabric.
Crossing the Line
The Cowboys may have the best rush-blocking offensive line in the league. They may also have a top-three pass blocking line. But it's likely something we'll never be able to see come to fruition. The problem lies in the health of not only big portions of their line, but the two most important pieces of the puzzle.
Let's start with center Travis Frederick, who missed all last season with Guillain-Barre syndrome, an autoimmune disorder that attacks the nervous system and causes muscle weakness. The diagnosis came as a shock to not only Frederick but the franchise as well. Prescott felt pressure from the interior of the offensive line like he never had in his short career. He looked panicked at times and lay prone on the ground the rest of the time; the Cowboys 9.7% adjusted sack rate ranked 28th in the NFL and the 107 QB hits allowed ranked as the seventh most.
Assuming health, Frederick will be an instant boon to the line and Prescott. If he comes back and plays 90% as well as he had the previous five seasons, he still may be the best pass blocking center in the game.
Travis Frederick is more than just a run blocker pic.twitter.com/jWi9iiT5LD
— PFF (@PFF) July 26, 2017
The biggest piece of the puzzle (pun very much intended) is 6'5" 320 left tackle Tyron Smith. Tyron missing some time is nearly inevitable, as evidenced by his 13 games played in each of the last three seasons, but while on the field the eight-year veteran dominates. The Cowboys presentable 8.1% sack rate jumped to an eye-popping 12.7% when Smith was off the field in 2018, an even bigger 4.0%-to-11.0% drop-off happened in 2017. Clearly, the problem presents itself when Dallas is forced to dig into their depth chart, but from a fantasy perspective, how are we supposed to predict when a left tackle is going to miss a week as we sit in July? We'll get back to that shortly.
In the meantime, feel free to study what happened at the beginning of 2018 when protection and a lack of weapons turned Prescott into a subpar NFL quarterback:
Run the Stone
Dak Prescott's name is not typically touted among the bevy of "running" quarterbacks we have at our disposal in the NFL, but that should change after 2018's performance. Prescott ran the ball a career-high 75 times (fifth-most among QBs) and scored on the ground six times (second-most) for the third straight season, all of this on the back of 44 designed runs (third-most), another career-high.
Despite not being synonymous with fantasy quarterbacks who earn their hay on the ground, Dak has averaged 67.5 fantasy points added to his season totals over the course of his three-year career. Those 4.2 fantasy points per game would have equated to the difference between the overall QB10 and the overall QB24 in points per game last season. It's fair to assume that Dak will be looking at some rushing touchdown regression at some point, but according to Sports Info Solutions, nine of his carries came from within the opponent's five-yard line and accounted for four of his scores. Those nine attempts tied for the league lead with Deshaun Watson and show that the team is not afraid to let him call his own number despite the presence of Ezekiel Elliot.
Where Should We Be Drafting Dak?
The purpose of this article isn't to convince you to dump all your chips into the Dak express and watch as he ascends to never before seen heights and finish ahead of Andrew Luck, Aaron Rodgers, Patrick Mahomes, etc. but rather to point out the extreme value that Prescott is offering right now. Here are his finishes over his first three seasons: overall QB6 in 2016, QB10 in 2017, QB10 in 2018. His ADP in redraft leagues has him as the 19th quarterback off the board. OK, case closed…….
Alright, alright, so there's one little caveat to being the "overall" QB10. It's a cumulative stat, and those are next to worthless in fantasy football unless we add some context, and the truth is, Prescott is an annoying fantasy asset to hold when we look at his week-to-week scoring. He's only had five 300+ passing yardage regular season games out of his 48 career starts, and 33 of those 48 games ended with Dak throwing less than 250 yards. His big touchdown-scoring games are few and far between—in 2018 he threw for three or more touchdowns only twice and scored three total touchdowns four times. Finally, there is always the risk that the team gets up early in the game and does what they really want to do—feed Ezekiel Elliot 25-30 times and soak the clock up.
With those pesky truths out of the way, we can roll up all the previously mentioned positives into a package that can win you best-ball leagues if you play your cards right. I believe Prescott is going to win you multiple weeks when the stars align in 2019. A healthy line will help him to connect with big-play superstar Amari Cooper and his steady rushing usage will allow him to steal goal-line touches away from Zeke Elliot just enough to boost him into a multitude of QB1 weeks. He is still going as the QB15 in Draft and potential boom weeks should easily pay off that price.
As for redraft leagues, we see the Cowboys pegged for one of the easiest starts in the NFL against some of the weakest pass defenses. Below is a screengrab of 4for4's team level Hot Spots grid. Each cell show opponent and their average adjusted fantasy points allowed. You can see that Dallas is projected for some smooth sailing all the way up until their Week 8 bye.
In a season of unknowns, seeing your fantasy assets start off against a "light" set of opponents is as reassuring as it gets.