10 Dynasty Players to Trade Before the NFL Draft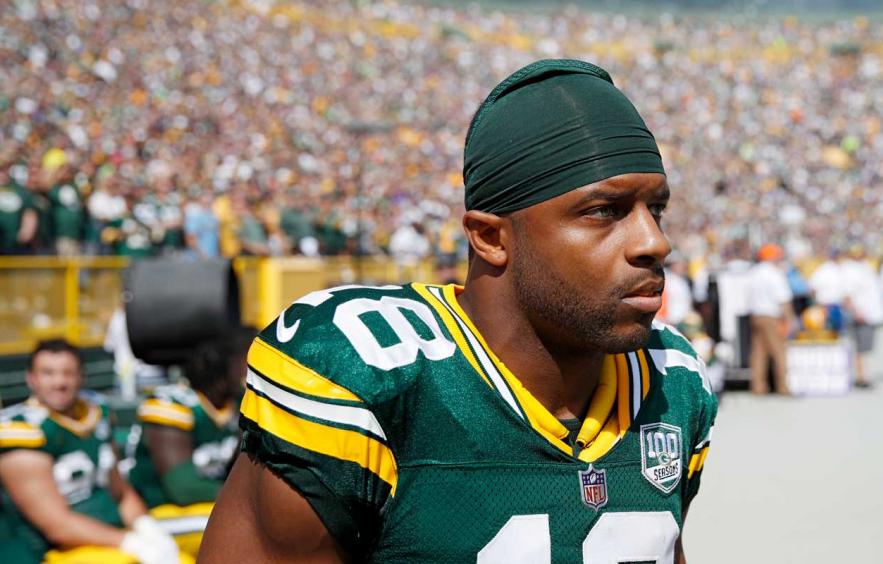 Joe Robbins/Getty Images
One of the best parts of playing in dynasty leagues is being able to roster your favorite players. While the superstars will cost you a pretty penny, there are other, less-heralded players that you may gravitate towards for one reason or another. Perhaps you're extremely fond of a player that went to the same college as you did. Maybe you were blown away by a prospect's speed and measurables at the NFL Combine. Whatever the case, dynasty leagues with deep rosters allow you the opportunity to invest in these players as their career develops, with the hope that they eventually become a contributing fantasy player for your squad.
For whatever reason, not all "late gem" players we have our eyes on develop at the next level, leaving our aspirations for these players as just that. Aspirations. It's tough, but smart dynasty owners know when to move on.
I'm an aggressive dynasty player that would rather be a year early on the sell rather than be caught holding the bag. In other words, I'd rather sell a player for something today rather than drop a player for nothing when roster cuts come around.
Here are 10 "roster cloggers" that I believe would make sense to try and shop before the NFL Draft. With the incoming rookie class about to turn from draft picks to actual players, you're going to need additional bench space to roster them. Instead of gambling that a four-year dud turns it around in Year 5, it's likely a more prudent move to cut bait and see what you can get by shopping them.
For each player deemed a "roster clogger", I'll try to give a realistic trade option in 12-team PPR leagues.
Randall Cobb

, WR, Dallas

Cowboys

With Cobb headed to Dallas and away from one of the league's premier passing attacks, it's time to jump ship before his value bottoms out. Green Bay has ranked first, seventh, and second over the past three years, respectively, in pass play percentage. Dallas is down at 23rd, 30th, and 32nd. Combine that with the slow pace of play by Dallas, and you have the makings for a precipitous drop in passing volume finding its way to Cobb. Cobb has seen three-straight seasons under 700 receiving yards and five touchdowns. That could likely be his ceiling taking over Cole Beasley's gig (stat line of 65-672-3 last year), and now would be a good time to sell to any optimists.

Roster Move: Cobb's name value trumps most of the other players mentioned in this column. It's just name value though, not actual value. I'd try to pair him with a mid-range quarterback and slide up into the bottom of the Tier 1 QBs. Something like Josh Allen and Cobb for Drew Brees or Mitchell Trubisky and Cobb for Carson Wentz comes to mind.
Case Keenum

, QB, Washington Redskins

After hoodwinking John Elway into a two-year deal with a guaranteed $25M ($18M in Year 1), the Broncos will split the final $7M with Washington in exchange for a late pick swap in 2020. Keenum comes to the nation's capital following a dreadful 2018 season that saw him finish with the second-most interceptions (15), third-lowest touchdown rate (3.1%), and fourth-worst QBR (47.9). He scored more than 20 fantasy points just once last season.

Roster Move: Keenum's market value is at the floor and everyone in your league knows it. If you can find a squad that has questionable quarterbacks, maybe you can get a fourth-round pick for him. Unlike the rest of these picks, he may actually have value mid-season if injuries start to pile up at the quarterback position.
Zay Jones

, WR, Buffalo

Bills

Buffalo already went out and acquired John Brown and Cole Beasley to revamp their passing attack. They've held private workouts now with A.J. Brown, N'Keal Harry, D.K. Metcalf, and Deebo Samuel—four wideouts that could easily go off the board in the first round. Zay Jones' shrinking opportunity makes this a strong reason to get out now before he sees his name penciled in as the WR4 this summer.

Roster Move: There weren't many Zay Jones truthers during the 2017 NFL Draft, but if any are in your league, post Jones as a player in your trade bait. He'll more likely be a player you'll have to offer as a throw-in to sweeten a deal.
Greg Olsen

, TE, Carolina

Panthers

After flirting with retirement the past calendar year for a new career in the announcer's booth, Olsen looks like he's in for another year of football. As long as he's playing, he's likely going to be getting starters reps which have been incredibly valuable with Cam Newton under center. Olsen has averaged 6.8 targets per game as a Panther with only Rob Gronkowski and Jimmy Graham scoring more fantasy points than him during the past eight years. Ian Thomas looks promising for the future, but a healthy Olsen should remain the primary receiving tight end in 2019.

Roster Move: Try to sell Olsen to the Ian Thomas owner in a package deal. Pair Olsen with an early third to try to move up to the late second.
Kenneth Dixon

, RB, Baltimore

Ravens

I'm having a tough time handing in my truther card here on Dixon, but being a good dynasty owner involves knowing when to call it quits. The LA Tech product never truly panned out due to PED suspensions and injury, and with Mark Ingram now joining a suddenly crowded backfield, Dixon will need several injuries to surface back to relevancy. Ingram and Gus Edwards will take the primary ball-carrying duties and despite the team's run-heavy nature under Lamar Jackson, there are just too many things that need to go right for Dixon to finally emerge as a relevant fantasy option in Baltimore this year.

Roster Move: Dixon still has plenty of fans hanging on to the "what if" card. Try selling him for a future 2020 3rd in a one-for-one deal.
Ryan Tannehill

, QB, Tennessee

Titans

Getting the axe from Miami in exchange for a 2019 seventh-round pick and a 2020 fourth-round pick all but spells out the likely end of Tannehill's long-term starting opportunities. I'd be trying to bail out as soon as possible. Tannehill had a career touchdown rate of 4.2%, surpassing the league average of 5.0% just once in all six years of his starts. He has just one career top-12 fantasy season (2014), but has largely been an inconsistent QB2 option over the course of his career. Entering his age-31 season, Tannehill will backup Marcus Mariota, who has missed four total games over the past three years. Opportunity will be limited for Tannehill in 2019 behind the face of the Titans franchise.

Roster Move: Reach out to the owner of Mariota and see if there's any interest at all. Unlike Keenum, Tannehill barely has any value in 2019 (and potentially beyond). Don't be afraid to cut the string early instead of carrying dead weight on your roster.
Carlos Hyde

, RB, Kansas City

Chiefs

Coming off a disappointing campaign shuffling from Cleveland to Jacksonville, the Chiefs took a chance on Hyde and brought him in to compete with Damien Williams. Williams came off a red-hot 2018 campaign and his versatility should relegate Hyde to backup duties. There's concern that the Chiefs could add a running back to the roster after holding a slew of meetings with Day 2 running backs at the NFL Combine. That competition could slide Hyde down the depth chart to RB3/goal line duties and into fantasy purgatory.

Roster Move: Package Hyde with a late 2nd/early 3rd and move up to the beginning of the 2nd round.
Danny Amendola

, WR, Detroit

Lions

There might not be a ton of buzz surrounding Amendola, but the slot position in Detroit proved to be a valuable one while Golden Tate occupied it. Tate had four-straight 90-catch seasons as a primary slot receiver for the Lions before being traded to Philadelphia midway through the 2018 season. Amendola is coming off the heels of a 59-catch season in Miami with a 61-catch season in New England prior to that. Receiver depth was a big need for Detroit heading into the offseason. They Lions went from running the third-most 3WR sets in 2017 down to a bottom-12 rate in 2018. The return of a competent slot receiver could be just what Detroit needs to turn its passing game around.

Roster Move: Target either a contending team or one that owns Matthew Stafford. Amendola is going to be a tough sell, but he still has value. Try for a future 2020 third round pick. Entering his age-34 season, this is likely the last shot we'll get at recouping any sort of return on Amendola.
Demetrius Harris

, TE, Cleveland

Browns

A popular stash candidate of many this offseason, Harris lost out on the free agency sweepstakes by signing with Cleveland in a reserve role. Harris is a size-speed freak, but entering his age-28 season, he may have seen his opportunity as a starting player fly by him. At 6'-7", Harris still presents plenty of red zone value, with nearly 20% of his targets over the past three years coming in the red zone. Only five tight ends saw a higher percentage of their targets in the red zone last year.

Roster Move: See if the David Njoku owner will bite here. Njoku battled knee injuries last year, entering multiple games with the "questionable" tag. He also had just a 13.6% red zone target share with an overall target share of 17%. Look to pair Harris with a late third round pick to move up several spots into the early/mid third.
Cameron Meredith

, WR, New Orleans

Saints

The Saints took a low-risk chance on Cameron Meredith in 2018 (as a restricted free agent with Chicago), and after he recently took a 2019 pay cut, the writing may be on the wall for Meredith. Meredith struggled returning from an ACL tear that cost him all of 2017, re-aggravating the injury in 2018, and now faces long-term questions about his health and return to speed. He was never fast to begin with (57th percentile speed score), but multiple surgeries on the same knee may end up sapping any explosiveness Meredith has remaining.

Roster Move: The market for Meredith is likely slim to none. Look for a team on the rebuild that might be willing to risk a future 2020 4th in hopes that he returns healthy. He's likely best served for trading purposes as a throw-in to sweeten another deal that's off by a minor amount.