TJ's Take: Week 13 NFL DFS Recap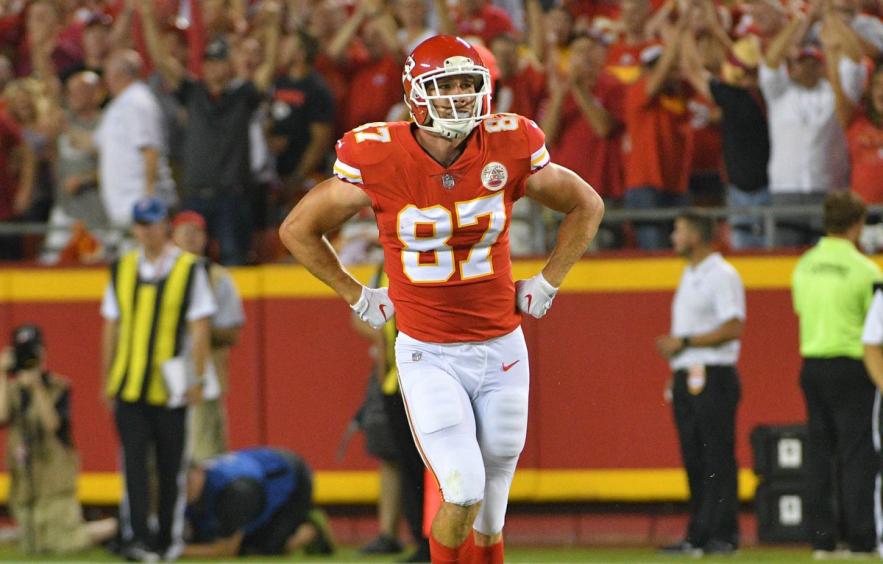 Week 13's winning lineups from the biggest contests on FanDuel and DraftKings can be used to tease out lineup-building strategies and offer clues on how you could have landed on a similar team. Reviewing your hits and misses each week is imperative if you want to be a profitable DFS player but examining winning lineups is also a useful exercise in cultivating a winning approach.
This is a free offering in our weekly content contained in the 4for4 DFS subscription. To get access to all of our weekly DFS analysis, sign up here!
DraftKings Week 13 Millionaire Winning Lineup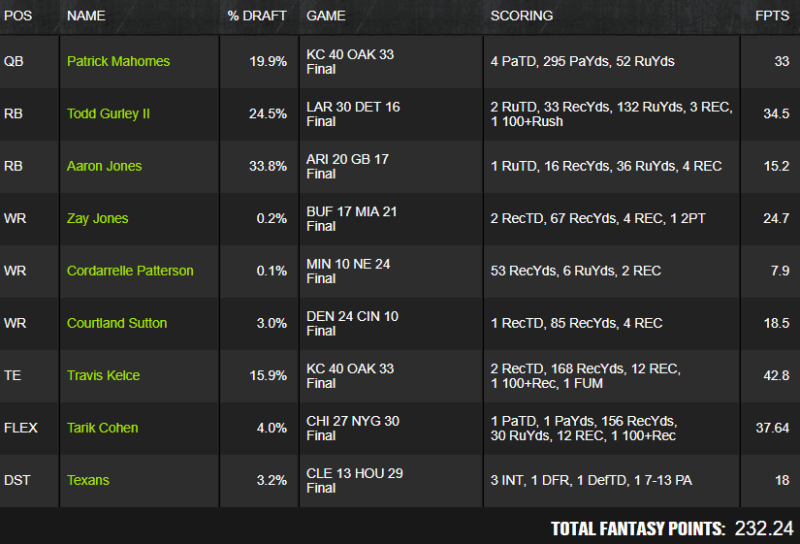 Week 13 marked DraftKings' 100th Millionaire contest and to celebrate, the buy-in was raised to $100—that meant that Adamlegbert needed to best a field of "only" 44,444 to take home the seven-digit prize. As we've seen throughout the season, two chalk running backs in favorable spots carried the winning lineup. This particular build offset one of the most popular stacks of the week with five extremely low-owned plays. Probably the most notable element to this lineup was the omission of Spencer Ware, a player on over 60 percent of Millionaire teams.
In contrast to winning lineups that have favored multiple correlation plays throughout the season, Adamlegbert threw multiple darts and was fortunate to hit bullseye multiple times. Going this route means having to be nearly perfect with every flag that you plant but when two of those plays come in at 0.2 percent ownership and below, it's not difficult to separate from the field.
What Were the Indicators for the Low-Owned Plays?
A couple of weeks ago on the DFS MVP podcast, Holden Kushner and I discussed recent trends in the NFL. The final note pointed to leaders in target share near the goal line and how players like Zay Jones could benefit if their team found themselves in favorable scoring conditions. In that same pod, we noted that Miami had been allowing very high scoring efficiency through the air and that they would face Buffalo in the coming weeks. Hopefully, a few of you stayed tuned in to the end.
The Bengals defense has been one of the worst units in the league in recent weeks and the Broncos were a popular offense in Week 13, with three of their players drawing double-digit ownership. While Courtland Sutton hasn't produced as expected since the Demaryius Thomas trade, Sutton has played nearly 80 percent of snaps since the trade, second to only Emmanuel Sanders among Denver skill players in that span. We've seen in recent weeks—and I've discussed in multiple recaps—that simply being on the field more than other players can point to a great leverage play on popular offenses. Sutton was precisely that play.
In Chase Daniel's Thanksgiving start, Tarik out-touched Jordan Howard and led the team in targets. With Daniel again starting for the Bears against a tough Giants passing defense, it made sense that the backup would continue to use Cohen as a crutch and that he did—only two players saw more targets than Cohen in Week 13.
Houston was a defense that checked all the boxes as a defense to target—they were favored at home by almost a touchdown against a rookie quarterback. Four teams, however, were favored by double digits and another two favored by six or more. There were simply too many defenses in a great spot for the Texans to draw big ownership.
As we've seen in the past, lineups don't have to be perfect to take down big GPPs—punting to load up on studs often gives a team a higher ceiling than a lineup with a handful of mediocre plays, even if that punt doesn't do much. At just $3,300 Cordarrelle Patterson let Adamlegbert roster the most expensive player at three different positions, something that wasn't possible with the more popular value plays of Week 13.
FanDuel Week 13 Sunday Million Winning Lineup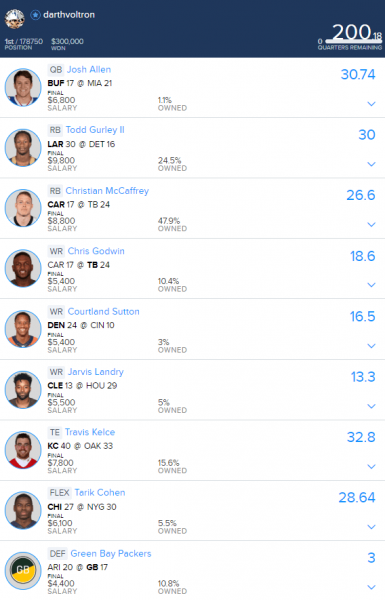 Week 12's Millionaire winner implemented a "naked" quarterback strategy playing Lamar Jackson without one of his pass catchers. This week, darthvoltron brought the strategy to FanDuel with one-percent-owned Josh Allen. The logic here remains the same—if using a "naked" quarterback, target one that runs a lot and spreads it around. Despite only playing in eight games this season, Allen ranks third among quarterbacks in rushing yards and no player on the Bills had seen more than 19 percent of the team's targets heading into Week 13. Like Zay Jones, Allen benefited against a defense that has allowed some of the highest efficiency to opposing quarterbacks over the last six weeks.
It's not surprising at this point, but this lineup marks the 12th time in 13 weeks that the Sunday Million winner used a running back in their flex position.
TJ's Final Take
With the season winding down, DFS sites will soon have some changes in the lobby—most notably, major qualifiers end this week. That means that there will likely be new contests added with some big prize pools but this will impact everyone—when new GPPs are introduced to a site, it often impacts the structure and size of games that have been running all year. As you should be every week, be sure to check the structure of GPPs that you have been playing all season so you don't get caught off guard. You don't want to blindly play a game that has offered a $10,000 first place prize all year that is suddenly cut in half.
Similarly, make sure that the structure hasn't changed even if payouts look similar. Things such as percentage of the field that is paid out or the min-cash multiplier tend to move this time of year when new tournaments are added to the lobby. All of these factors impact your bottom line and, collectively, can be as big of a factor in your overall results as the lineup-building process itself.