Raybon's Review: What We Learned From Week 6 DFS on FanDuel & DraftKings Analyzing the prior week's results is one of the most valuable investments of your time as a DFS player. In this space, I will deconstruct the winning lineups from FanDuel and DraftKings' biggest GPPs. I will also list general DFS takeaways from the past week.
Note: This is a FREE sample of an article included in the DFS Subscription. Still not a subscriber? Sign up here!
DraftKings
Week 6 Winning Millionaire Maker Lineup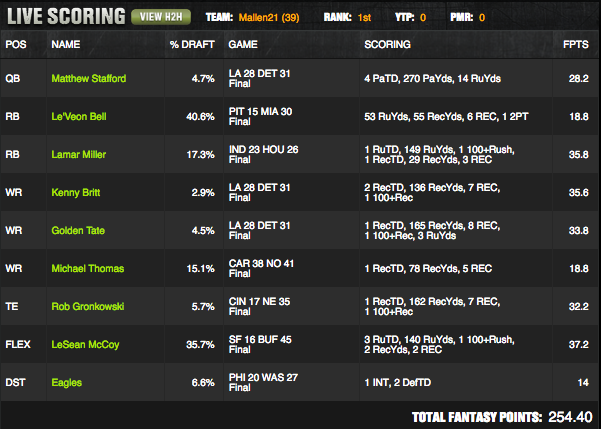 Mallen21 took down the MIlli' Maker behind four key plays owned less than six percent, as well as a couple of chalk plays.
The stack of Matthew Stafford to Golden Tate made sense given the Rams were missing their top corner, Trumaine Johnson, and were also banged up on their defensive line. Tate's 165 receiving yards were nevertheless surprising, as he had not cleared 100 yards before last week since November 9, 2014. This is a case where knowing that fact probably gets you off of Tate; there's times when too much information can hurt you. Despite struggling as of late, Tate was bumped up the target totem pole with both Theo Riddick and Eric Ebron out. It looks like OC Jim Bob Cooter's proclamation that Tate would have "a huge week" came true a week late.
In another case of overthinking things, I was hesitant to have much exposure to Kenny Britt, who, in hindsight, was a perfect leverage play off Tavon Austin. Darius Slay was expected to follow Britt, but Detroit also plays a lot of zone that negates the matchup. Britt's inclusion in the lineup also leveraged the correlation between opposing passing games, which I discuss in detail in The Definitive Guide to Stacking on DraftKings.
Paying up for Rob Gronkowski at TE was a great pivot off Greg Olsen. Before these last three weeks, you would have had to go back to Week 8 of 2014 to find Gronk with a lower price tag than $6,700.
As usual, we see that one chalk play at RB won't hurt you; in fact, you could say Mallen21 actually had three chalk plays at RB. Even though LeVeon Bell's 18.8 DraftKings points were a disappointment relative to expectation, they were enough when combined with the four low-owned players that blew up. We know home favorites tend to provide more value and have a higher TD probability, and LeSean McCoy and Lamar Miller served as the latest examples. When you combine the strong trends in favor of home favorites with bankable volume, it leads to RB being arguably the easiest position to predict blowup spots for.
The Eagles defense tends to be among the top fantasy scorers at the position, a trend which started last season. Defenses that are road favorites can be dicey (see the Steelers), but sometimes go overlooked in DFS, especially when they are not a marquee team.
FanDuel
Week 6 Sunday Million Winning Lineup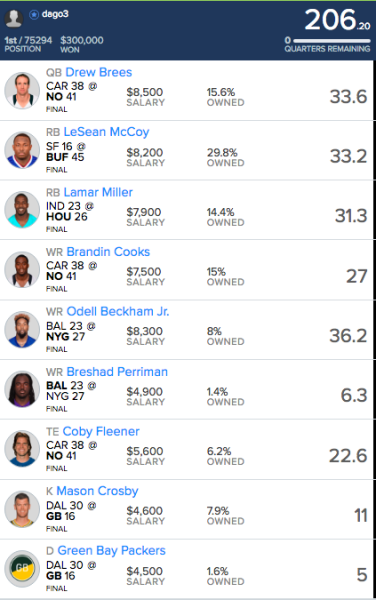 Dago3 took down the Sunday Million behind what is almost always one of the stacks I have the most exposure to when the Saints are playing at home: Drew Brees to Brandin Cooks. Adding in Coby Fleener to the stack was a smart move given all the yards and TDs Brees racks up at home, and it was a nice leverage play off the more highly owned Michael Thomas as well.
Hitting on LeSean McCoy and Lamar Miller was key, as four of the top five Sunday Million lineups had that pairing at RB.
It's not a perfect science, but salary decreases often lead to value at the WR position because the position is naturally volatile, so it made sense to roll out Odell Beckham at his cheapest FanDuel salary since Week 14 of 2014 against a Ravens defense that had struggled with giving up multi-TD games to WRs, allowing two TDs to Corey Coleman in Week 2, two to Allen Robinson in Week 3, and three to Michael Crabtree in Week 4.
Because dago3 nailed six of his plays, he didn't need much from Breshad Perriman, who also created an opposing passing game stack with Beckham. Dago3 also stacked his kicker and defense, another underrated correlation (kicker and defense are just as highly correlated as a QB with any of his WRs/TEs except the WR1). He didn't need much from the Packers defense either to take home the grand prize. The duds by Perriman and the Packers defense both serve as a reminder that if you nail a bunch of low owned plays and thereby give yourself a highly differentiated lineup, you give yourself some wiggle room even if you miss on a selection or two.
Quick Hitters
Note: This is a FREE sample of an article included in the DFS Subscription. Still not a subscriber? Sign up here!